What unites industry giants like Walmart, CVS Health, Bank of America, and Johnson & Johnson from the list of the 100 largest companies by revenue in 2023? It's their strategic deployment of AI-driven enterprise chatbots, a choice shared by 24% of enterprises. These forward-thinking companies have recognized the AI potential and benefits of chatbots for business. Enterprises are deploying bots to enhance customer interactions and optimize internal processes.
What's the reason for this widespread adoption? The answer lies in the automation and cost-effectiveness that chatbots bring to the table. Bots simplify complex tasks across various domains, like client support, sales, and marketing. Moreover, they eliminate the need for additional staff or resources.
Notably, being essential components of customer service strategies for large organizations, these conversational solutions reduce client service costs by up to 30% and resolve 80% of FAQs. Organizations adopting AI and chatbots have witnessed other significant benefits. These improved customer service capabilities (69%), streamlined internal workflows (54%), raised consumer satisfaction (48%), and boosted use of data and analytics (41%). It's no wonder enterprises are eager to invest in bots and Conversational AI.
In essence, these industry leaders implement AI chatbots to stay ahead of the business competition. The question then becomes: Is your organization ready to follow their lead? Have you adopted digital assistants to redefine user experiences and drive operational excellence? Let's explore the notion of enterprise chatbots to discover their value for your clients and employees.
Ready to enhance your business with an enterprise chatbot? Start building your AI assistant today and bring yout business to a new level!
GET IN TOUCH
What is an Enterprise Chatbot?
Enterprise chatbots are advanced automated systems engineered to replicate human conversations. These tools are powered by machine learning (ML) and natural language processing (NLP). They comprehend user intent and handle multifaceted tasks. This is far beyond the capabilities of basic bots.
In a corporate context, AI chatbots enhance efficiency, serving employees and consumers alike. They swiftly provide information, automate repetitive tasks, and guide employees through different processes. As a result, bots significantly reduce agent workload while fostering collaborative teamwork. Moreover, they play a critical role in customer support. These digital assistants handle user inquiries, provide instructions, and initiate ticketing processes.
The power of chatbot features for business communication lies in their essential capabilities that enable these assistants to:
Collect extensive customer data, refining communication strategies for better chatbot performance;
Automate complex tasks, reducing manual workload for optimal business processes;
Maintain context throughout conversations, ensuring seamless interactions and personalized responses;
Perform across diverse communication channels for consistent and effective client engagement experiences;
Implement robust authentication measures, safeguarding sensitive user data and ensuring secure interactions;
Facilitate smooth transitions between automated responses and human agents;
Anticipate user needs, proactively addressing potential issues and guiding users to appropriate solutions;
Improve accessibility and user experience with voice features.
Benefits of Chatbot for Enterprises
For Your Customers
Boosting User Engagement and Fostering Brand Loyalty
Enterprises rely on the power of chatbots to enhance client interactions and brand allegiance. Here are the key characteristics that underscore their impact on fostering enduring brand-client relationships:
Personalized chatbot interactions. Bots for enterprises excel in customizing user experiences, understanding individual preferences, and delivering modified solutions. This personalized approach fosters enduring brand loyalty among enterprise clients. In addition, they reinforce the trust in the business's commitment to meeting consumers' unique needs.
Round-the-clock instant responses. Enterprises operate globally, serving clients across diverse time zones. Bots ensure 24/7 assistance, providing swift responses to inquiries. This feature is crucial for time-sensitive industries like finance or tech. Such an approach shows the business's reliability and dedication to client satisfaction.
Multichannel support. Enterprises manage diverse communication platforms with varied customer segments. AI bots integrate into these channels, offering consistent support across websites, social media, mobile apps, and more. Unified multichannel support enhances brand coherence, reinforcing the business's professional image.
Multilingual assistance. Enterprises often engage with a global audience, requiring multilingual support. Chatbots proficient in multiple languages break language barriers, ensuring inclusive communication. This cultural competence showcases the business's global outlook.
Reducing Costs and Increasing Revenue
AI chatbots significantly reduce operating and customer service costs by automating repetitive tasks. Thus, they allow businesses to allocate resources more efficiently. Simultaneously, these tools can identify potential leads, guide purchasing decisions, and drive revenue growth.
Gaining Use Insights and Enhancing Customer Care
Enterprise AI chatbots provide valuable user data and facilitate continuous self-improvement. These bots collect data needed to analyze client's preferences and behaviors. These insights help to modify customer care strategies for an enhancement in the service quality. The bots' ability to self-improve guarantees that they evolve to meet changing consumer needs, ensuring sustained user satisfaction.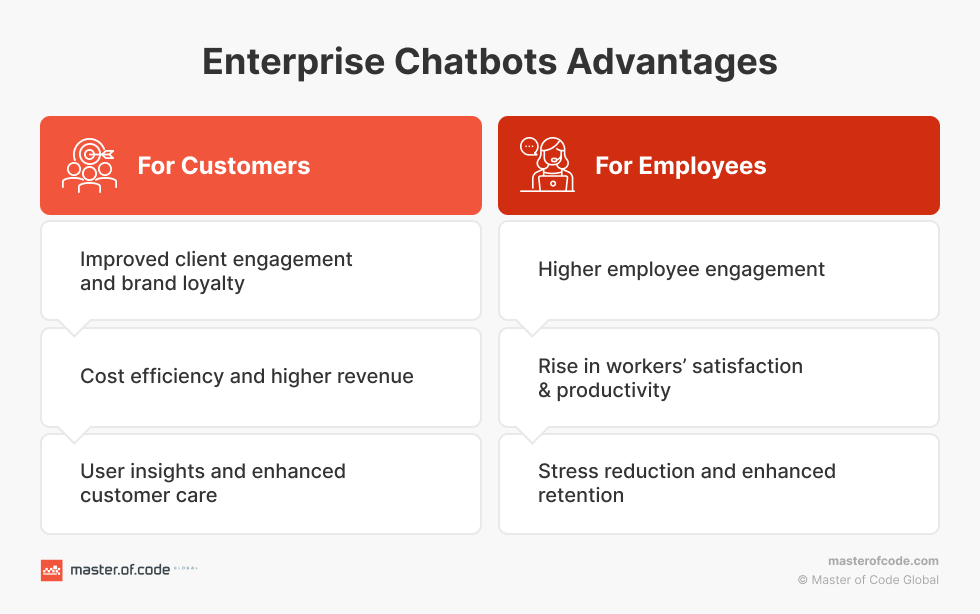 For Your Employees
Raising Employee Engagement
Bots facilitate seamless communication within organizations. They foster active communication and engagement among employees. By providing instant access to essential information, updates, and resources, chatbots empower employees to stay informed and engaged with the company's mission and objectives. This fosters teamwork, unity, and dedication, nurturing a dynamic and motivated workplace culture.
Elevating Workers Satisfaction & Productivity
Enterprise chatbot solutions play an essential role in cultivating employee fulfillment and raising workplace effectiveness. By automating repetitive tasks, these intelligent systems save valuable time. Thus, bots enable workers to focus on creative, critical, and strategic tasks. They can achieve their goals more efficiently, leading to a sense of accomplishment and job satisfaction. Improved experience contributes to a positive workplace atmosphere with a motivated and productive workforce.
Stress Reduction and Enhanced Retention
The demanding nature of modern workplaces can lead to stress and burnout among employees. AI-powered bots reduce this pressure by handling repetitive tasks. Such a support not only promotes a healthier work-life balance but also prevents burnout. Moreover, by enhancing well-being and job satisfaction, AI-powered bots contribute significantly to talent retention.
Types of Enterprise Chatbots
In the realm of numerous chatbot types , selecting the right one for enterprise applications is paramount. Not all bots are created equal, especially when it comes to meeting the diverse needs of businesses. For enterprises, the most effective and versatile choice is AI-powered chatbots. These advanced solutions utilize AI technologies, including ML and NLP, to ensure smooth interactions, delivering exceptional value and efficiency.
AI-powered bot solutions come in two main types, each with unique capabilities:
Conversational AI chatbots. These intelligent tools excel in deciphering user intent and engaging clients in dynamic, personalized conversations. Such an ability results in heightened customer satisfaction. Thus enterprises can enjoy strengthened relationships with consumers and increased brand loyalty.
Generative AI-powered chatbots. Integrating Generative AI capabilities elevates chatbot interactions by generating contextually rich, human-like responses. These assistants ensure consistent brand messaging and compelling content across platforms, leading to enhanced customer engagement and reinforced brand identity. For enterprises, this translates into brand allegiance and higher conversion rates.
Depending on the mode of communication, enterprises can further customize their solutions:
Voice-enabled chatbots. Offering natural and engaging voice interactions, these bots reduce response times. In time-sensitive industries, such as finance and tech, swift, accurate responses are essential. Voice-enabled chatbots streamline customer service operations, leading to improved retention rates.
Text-based chatbots. Swift and precise, text-based bots excel in comprehending complex inquiries. They optimize consumer interactions, ensuring efficient query handling and valuable feedback collection. Enterprises benefit from their rapid response times to provide real-time support, improve customer experience, and gather valuable data for continuous improvement.
Hybrid chatbots integrate text and voice features, providing users with a versatile communication experience. This approach allows your clients to switch between text and voice as per their preferences. For enterprises, these tools optimize client support, ensuring seamless conversations and high levels of user contentment.
Multimodal chatbots. Engaging users through various channels, including text, voice, and video, multimodal bots offer a seamless and interactive experience. These intelligent tools enhance customer interactions, ensuring versatile communication options. Enterprises adopt multimodal chatbots to boost client engagement and reach a wider audience.
Chatbot for Enterprises: Use Cases
Customer Service
Enterprise AI chatbots excel at addressing various support tasks promptly and efficiently. From updating account information and resolving common FAQs to troubleshooting problems and providing access to essential documents, these intelligent assistants streamline a wide range of customer service tasks. Their round-the-clock availability eliminates wait times, making bots an invaluable asset for businesses.
Example: Empowering over 30 million subscribers, Customer Self-Service Chatbot for Satellite Radio Provider from Master of Code Global offers swift solutions for subscription management, billing inquiries, service issues, and account updates. Users can easily renew subscriptions, troubleshoot signal problems, access billing history, and explore re-subscription offers. The chatbot enhances user experience, reducing reliance on live agent support.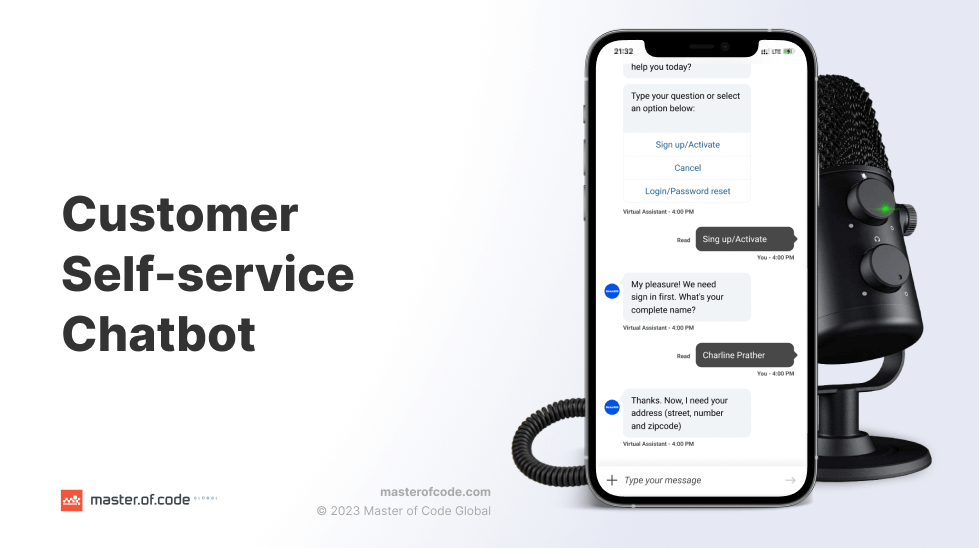 Performance results:
120K average weekly users
80% containment rate of streaming flows
+46% improvement in subscription rate
1,000% payments processed a month
Internal Virtual Assistants
An internal chatbot is a specialized software designed to give a hand to employees within an organization. It serves as a virtual assistant, providing instant responses to queries, offering guidance on company policies, and aiding in various tasks. These bots integrate seamlessly into existing communication platforms. They enhance employee support and organizational efficiency. By automating routine tasks, they save time, boost productivity, and optimize internal communication. This way you can create a more efficient workplace environment. Enterprises adopt internal chatbots to optimize operations and foster seamless collaboration among employees.
Internal chatbots for business can be used for:
IT helpdesk. Assist employees with technical issues, providing 24/7 support for IT-related inquiries. Automate routine tasks, saving time and resources while ensuring immediate IT support.
HR tasks. Streamline processes such as updating personal information, accessing benefits, and handling common inquiries. Enhance employee experiences by providing instant HR support and freeing up HR teams for strategic initiatives.
Employee onboarding. Facilitate onboarding experiences by providing new hires with essential information, access to documents, and company policies. Accelerate integration into the organization, ensuring a smooth transition for employees.
Day-to-day tasks. Automate routine activities like scheduling meetings, managing calendars, tracking expenses, and handling time-off requests. Offer employees round-the-clock support for everyday tasks, improving operational efficiency and productivity.
Example: McDonald's Recruiting Chatbot simplifies the application process through a convenient "text to apply" functionality. It engages with candidates, answering queries, screening for prerequisites, and scheduling interviews. The tool is integrated across various channels, including their career website and digital menu boards. It enables candidates to initiate applications through text conversations. Such an approach aligns with McDonald's commitment to consistency and speed. This streamlined method enhances the candidate experience and hiring process.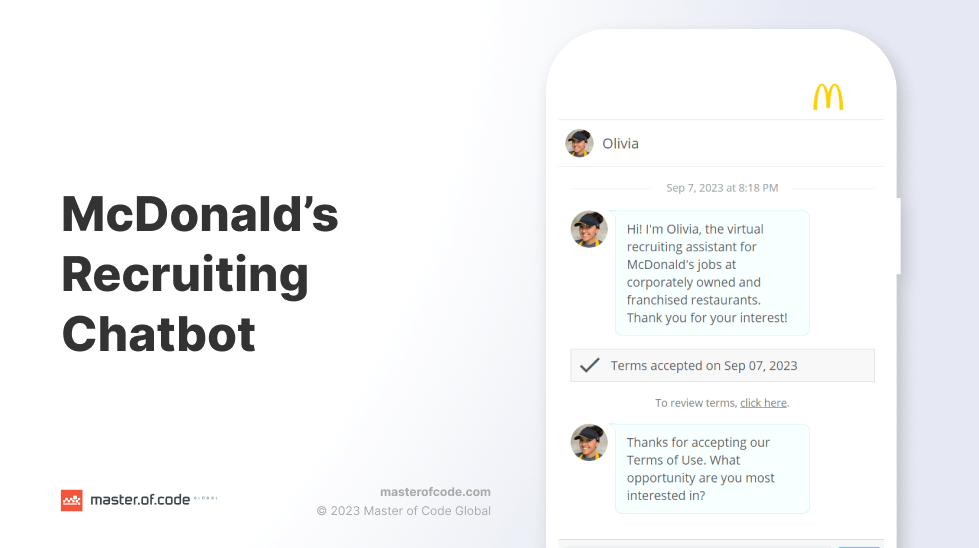 Performance results:
89% engagement rate;
83% interview completion;
95% positive candidate experience;
90% adoption rate;
60%+ reduction in time to hire.
Sales and Lead Generation
Digital assistants can also enhance sales and lead generation processes with their unmatched capabilities. By analyzing visitor behavior and preferences, advanced bots segment audiences and qualify leads through personalized sales questionnaires. They maintain constant engagement, guiding potential customers throughout their buying journey. This approach can help you significantly increase conversion rates. With instant information provision, appointment scheduling, and proactive interactions, chatbots optimize the sales funnel, ensuring timely and efficient engagements. AI digital assistants prove invaluable for businesses, enhancing both client satisfaction and revenue growth.
Example: Luxury Escapes, a leading luxury travel provider, improved their users experience by implementing a Travel Messenger Chatbot developed by Master of Code Global. This bot optimized the booking process, enabling users to search and book trips according to their preferences. By offering personalized deals and interactive features, the tool significantly boosted user engagement. It allowed the brand to drive higher sales and generate quality leads.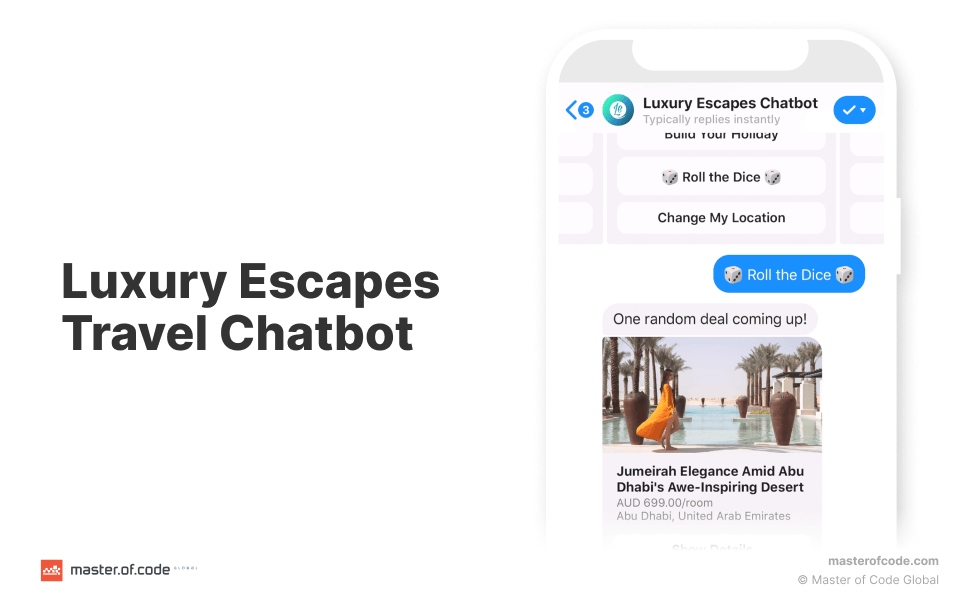 Performance results:
4070+ deals viewed and 6200+ users engaged with the bot in 3 months since launch;
$300,000 in revenue within its first 90 days;
a reply rate of 89% for retargeting messages and a conversion rate of 52.63%;
a conversation rate of 12%, which is 3 times higher than the website's one.
Key Steps for Enterprise Chatbot Implementation
Developing an AI-powered enterprise bot might appear challenging, but with expert guidance, it becomes straightforward. Explore three crucial steps for rapid and effective implementation of your chatbots.
1. Analyze business needs. Understand your enterprise objectives, pinpoint challenges, and focus on areas like customer service, internal automation, or employee engagement for chatbot implementation. Thoroughly analyze your organization's requirements before proceeding.
2. Choose the right chatbot use cases. Identify high-impact areas like service and support, sales optimization, and internal knowledge for automation. Each use case offers unique benefits to enhance organizational efficiency.
3. Choose the right partner. When selecting a development partner, focus on expertise in bot development, fine-tuning, integration, and conversation design. Look for the one who understands your brand voice and audience. This way you will ensure a flawless and engaging solution experience meeting your specific needs.
Enterprise AI Chatbot Solutions with Master of Code Global
Partnering with Master of Code Global for your enterprise chatbot needs opens the door to a world of possibilities. With our expertise in bot development, we deliver customized AI chatbot solutions designed according to the chosen use case. Our team excels in crafting tools that seamlessly integrate with your brand communication channels, ensuring authentic and engaging conversations.
From strategic planning to implementation and continuous optimization, we offer end-to-end services to boost your chatbot's performance. With our masters by your side, you can experience the power of intelligent customized bot solutions, including call center chatbots. Moreover, our expertise in Generative AI integration enables more natural and engaging conversations. This will allow you to foster deeper connections with your audience. Partner with us and elevate your enterprise with advanced bot solutions. Experience the difference with Master of Code Global.
Request a Demo
Don't miss out on the opportunity to see how chatbots can revolutionize your customer support and boost your company's efficiency.