There is tremendous opportunity for automation to bring value into the workplace, and HR is at the forefront of this trend and how it will affect and impact our people. We are strategically positioned to demonstrate for the rest of the business how we leverage these technologies and how they can improve the work environment for all.
This is the third article in a 4-part guide on Business Process Automation and in this part, we'll see how business process automation can become a powerful tool to develop and support a successful workforce.
What is Human Resources (HR) Automation?
Human Resource Automation involves a broad spectrum of activities, all of which help reduce the workload of an HR department while at the same time, improving its productivity and overall efficiency.
That said, automation isn't just an administrative tool for HR, it's a strategic one that can give a company the competitive edge it needs. In fact, there is plenty of evidence to prove just how important of a tool human resources automation is in 2022.
For instance, nearly 76% of the 9,000 hiring managers that participated in LinkedIn Talent Solutions' report believed that artificial intelligence will become at least somewhat significant for recruiting in the near future. The report also found where automation and AI were most useful: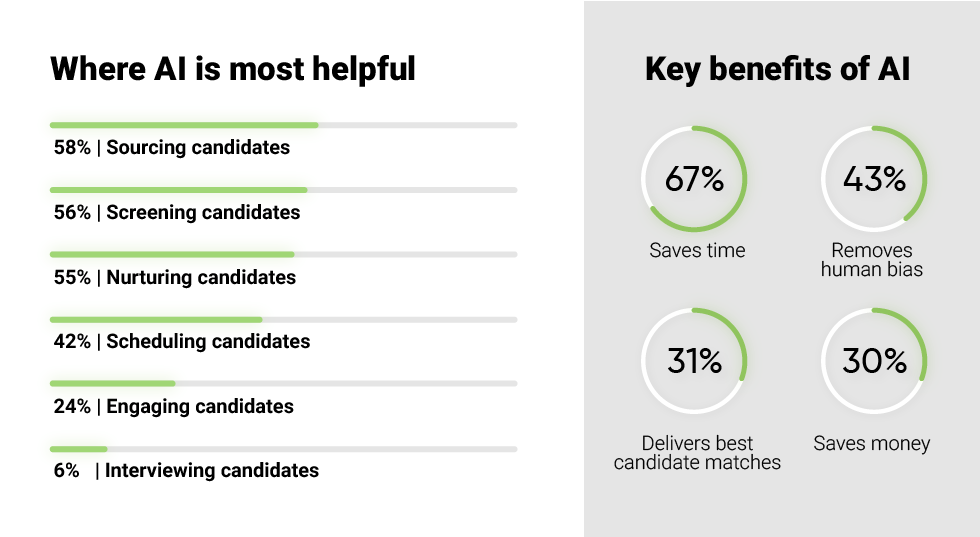 Top Processes for HR Automation
There are hundreds of activities that are perfect for automation, however, the following activities should be prioritized over others:
Recruitment and Screening
For a lot of companies, human resources automation refers to automating the recruitment process, especially screening. HR automation software can analyze resumes and application forms to create a shortlist of the "best" candidates. The hiring criteria can be easily modified for each job position as well for added functionality.Companies can also automate the process of notifying prospective candidates of job openings or the status of their pending job application. This has become important nowadays as 80% of applicants say they would be less interested in working with a company if it failed to notify them of their application status previously. Alternatively, by sending candidates a simple notification about their application would make them 3.5 times more likely to apply again.
Onboarding and Offboarding
HR automation can also complete various tasks during the onboarding process freeing significant resources for the hiring manager. For instance, important paperwork including signing contracts, completing benefits paperwork, and other necessary duties will be completed without error, without delay, and without the risk of losing any documents.New hires will also receive software access, information about reporting relationships, schedules, and more – all in a timely manner.

HR Automation: Onboarding and Offboarding

Human resource automation doesn't just help employees settle into their new roles but also helps with their offboarding without hiccups. Through automation, employees can be offboarded with the least amount of friction. The automation software will facilitate managers with:

gathering termination paperwork
revoking system access
supervising return of equipment
compliance activities

Scheduling and Time Management
HR automation can help reduce a manager's workload by automating the process of managing, updating, and validating a time tracker. Furthermore, employee scheduling software can help process employee shifts, send notifications and reminders, as well as manage changes in shifts without requiring constant supervision.
Employee Requests
Managing employee requests for leaves is more time-consuming than most executives in upper management believe. Finding and submitting paper forms, correcting errors, and safely storing documents takes a lot of time, meaning many employees don't get their paid leave off on time.Through human resources automation, employee leave requests can easily be tracked, managed, and most importantly, approved in time.
Records Management
As a company continues to grow, it becomes harder to manage all of the employee data and personal information. If left unchecked, the information in your repository becomes harder to update, securely store, and access. And if you live in a state with strict data compliance laws, you could even find yourself in legal trouble for violating data compliance laws.

Top 5 Processes for HR Automation

Enterprises can avoid all of this potential headache and streamline their records management with an HR automation software that is responsible for regular data entry, verifying information, and sorting it in an easily accessible manner.
Uses of Automation Technologies
Business Process Automation provides stability, and accuracy while removing redundant steps in workflows
Check your Inbox! The Guide was sent to your email
HR Automation in Action: Case Studies to Learn From
We've made a pretty strong case for HR process automation so far but before you dive into the world of HR automation, read these short case studies to see HR automation in action.
Recruitment – DBS Bank's Jobs Intelligence Maestro
To reduce recruiters' workload at DBS bank and take over some of the repetitive tasks, Jobs Intelligence Maestro or JIM was created, an AI-powered recruitment bot that screens candidates and saves 40 man-hours per month. Here is what DBS Bank was able to achieve with the implementation of JIM:

Reduce time taken to screen candidates from 32 minutes on average to just 8 minutes
Job application complete rates increased to an impressive 97% from a previous 85%
Use JIM to respond to a staggering 96% of all candidates

Perhaps the biggest achievement was the time saved by recruiters – time that was better spent interviewing candidates and finding the right person for the job.

Employee Onboarding – KPMG Belgium
Great onboarding can improve employee retention by 82% so it is unsurprising that KPMG Belgium wanted to perfect its employee onboarding. To do this, they used HR process automation in the form of software that automated some crucial, albeit overlooked tasks.The automated system helps new employees with important information regarding their first day on the job (teaser posts, company reminders and messages from the CEO), contact details of their new colleagues as well as interactive 360 degrees experience of the office so they don't get lost on the first day.
Guide to Business Process Automation. Did you know that 60% of companies have at least 30% of their activities automated?
Conclusion: Automation is an Ally
In 2022, HR automation is no longer a luxury, reserved for the biggest enterprises – it is a necessity for every modern business. However, automation is an entire world of its own and if HR automation is to be used as a foundation for a digital transformation, it must be done right.
One way of making the most out of HR process automation is to develop custom-AI based HR solutions that are aligned with your own business objectives. Master of Code helps businesses reach new levels of efficiency and productivity through custom HR solutions powered by AI. Schedule a consultation with one of our experts to learn how your business can utilize HR automation today.
Want to learn more?
Master of Code designs, builds, and launches exceptional mobile, web, and conversational experiences.