Did you know that an impressive 84.76% of American adults planned to travel this summer? Surprisingly, for the 32% who have already traveled this year, things didn't go as smoothly as expected. ¾ of them ran into travel-related problems, such as poor customer service, difficulty finding availability, or even canceled plans. Moreover, 4 in 5 upcoming travelers worry about experiencing similar issues during the trips. These inconveniences not only result in significant losses but also tarnish the reputation of businesses in the industry.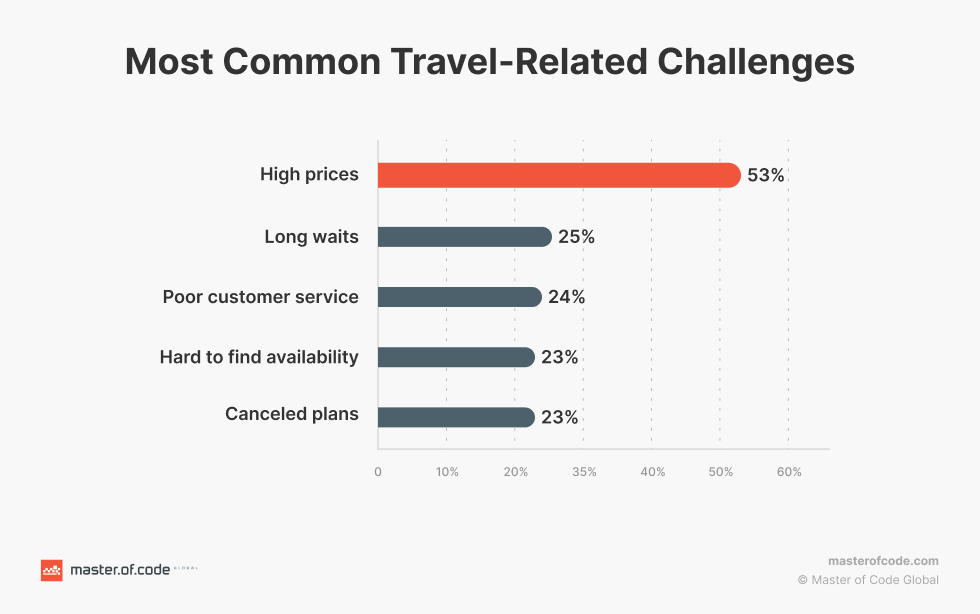 So, what's the solution? Travel chatbots have set a new standard. In fact, among the top 5 industries benefiting from bot adoption, the travel sector holds a share of 16%. Remarkably, 33% of users express a strong desire to apply digital assistants for making reservations at hotels or restaurants. Furthermore, 2/3 of people find bots useful for managing their arrangements.
The demand for digital assistants that save both time and money is evident. 87% of users expressed their willingness to interact with a travel chatbot with such benefits. Has your business encountered similar challenges? Have you considered or are you planning to integrate bots into your operations?
If you're still uncertain, worry not. We have prepared a comprehensive overview of the most common use cases of travel chatbots, complete with excellent examples, to demonstrate the immense potential these tools hold. Let's explore this technology together.
Ready to enhance your airport operations with a chatbot? Start building your chatbot today and unlock endless possibilities!
GET IN TOUCH
Chatbots in Action: Practical Applications of Travel AI
In the dynamic travel industry, where millions of people plan their summer trips, challenges are inevitable. An overwhelming 77% of travelers encounter travel-related issues. For businesses, addressing these concerns swiftly and efficiently is paramount. This is where bots prove invaluable. Businesses can enhance customer satisfaction and loyalty by integrating bots into their services.
Booking and Reservations
Booking trips online can be a frustrating experience for many travelers. In fact, 78% of US travelers rely on online booking sources. However, 21% often feel frustrated during the process, and 55% are willing to switch providers due to inconvenience. Making changes and obtaining real-time updates also pose challenges for people.
Now, travelers can experience a smarter and simpler way to book their journeys with an all-in-one AI travel chatbot. This innovative digital assistant brings forth a range of capabilities:
Guiding users through the intricacies of booking with a seamless, user-friendly interface.
Delivering immediate booking confirmations and essential travel documents, eliminating waiting time.
Offering real-time insights into fare trends, ensuring clients grab the best deals.
Seamlessly integrating secure payment gateways for swift and secure transactions.
Available across diverse messaging platforms, eradicating the need for additional applications.
Allowing travelers to effortlessly modify bookings, from date changes to passenger details. Such an approach increases flexibility and convenience.
Example: The Luxury Escapes Chatbot from Master of Code Global allowed users to search, book, and personalize their vacations. With just 5-6 interactions, this chatbot accurately gauged users' preferences. This enabled them to effortlessly book luxurious global trips. Remarkably, in its initial three months, the chatbot generated a staggering $300,000 in sales revenue, engaging a mere 6,000 users. It also boasted a remarkable 52.63% user engagement rate and a conversion rate three times higher than traditional methods. The chatbot's success underscored its effectiveness in the industry.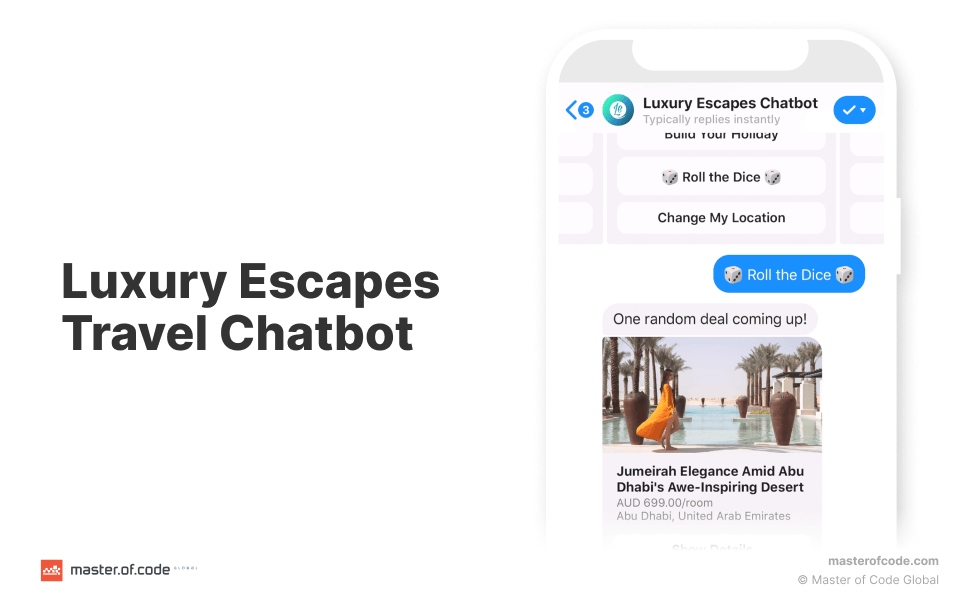 Cancellations & Inquiries
Travel bots play a critical role in managing cancellations and inquiries with precision. AI chatbot for travel planning addresses common questions promptly, guiding customers toward self-help resources. The tools also significantly enhance booking completion rates. When cancellations occur, these bots efficiently process refund claims, recommend suitable alternatives, and provide detailed information about refund policies.
Additionally, they handle inquiries related to insurance, restrictions, and essential trip details. As a result, clients have comprehensive and accurate information at their fingertips. By handling these tasks, travel chatbots streamline the customer experience. Furthermore, they foster satisfaction and trust in the booking process.
Example: Booking.com's Booking Assistant is available on its mobile app, Facebook Messenger, and website. It utilizes AI to swiftly address user inquiries. With the ability to answer 30% of hotel-related questions within 5 minutes, the chatbot enhances user experience. It handles common queries about payment, date changes, transportation, pet policies, and others. If unable to answer, it forwards the request to the Booking.com team, ensuring customers receive accurate information. The chatbot's efficiency and comprehensive support make it a valuable resource for travelers.
Baggage Claims and Refunds
AI-powered luggage chatbots offer real-time baggage tracking, streamlined claims, and instant updates on lost or delayed luggage. Passengers can inquire about baggage claim areas and carousels upon arrival. Then the travel chatbots efficiently create claims using traveler information and ticket details. This proactive approach ensures a hassle-free experience and simplifies luggage management.
Example: Aeromexico's AI-powered chatbot, Aerobot, has integrated the SITA WorldTracer baggage tracing and matching system. This allows passengers to locate their luggage efficiently. By entering basic baggage details, passengers can check the real-time status of their missing bags. This is done directly through Aerobot on WhatsApp or Facebook Messenger to eliminate the need for agent intervention. Such a chatbot for airports enhances customer experience and showcases airlines's commitment to convenient passenger service.
Travel Updates
Travel chatbots excel at delivering real-time updates. This way they ensure travelers stay well-informed throughout their journey. These bots offer immediate access to essential information such as flight statuses, weather conditions, and trip advisories. Travelers get timely alerts directly on their phones for better journey planning. With digital assistants, businesses can enhance overall travel experiences with seamless communication and convenience.
Example: Instalocate is a highly popular flight-tracking chatbot. It utilizes AI to provide users with real-time updates on flight status, hotel availability, and trip conditions. Users can subscribe to Instalocate's API to receive alerts about travel disruptions, including flight delays and cancellations. The chatbot's ability to stay constantly updated on changing data makes it invaluable for travelers. Additionally, Instalocate handles legal matters such as flight delays and obtaining compensation.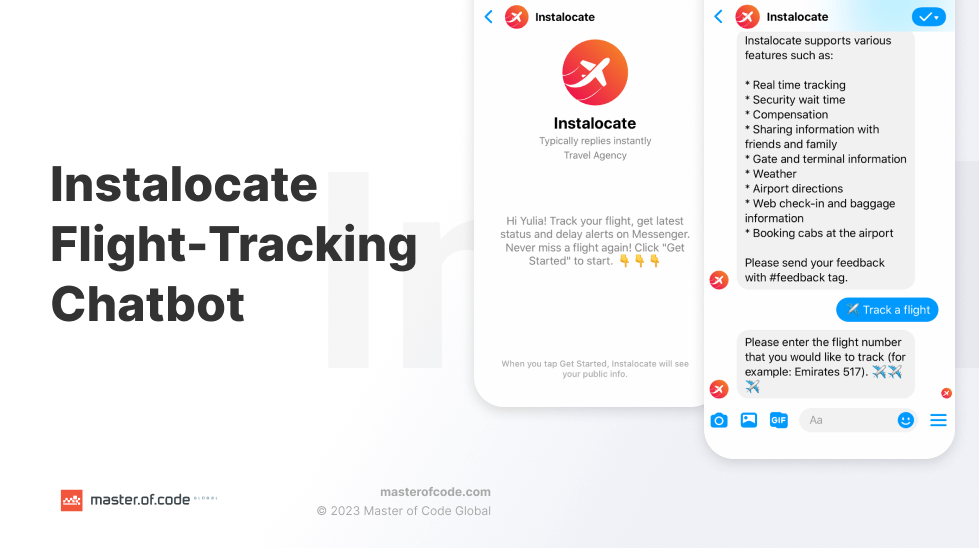 Itinerary Management, Personalization, and Safety Insights
In today's travel landscape, chatbot for travel itinerary elevates the art of journey management to unprecedented heights. By integrating real-time data from various sources, it makes plans according to individual preferences and interests. This covers optimizing routes, suggesting attractions, and even making restaurant reservations. This level of precision ensures that every moment of the journey aligns with the traveler's desires. We can indeed call it a truly customized experience.
Alongside this, AI's personalized recommendations delve deep into user's past behaviors and preferences. This way they offer not just destinations and accommodations but also unique experiences. Furthermore, the safety aspect remains paramount in any journey. And AI continuously monitors weather conditions and travel advisories for consumers' convenience. This holistic approach transforms a trip into a meticulously planned, deeply personalized, and inherently secure adventure.
Example: Emirates Vacations' AI-powered chatbot delivers a highly personalized experience to users. By analyzing user intent and contextual cues, the airline chatbot adjusts its responses based on the content of the page where the ad appears. It not only suggests destinations and packages but also provides recommendations for hotels, points of interest, and third-party reviews. This customized approach ensures that users receive relevant and suitable travel suggestions. That is why during a 30-day trial, engagement of the chatbot soared by 87% compared to standard display ads. The results showcase the effectiveness of this innovative approach.
Customer Support and Post-Trip Interaction
In today's digital age, consumers demand swift, seamless online experiences. Research shows that 81% of US clients prioritize quick task accomplishment. And 55% are unlikely to return to businesses after poor digital interactions. Travelers, in particular, value flawless experiences, with 57% willing to pay 5-25% more for it. Failing to meet these expectations can result in a loss of customer loyalty, making efficient customer service crucial.
AI travel chatbot offers a solution by providing 24/7 client service, ensuring swift responses to queries. They act as personal concierges, handling diverse tasks from FAQs to complex inquiries. Chatbots streamline processes, eliminating wait times and offering personalized services. After the trip, AI bot gathers feedback, addresses post-trip concerns, and even aids in planning future trips. By offering real-time assistance, bots enhance customer experience and win clients' loyalty.
Example: Edward, one of the excellent AI chatbot examples deployed by Edwardian Hotels London, exemplifies the impact of AI on client service. Edward efficiently handles diverse guest requests, from event planning to HR inquiries. Over time, Edward's efficiency has grown significantly; it handled 69% of all requests in 2019. Moreover, it increased room service sales by 10-50%. Edward's seamless blend of AI and human-like interaction demonstrates the potential of travel chatbots to elevate customer experiences in the hospitality sector.
The Power of Travel Chatbots
Chatbots for travel provide instant responses, personalized recommendations, multilingual support, and seamless task automation. They ensure businesses never miss a beat. From increasing conversions to reducing operational costs, travel chatbots empower businesses to elevate their customer interactions. They help create a travel experience that's not just memorable but also incredibly efficient. To stay ahead in the competitive market, a travel chatbot is a must for contemporary travel agencies, hotels, or airports.
24/7 Support
Travel chatbots offer round-the-clock assistance. These tools ensure businesses never miss a user query, regardless of time zones. This uninterrupted service caters to the global pool of clients, enhancing their satisfaction.
Instant Responsiveness and Increased Efficiency
With digital assistants, any travel agency can deliver instant responses. This way they drastically reduce the time customers spend from inquiry to booking. Rapid query resolution not only boosts client's confidence but also expedites the booking process, leading to increased revenue per transaction.
Personalization and Multilingual Support
One of the standout advantages of travel chatbots lies in their ability to personalize user experiences. By analyzing interactions, digital assistants can suggest customized recommendations, from preferred hotels to local activities, aligning with clients' interests. Additionally, multilingual support breaks language barriers, making interactions seamless for international customers. This feature significantly expands market reach, offering a competitive edge.
Cost Reduction and Efficient Task Automation
Implementing chatbots in travel operations substantially reduces operational costs associated with human customer service agents. Moreover, bots excel at automating repetitive tasks like sending confirmations and managing bookings. By handling these routine chores, travel chatbots free up human agents to focus on complex consumer needs. Such a method leads to enhanced efficiency and productivity.
Enhanced Sales Opportunities and Reduced Errors
Chatbots for travel act as adept sales assistants. They can suggest additional services such as insurance or exclusive tours after flight or hotel bookings. Such an approach enables increasing revenue streams. Moreover, bots minimize errors in bookings and information sharing. By providing real-time updates directly to customers, travel chatbots empower consumers to make timely decisions, further elevating their experience.
Increased Conversion and Enhanced Customer Satisfaction
Travel chatbots facilitate instant responses, ensuring clients swiftly move from inquiry to booking. This efficiency not only boosts consumer confidence but also accelerates the booking process, significantly increasing revenue. Moreover, personalized recommendations and multilingual support create memorable experiences. Personalization is the key to enhanced customer satisfaction and loyalty.
Efficient Task Automation and Reduced Overheads
Implementing travel chatbots dramatically reduces operational costs by automating repetitive tasks. It can help agents with operations like sending confirmations and managing bookings. This automation not only slashes overheads tied to human customer service agents but also enhances overall efficiency. Employees are freed up to focus on complex client needs. They can ensure an improved customer experience and maximize productivity.
Data-Driven Insights
Chatbots for the travel industry are not just conversation starters; they're data hubs. Every interaction, inquiry, and booking is a nugget of valuable information. Bots don't just assist clients; they collect data. Analyzing this wealth of information provides profound insights into consumer behavior, preferences, and trends. Armed with this data, businesses can personalize their services, predict customer needs, and stay steps ahead in the market.
Future of the Travel Industry with Chatbots

The industry has reaped AI chatbot benefits since the early 21st century. With enhanced customer interactions and swift issue resolution, both businesses and travelers enjoy increased satisfaction and revenue. In 2022, the global chatbot market soared to USD 5,132.8 million, indicating their essential role in travel. And it's expected to have a projected 23.3% annual growth rate from 2023 to 2030.
Large companies are swiftly adopting bots, anticipating a shift toward voice assistants in customer service. By 2027, digital assistants are set to dominate a quarter of businesses. Thus chatbot integration is becoming imperative as AI is expected to handle 95% of client service interactions by 2025.
Looking ahead, AI technologies promise a sustainable tourism future. Travel chatbots and visual assistants champion eco-friendly practices, educate travelers, and enhance visitor experiences while preserving cultural heritage. Advancements in natural language processing and Generative AI position chatbots to be even smarter. The future envisions bots as primary interfaces for seamless inquiries and bookings. They could evolve into personal travel assistants, providing end-to-end support. Integration with augmented reality and IoT technology may create immersive, real-time planning, transforming how consumers engage with the world.
Wrapping up
In the fast-paced world of modern business, staying ahead of the competition is not just an advantage; it's a necessity. As we've explored the transformative potential of travel chatbot examples, it's evident that these AI-powered tools are not just an option but a strategic imperative for businesses in the travel industry.
At Master of Code Global, we understand the unique challenges your business faces. Our expert team specializes in creating cutting-edge AI chatbots for business. By partnering with us, you're not just investing in technology; you're embracing a competitive advantage that offers unparalleled customer engagement, streamlined operations, and enhanced brand loyalty.
Imagine your consumers receiving personalized recommendations in real time, interacting effortlessly across multiple platforms, and seamlessly navigating language barriers. Envision your business operations running smoother, with bots integrated seamlessly into your existing systems, providing accurate information around the clock. With Master of Code Global, these visions become reality.
Our bespoke AI bots and chatbots for travel agencies don't just serve users; they elevate experiences. They empower your business with advanced conversational capabilities, ensuring each interaction leaves a lasting impression. Imagine the efficiency of your team amplified, the satisfaction of your customers multiplied, and the growth of your business accelerated.
Now, ask yourself: Can your business afford to be left behind? The future of the industry's client engagement is here, and it's powered by AI. Embrace the future, empower your business, and transform customer experiences. Ready to lead the way?
Request a Demo
Discover how Master of Code Global can help enhance your customers' travel experience and boost sales growth.