A growing number of companies are using virtual assistants to interview and evaluate candidates. However, some business owners may have concerns. In our article, we'll discuss HR chatbot use cases, benefits, statistics, and also explore real examples of chatbots.
Today, HR chatbots have become proactive partners in employee engagement. This shift has changed how the department operates. Virtual assistants offer timely support and information, going beyond administrative tasks.
Let's explore some statistics you need to know about bots for employees:
What is an HR Chatbot?
An HR chatbot is a digital tool used in human resources to automate and streamline various tasks. Chatbot for HR can answer employee queries and provide information on company policies. It also assists in onboarding and helps with leave requests.
You can choose a bot that uses generative AI, as they're very popular now. But there are also natural language processing (NLP), machine learning (ML), deep learning, and neural network technologies. This all depends on your needs.
HR chatbots use AI to understand and respond to employee inquiries. They improve efficiency and enhance employee experience.
Explore more benefits of custom AI chatbot developmentCheck out
HR Chatbot Statistics
Chatbots as well as conversational AI platforms are transforming HR practices. This technology makes them more efficient and enhances employee experience. Here are key statistics that illustrate the increasing influence of HR chatbots in the workplace:
HR Chatbot Use Cases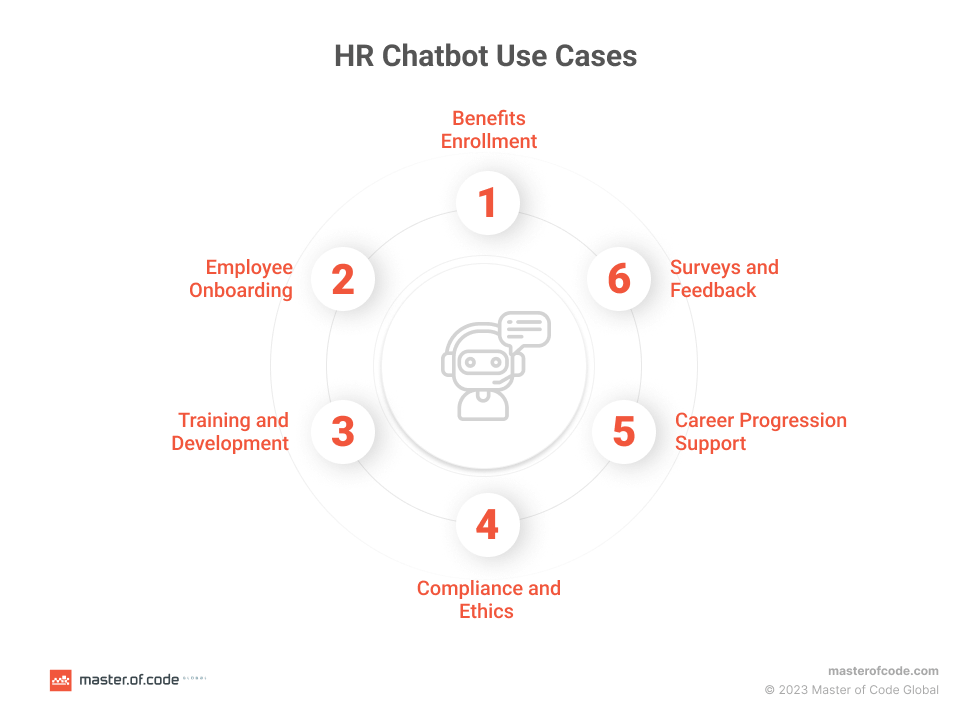 Bots affect various aspects of human resource management. Here are just a few HR chatbot use cases:
Benefits Enrollment: Access to company benefits like health insurance and retirement plans.
Employee Onboarding: Provide new hires with essential information, and training materials.
Training and Development: Offer training modules, and recommend courses.
Compliance and Ethics: Share company policies, values, and ethical guidelines.
Career Progression Support: Assist in setting career goals, and tracking progress.
Surveys and Feedback: Make surveys, collect employee feedback, and generate reports.
Now you can learn more about how these tools help, starting from onboarding to performance management and beyond.
Recruiting
Research states, the time it takes for people to receive interview feedback varies as follows:
Around 44% receive feedback from the employer within a few weeks of applying.
Approximately 37% receive feedback within one week of applying.
Less than 4% receive feedback within a day.
Candidates can quickly receive constructive feedback analyzed by an AI HR chatbot. It will help them understand their strengths and areas for improvement. This will reduce time for providing feedback after the interview.
Almost all big enterprises have their own recruitment departments. The workload of a team may be substantial. A bot can assist your recruiters in collecting and filtering resumes. It tracks applicants' progress throughout the recruitment process. Finally, bot can schedule interviews, coordinating between candidates and interviewers. This allows recruiters to focus on other, more critical tasks.
McDonald's uses Olivia for the hiring process in their restaurants. The main AI chatbot features include:
Managing candidate interactions 24/7.
Scheduling interviews and sending reminders.
Sending offers that candidates can accept by phone.
Sharing documents and conducting background check.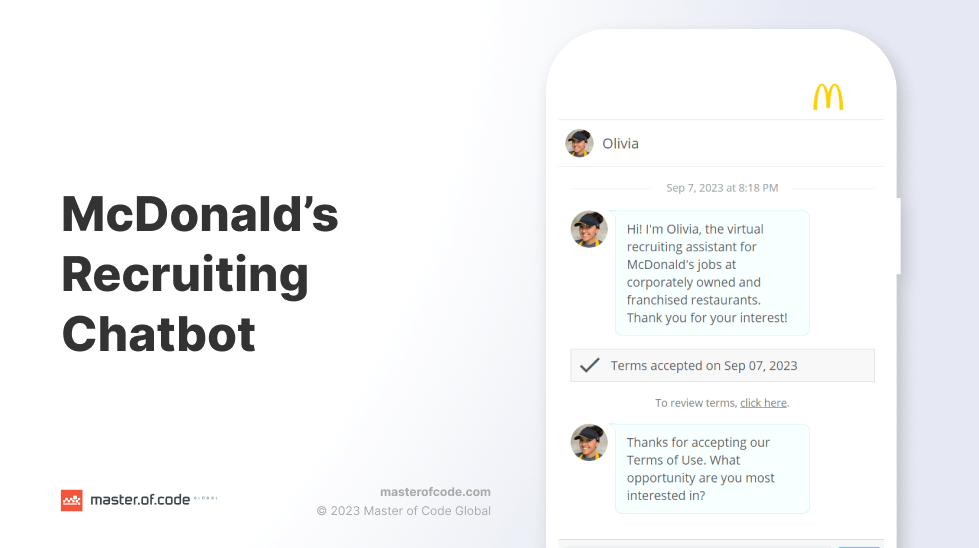 The recruitment team harnessed the following first results:
They reduced the time for interview scheduling from 3 days to 3 minutes.
Restaurants received twice the number of applications with a candidate satisfaction rate of over 99%.
They reduced hiring time by 60% in a little over a year.
Managers saved 4 to 5 hours of manual work per week.
Onboarding
Based on BambooHR's survey of employees, 89% say that the onboarding process helped them feel engaged at work.
When newcomers join a company, they may feel confused. They'll need help finding the channels they should join within your organization's messaging platform. Now many companies work remotely. Chatbot for employees can guide them through their organization's structure. According to reports, companies with effective onboarding keep more new employees by 82% more and improve productivity by 70%.
An HR chatbot use case shows that bots can help the onboarding process for new hires. They provide access to the Knowledge library. This includes information on holidays, benefits, passwords.
For example, when a new employee joins the company, they can ask the bot questions like, "What are our company holidays?" or "How do I set up my benefits?" The bot then gives the relevant information. In this way, they make the onboarding experience smoother and more efficient for the new hire.
iFood, a popular food delivery app in Brazil. They decided to improve the onboarding process. They had difficulties with driver customer service, which is why they wanted to improve their delivery service. The aim was to bring more restaurants and hire new delivery staff.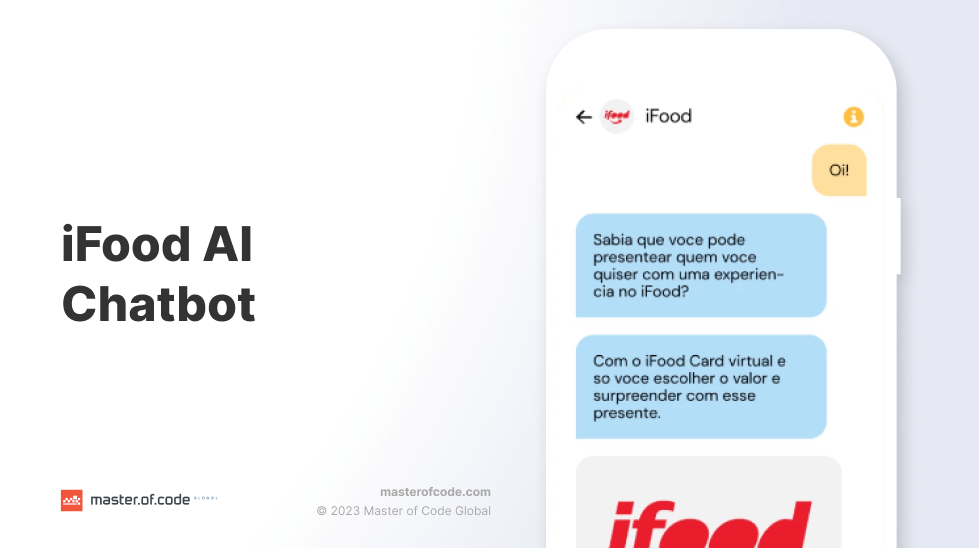 The answer was to introduce a chatbot on WhatsApp and a website to boost customer support. The main feature was automating important tasks such as onboarding new drivers or restaurants. Now it provides 24-hour service and is trained to answer frequently asked questions.
Look at their results:
Automates 45% of incoming inquiries.
70% reduction in delivery costs.
Delivery staff onboarded by the bot gave 91% satisfaction rate.
HR Processes
Chatbot for employee engagement provides information related to payroll. They help employees access their pay-related details and answers to queries. They are good at assisting in performance management. This virtual assistant never forgets to send reminders for performance reviews or track progress.
In this use case, let's see how the HR chatbot handles the vacation request process. This makes it easy for employees to request time off, and then it initiates the approval workflow.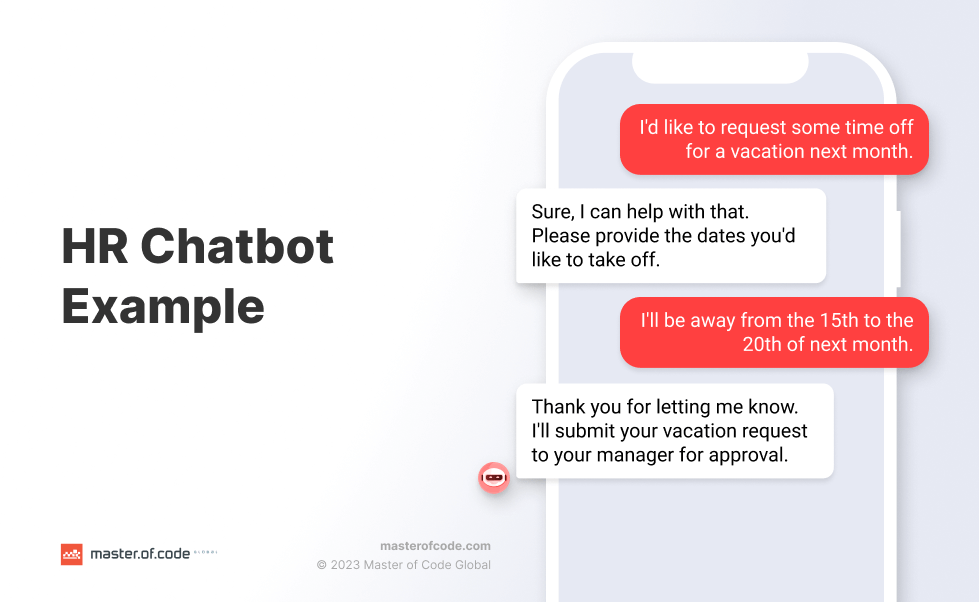 Moreover, AI HR chatbot conducts surveys as well as gathering feedback from employees. This enables companies to collect insights and make decisions to improve the workplace experience.
Benefits of Choosing a Custom HR Chatbot
Investing in a custom HR chatbot offers a range of benefits. We will take a closer look at how they improve efficiency, save costs, and enhance employee experiences. It's a strategic move that can transform your HR operations and drive positive outcomes across your organization.
Considering an investment in a custom HR chatbot? Here's why it's a smart move.
HR Processes in One Place
Companies can keep all HR processes in one place. This simplifies tasks such as leave requests, expense reporting, and accessing HR policies. All these processes are accessible through a single chatbot interface. Chatbot for employee engagement provides workers with information about HR-related activities.
ŠKODA AUTO keeps all processes in one place. They use a chatbot that collects information, documents and forms. Bot collects new employees' personal data. It easily uploads documents and secures them. The company reports a 95% success rate in onboarding people. Such business process automation for HR simplifies repetitive tasks.
Answering FAQ 24/7
One of the key benefits of an HR chatbot is its ability to answer FAQs. This means that employees or candidates can get the information they need at any time, even outside regular working hours. It enhances accessibility and ensures that important queries are addressed promptly.
Airbus needed to find a solution to attract talent on a global scale. Dave Mills, Recruitment Innovation & Airbus Chatbot Product Leader, decided to enhance the Airbus candidate experience with Bessie chatbot.
The team gathered questions candidates often ask and answers to those questions. They put all this information together into a dataset of frequently asked questions (FAQs). Which is important for the FAQ Automation feature. The biggest change is that recruiters don't have to answer the same questions anymore.
The team saw a trend, that people were engaging with Bessie as if she were a real person. Here are the results:
60% of all candidates ask questions outside of working hours.
74% of all questions asked are automatically answered by Bessie.
12,000+ talent interactions every month.
Increase Productivity
Increasing productivity is a top priority for businesses. One effective way to boost productivity is to use technology, such as automation and AI-driven solutions. Bots make routine tasks like answering employee queries, processing leave requests, and managing policies.
By HR process automation, they free up valuable time for professionals. Employees can focus on strategic, even complex aspects of their roles.
Investing in new solutions like HR chatbots is a proven strategy to increase productivity. They streamline operations and drive business success. Our team of experienced professionals can help with it. At Master of Code, we'll develop a chatbot special for your company's needs.
Save Money
Bots assist in recruitment by screening candidates. They help to schedule interviews and provide information to applicants. This approach to the hiring process lowers recruitment costs.
Chatbots automate the entire leave request and approval process. This saves the time HR staff spends on leave-related tasks. This efficiency minimizes errors in leave calculations, avoids overpayments or underpayments.
They are quick, consistent in responses to employee questions. This reduces the time employees spend waiting for assistance. This increases productivity across the organization and can lead to cost savings.
Integration With Platforms
The HR chatbot benefits from its ability to integrate with any platform. This flexibility ensures that chatbot can work with various systems and tools. Employees can easily implement and use it across the organization.
Master of Code developed a Slack chatbot for a product company with OpenAI integration. Employees can get information about the company's products. A Generative AI Slack Chatbot provides access to HR-related details as well as technical information. The final results provided the following benefits for the company:
Navigate through many sources of information.
Manage questions about company products.
Reduce manual work.
Cost optimization tool for the company.
Reduce the load on customer support.
Update company documentation.
Final Thoughts
In conclusion, the adoption of HR chatbots is reshaping the modern workplace. Companies like iFood and McDonald's have already harnessed the power of chatbots. They achieved remarkable results and enhanced the onboarding process.
Using HR chatbots becomes important today because more people are working remotely, on-site, or prefer a hybrid work. These digital assistants streamline HR operations and help employees to access information and support swiftly.
Companies that use this technology can position themselves at the forefront of innovation. It raises efficiency and competitiveness in today's dynamic business environment.
Make your work, especially HR processes, easier with a virtual assistant. Master of Code can help you with chatbot development. If you already have one, we can enhance it by integrating Generative AI into your existing chatbot .
The time to invest in new technology is now. These tools hold the key to shaping a more agile and empowered workforce for the future.
Interested in a Conversational AI solution?
Let us help you connect your brand with customers where they communicate today. Chat or voice.