I truly lose all tolerance for paper when it comes to office paperwork… I used to have several filing cabinets full of the stuff, and overflowing – and yet, despite what I thought was an intelligent filing system, it frequently took me a long time to find what I was looking for. And because every day more of it would appear (some of it coming from my own printer), it was difficult to keep on top of it. The clutter became unmanageable, and I found that I spent far too much of my time managing paper rather than accomplishing useful tasks.
Many businesses find value in paper documents and the feeling of security that comes from physically holding your receipts, business cards, and bank statements. However, sharing physical documents can be difficult and time-consuming, especially in 2022. More importantly, through proper document management and automation, businesses can significantly improve productivity, reduce costs, and get a competitive edge.
This is the second article in a 4-part guide on Business Process Automation and in this part, we'll take a look at what document management is and how Business Process Automation (BPA) can be used to automate the collection, sorting, and sharing, documents in a modern workplace.
Document Management: Solving the "Paper" Problem
Document management isn't just "going paperless".
The idea that simply moving to a paperless model would solve the problems of traditional paper documents was at one time very popular but the idea is ultimately a misconception. Yet it was so popular in fact that at the turn of the century, the term "paperless" threatened the existence of the global paper industry but as the computer era unfolded and annual financial reports of paper companies continued to improve, even setting new sales records, one thing became clear – the paper wasn't the problem – it was the management.
Even if a business manages to be "paperless", it would still require a proper document management system that is capable of effectively receiving, tracking, managing, and storing documents. Improving business process automation and document automation technology in the past few years has made this possible.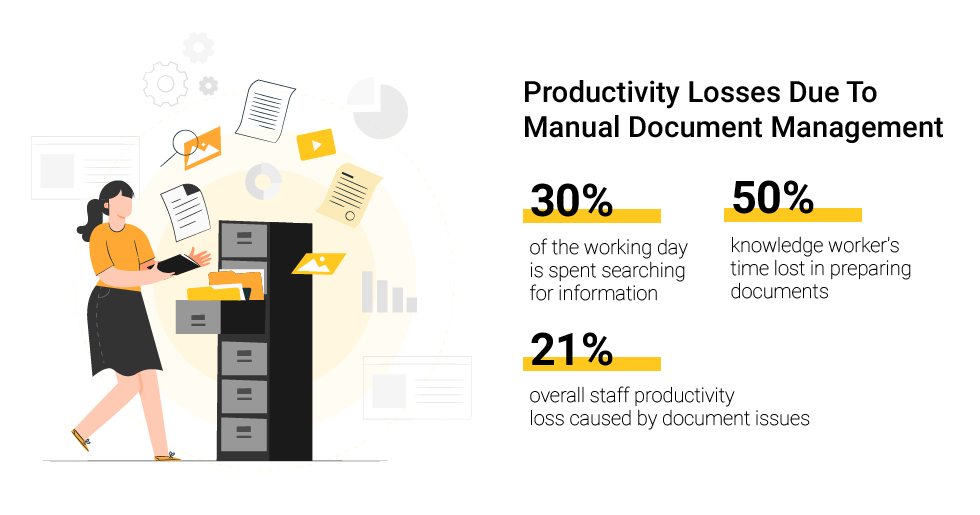 According to the FinancesOnline Research
What is Document Automation?
Document automation is the designing of logic-based systems and workflows that automatically capture data coming into the business and creating and sorting electronic documents. At the core of any document automation system lies a document assembly. The assembly is responsible for generating the documents and can either be very complex or very simple, depending on your business' needs. This variability opens up virtually limitless possibilities in terms of the scope of document automation.
That said, even the simplest of document assemblies will result in a significant bump in productivity, especially considering that the average white-collar employee spends on average, 30 percent of their day searching for information like emails, Office documents, design files, etc.
In other words, smart document management can add an extra 2.5 hours worth of productivity of all of your employees.
Subscribe to get notified about new articles and news from Master of Code Global
Subscribe
Benefits of Document Automation
Save Time
One of the biggest reasons to automate document management is time-saving. The average American worker can save more than 2 hours every day through a document assembly that captures important emails like sales leads and invoices sorts them separately for easier access in the future.
Save Money
Companies can reduce their spending on paper through document management and be more effective (if not equally effective). For instance, the U.S. Securities and Exchange Commission (SEC) plans on saving $1.5 billion in the next decade or $150 million every year. The amount of money your business can save may not be as much but that's less important because money saved is earned.

5 Benefits of Document Automation for Your Business
Increase Productivity
Since raw information coming into the business is more often than not unstructured, employees spend more time and effort trying to access all the required files from multiple repositories or in different applications. All of this costs productivity that can be saved by having important information in a single repository that's easily accessible by all.
Promote Transfer of Knowledge
Not having all members of the team on the same page is one of the key reasons behind delays. In fact, 97% of executives believe that lack of alignment within the team impacts the outcome of a task or project. Smart document management helps in this aspect as well since it's much faster, easier, and reliable to share digital documents on a secure company network."People are practicing more knowledge-sharing than ever before, resulting in more transparency and efficiency", Martin Binder, Business Analyst at Audi on using Confluence, a document management software.
Reduce Errors
Document automation eliminates the risk of human error during tasks like sorting, data entry, and proofreading. It also significantly reduces the need for manual document handling, loading, and storage.
Document Management and Automation Use Cases
AR/AP Automation
One of the most popular implementations of document management is in the form of AR/AP automation. Benefits of using business process automation (BPA) to Accounts Receivable and Accounts Payable include fewer errors and lost documents, reduced costs, and faster payments.

Use Cases for Document Automation
Contract Management
A smart document management software can automate the entire contract lifecycle including creation, negotiation, execution, and compliance monitoring. The automated process allows for efficient recordkeeping with easier access to data and most importantly, prevents data loss (71% of businesses can't locate at least 10% of their contracts).
HR automation
Compliance with HR laws can be tricky business and time-consuming, especially so when using paper documents. But a large number of these tasks are repetitive and mundane – in other words, they are prime for automation. According to the Human Resources Professionals Association, HR managers can easily automate 43% of their daily tasks with the right document automation software.
Automating Expenses, the Mailroom, and More
Through the right logic-based systems that utilize business intelligence (BI), your business can automatically manage your expenses, digitize your mailroom, create and share reports, and stop being limited by the physicality of paper.
Getting Started with Document Automation: Best Software to Use in 2022
Words like document automation, business intelligence, workflows, and assemblies can be overwhelming but building a logic-based system from scratch isn't a requirement to getting started with document automation. In fact, the process is very similar to choosing any other digital product for your business.
To make life easier for you, we've compiled a list of the top 4 document automation software:
Microsoft SharePoint
If your business is already using Microsoft's Office and 365 products then Microsoft Sharepoint is a great (and very popular) web-based collaborative platform. It's one of the most feature-rich document management software but this might be its Achilles' heel as well. Not every business can fully utilize the potential and total costs can add up quickly. For that reason, there's another good alternative.Check it out here.Best Document Automation Software
Google's G Suite
Even more popular than Sharepoint, G Suite by Google offers a completely web-based ecosystem of 10 core products (Gmail, Hangouts, Calendar, Drive, Docs, Sheets, Slides, Keep, MyBusiness, and Vault). G Suite is very simple to use (too simple for some) and millions of businesses depend on it.Check it out here.
Confluence
Atlassian's Confluence is one of the oldest document management software which means Atlassian had plenty of time to improve and refine its platform. The end product in 2022 is a sleek enterprise collaboration platform that is full of useful features without feeling bulky or slow.Check it out here.
Huddle
Huddle may be 4th here but this list isn't in the order of these products' performance. Each of these services has its own USP and for Huddle, it is its enterprise-level collaboration capabilities. Millions of companies may use G Suite but Huddle is used by NASA, EPSON, and the U.S. Department of Defense – it can also be integrated with Microsoft's SharePoint.Check it out here.
Conclusion: Paperless isn't Pointless
The document automation software available today allows companies to reduce their dependency on paper and while doing so, they are cutting down costs, improving productivity, and ultimately increasing profits (not to mention, it's great for the environment).
However, there's even more value to automation once you look at the bigger picture. Smart document automation could just be the stepping stone to make your organization highly automated, and therefore highly efficient.
Want to learn more?
Master of Code designs, builds, and launches exceptional mobile, web, and conversational experiences.