Business process automation is the way forward for accelerating growth. Businesses can grow in one of two ways; either increasing revenue, winning new clients and innovating, or increasing efficiencies.
When a company does both, long-term profitability and sustainability are more secure. With business automation, productivity increases and staff who were doing manual tasks can focus on more useful work that generates higher-value results.
However, it's no longer enough to use software to automate a few processes. Instead, with robotics and artificial intelligence (AI), businesses can start implementing intelligent business automation.
What is intelligent business automation?
Intelligent business automation is whereby Robotic Process Automation (RPA) and Digital Process Automation (DPA), are powered by AI-based tools to automate processes, improve workflows and efficiencies, and even create new process models.
Taking complex tasks and simplifying them. Reducing the human input and work required (thereby reducing costs). Dramatically improving efficiencies when human teams aren't spending as much time on tasks that can be automated, efficiently, and intelligently, with the help of AI-powered solutions.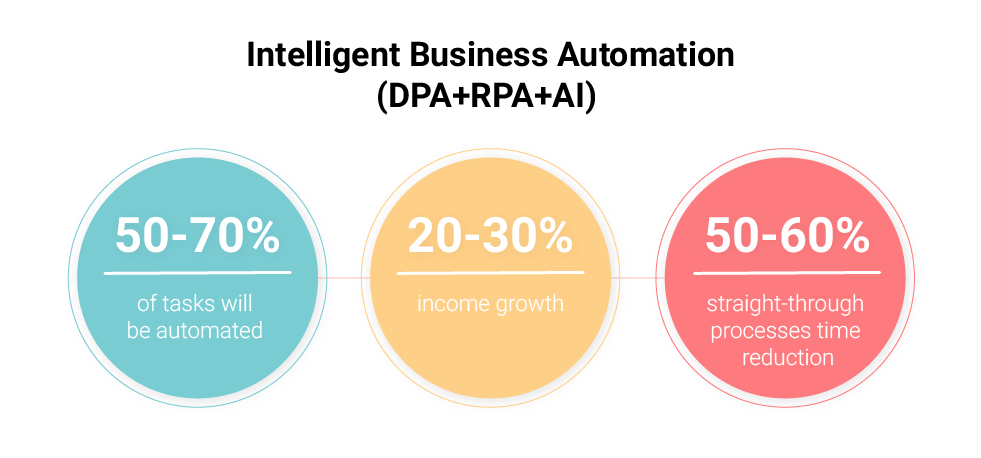 This way, organizations can generate much greater value from data. Since companies run on data, making sense of it isn't that easy. With intelligent automation, not only is data made useful and usable, but whole new business process models can power innovation that wasn't possible before the advent of AI, RPA, and DPA.
In this article, we take a quick look at the two strands of Intelligent business automation (RPA and DPA), and then how AI is integrated into these, alongside the benefits of intelligent automation.
Uses of Automation Technologies
Business Process Automation provides stability, and accuracy while removing redundant steps in workflows
Check your Inbox! The Guide was sent to your email
What is Robotic Process Automation (RPA)?
RPA is the means whereby up to 80 percent of business processes that can be automated. It stands for using robotics (e.g., where systems are designed to mimic human actions, processes, and tasks) to improve and manage processes, and most if not all of this is done automatically.
There are two types of RPA. On the one hand, you can establish an RPA system so that it's attended. This means a human triggering action is required. Often, with this RPA format, human inputs form a key part of it, with the systems managing everything else.
Whereas, unattended RPA is the ultimate aim. No human input required, except perhaps at the input stage, and even that can be automated so that human team members are merely getting the beneficial outputs. Automatic systems running autonomously might sound like science fiction, especially when they are capable of teaching themselves, but we are getting closer to this being reality.
What is Digital Process Automation (DPA)?
Although these sound similar, DPA and RPA perform different roles. DPA is a new type of automated business process management (BPM). It's founded on digital transformation principles, taking a process-centric approach to integrating digital processes and systems into legacy or pre-digital workflows and outdated operating models.
DPA is designed to allow for when implemented the right way, synchronized data, activities, people, and systems. As part of this, entire processes can be made digital, and analytics can provide the insights necessary to drive continual improvements.
How AI integrates RPA and DPA?
Highly optimized businesses operate in a culture of continual improvement. However, we know from experience that too much change isn't healthy for staff and managers to cope with too quickly. RPA and DPA are prominent examples of change that can cause short-term disruption for long-term gain, so this sort of digital innovation needs to be managed carefully and efficiently.
AI is a way of integrating these changes more effectively. AI is something that runs in the background and can be used to bring together a wide range of digital transformation projects, such as RPA and DPA. Instead of pitting those against one another, a smarter approach is to use them holistically; and for that, organizations benefit from an AI-powered system.
AI makes it possible to process vast amounts of data. Once data is cleansed and made useful and usable, algorithms can analyze it to generate value from the data. Not only can new value be derived from the data itself, but these AI-powered systems can be integrated with user-facing processes, such as DPA and RPA are making possible. This way, the systems, and end-users have the most useful data necessary to make smarter, more intelligent choices and decisions.
Benefits of intelligent automation and examples
There are numerous ways this can be applied in midsize to large organizations. Any company where there are multiple processes, systems, and teams with different ways of working and thousands, if not millions of customers to serve, will and is benefiting from AI, RPA, and DPA.
For example, with intelligent AI running in the background, RPA could be used to learn how people work. Once those patterns have been learned, through system-based interaction and user experience-based observations (collecting and analyzing the data), those same systems can be used to determine where efficiencies can be made, how to automate tasks, and how to reduce errors.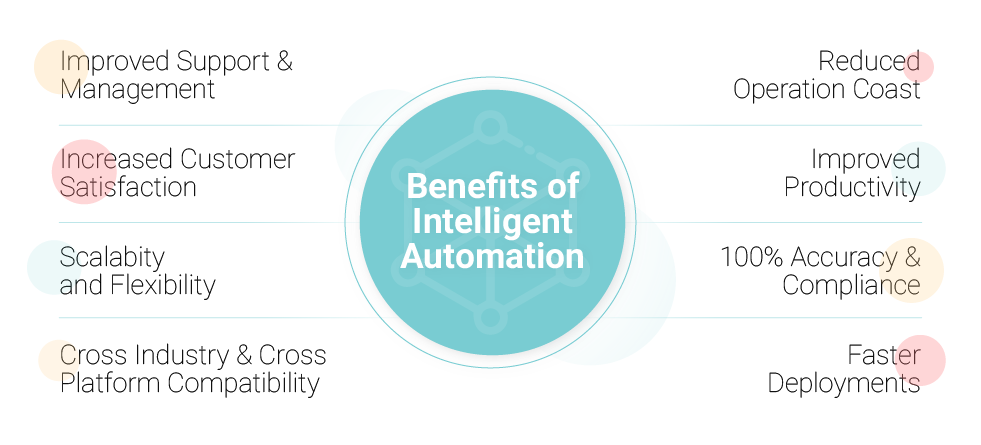 Other ways these can be applied is through the automation of process execution. At every step of any operating process, RPA or DPA can be applied, with the added benefit of AI in the background to enhance the data that flows into the system, and the value generated from the data that is being created during every operating process.
Improved efficiencies, fewer errors, and reduced costs are only a few of the benefits that companies can gain from RPA, DPA, and the integration of AI. Conversational AI examples are seen across multiple sectors where large amounts of data play a key role.
In the insurance sector, McKinsey notes that one company that started using RPA "reduces excess queue procedures affecting 2,500 high-risk accounts a day, freeing up 81 percent of FTEs to take on proactive account-management positions instead."
Another example, in a UK auto insurance sales funnel, found that AI-powered RPA resulted in "a 22 percent increase in conversion rates, a 40 percent reduction in validation errors, and a 330 percent overall return on investment", according to McKinsey. Check out the full list of advantages for a company with Generative AI Chatbot for Insurance.
When AI is combined with RPA and DPA, or both, companies can generate enormous value from data, improve processes, and increase efficiency. Costs go down, thereby allowing profits to increase, improving the return on shareholder value.
Automate and improve your business processes, with BPA solutions that increase workplace productivity and efficiency