Although AI in business is still very much in the infancy of its full potential, there are already dozens of AI use cases. Whether it be for voice and AI-powered assistants, to chatbots, to enhanced facial recognition for security and fraud detection, AI solutions are already making a large impact on businesses of every size in every sector.
According to the use of AI market research forecasts, global spending on AI in business is expected to exceed $89 billion in 2025. This is up from $3.2 billion in 2016. Artificial Intelligence is booming and is a high-growth sector full of potential. This is due to the number of ways it can be used to drive forward innovation, growth, and streamline operational processes.
We look at 10 effective AI use cases in business and the impact AI is already having across a multitude of industries.
#1: AI-powered customer service chatbots
Similar to the AI-powered assistants in people's homes, chatbots are a widespread example of AI in business. Almost anyone who has interacted with an eCommerce brand's Facebook page or websites automated pop-up response of, "Can I Help You?" has interacted with one.
Compared to the cost of managing human customer service or sales team, AI-powered chatbots are a solution businesses of any size can afford. This allows customers interacting with a brand to get the service and information they need 24/7, often going further help to facilitate purchases. Businesses using chatbots generate more revenue and keep costs low.
Check out your potential cost savings by implementing a chatbot solution for customer support
Calculate ROI
#2: Lead generation
AI-powered lead generation tools are already making a positive impact in sales and marketing teams across the world. Once sales leads are in the pipeline and actively engaging with a sales rep or business development executive, then the hard work is up to a human. One of the biggest challenges that businesses have always struggled with is getting enough leads into a pipeline while doing little manual work as possible.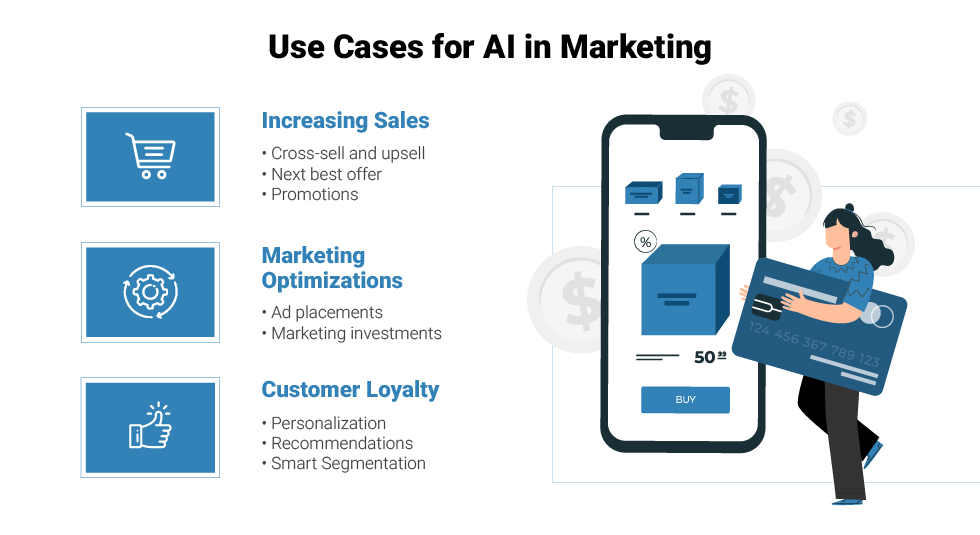 With AI-powered solutions for marketing automation, these problems are solved. At one end of the spectrum, machine learning and sentiment analysis algorithms harvest the web and social media to source prospect data.
Whereas more advanced solutions, such as Albert by Adgorithm, can analyze marketing strategies running to determine the most successful approaches for future campaigns, allowing the targeting prospects more accurately. Others, such as Growbots AI, target prospects from a self-updating database of 200 million leads, allowing companies to use marketing process automation to generate as many inbound leads as possible.
#3: Appointment booking
For salespeople and anyone looking to book meetings throughout the week, this can be a time-consuming and frustrating task. Either an assistant is needed, or it involves a considerable amount of back-and-forth to find a meeting time that works.
With AI-powered appointment booking, these problems are solved. Complete multi-channel solutions can be established including voice-based AI-powered chatbots that make booking appointments for companies easy and cost-effective.
#4: Recruitment and HR On-boarding
Recruitment and HR is another area where automated AI-powered software is making a positive and noticeable impact. Instead of tasking staff on manual activities, AI is being used in dozens of creative and useful ways. From automated candidate sourcing, sifting through resumes for keywords and skills, to candidate rediscovery/re-targeting and candidate matching.
Thanks to a powerful combination of social media and automation, AI-powered solutions are ideal in an HR and recruitment environment, making it easier to source, select, and onboard new talent.
#5: A powerful diagnostic solution in healthcare
Healthcare is another sector where AI use cases are making a big difference. For example, the Massachusetts General Hospital in partnership with NVIDIA, is allowing the hospital to use AI-powered machines for disease detection, diagnosis, and treatment plans.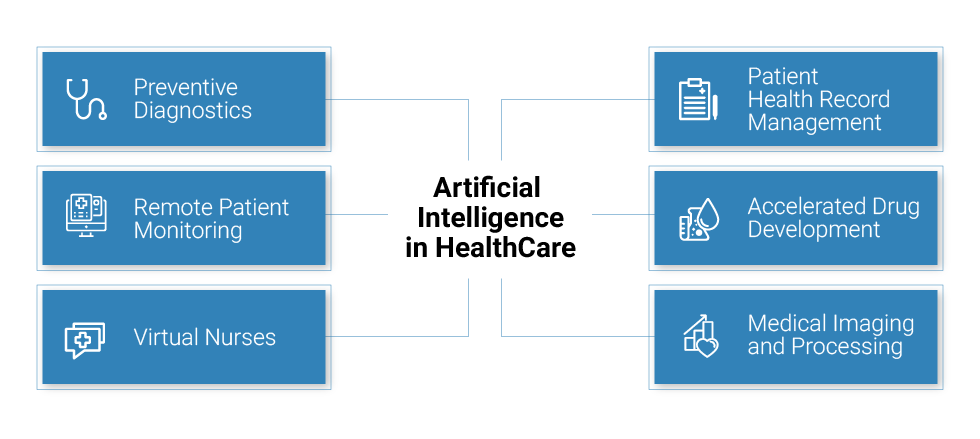 NVIDIA analyses as many as 10 billion medical images to improve disease detection and diagnosis, which always scores higher than human doctors, thereby reducing the risk of an incorrect diagnosis. There are hundreds of other examples of AI being used in healthcare to improve patient outcomes, reduce costs, and streamline processes. Check out the full potential and possible impact of
Generative AI Chatbots in Healthcare and Pharma industry.
#6: Digital and IT security
Traditional IT security is no longer capable of holding back the rising tide of cyber threats. Cybercriminals and hackers are constantly evolving the sorts of attacks they can deploy. In many cases, well-organized dark web groups work with experienced developers using bots and AI to drive attacks forward.
Firewalls and software that keep attacks out of a company's system are no longer enough. Only with AI-powered security can you analyze systems in real-time and detect whether cyber have already breached the first line of defense.
#7: Social media sentiment analysis
In a similar way to how AI-powered assistants and chatbots are making an impact in-home and on websites and social platforms, there are other sentiment analysis tools brands are deploying to monitor online reputations.
Using machine learning, big data, and natural language processing, AI tools can be created to monitor brand mentions and allow companies to deploy automated marketing. Systems such as promotional offers and in some cases real-time engagement when a mention requires a human touch; usually to de-escalate a complaint and solve a customer problem.
#8: Insurance and fraud detection
AI is already being used to more accurately tailor insurance products around specific customer life events, and at the same time, detect fraud earlier to de-risk balance sheets and improve profitability. Check out the full list of advantages for a company with Generative AI Chatbot for Insurance.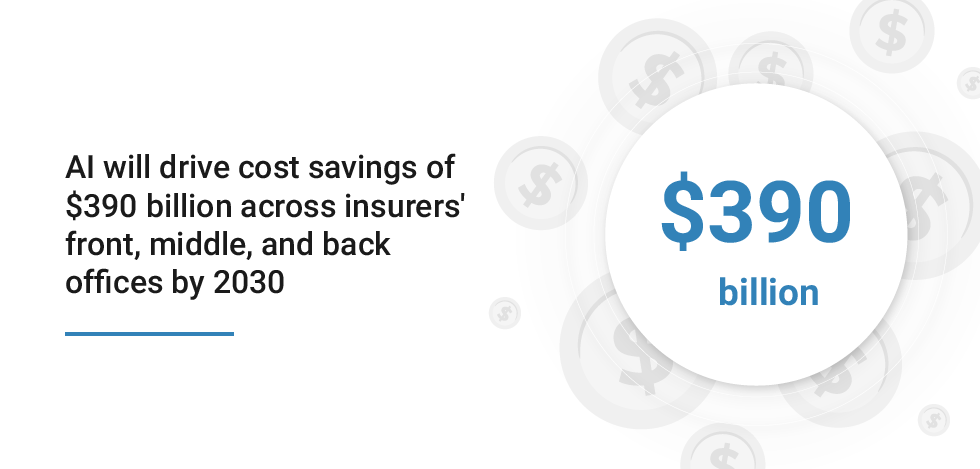 #9: Natural language processing (NLP)
Natural language processing (NLP) is another area where AI is playing an important role in the development phase of new products and services across a wide range of sectors. With NLP, AI can process vast amounts of text in hundreds of languages and dialects to provide a more accurate understanding of how humans communicate. This makes AI-powered chatbots more efficient and useful.
#10: Supporting the legal sector
AI is equally useful in the legal sector when it comes to processing vast amounts of information to identify keywords, phrases, and other useful pieces of data within the discovery process. Expect this use of AI in business to continue and accelerate over the next few years. Dozens of larger law firms across the world are already making use of this technology, cutting through hours of what would have taken weeks for junior legal teams to go through discovery documentation.
As you can see, there are numerous examples of AI in business and countless AI use cases to explore. There is only going to be an increase over the years as more businesses will be able to afford AI and will have better access to these systems.
Want to learn more?
Master of Code designs, builds, and launches exceptional mobile, web, and conversational experiences.