Consumer expectations are evolving and running. A successful eCommerce business demands a lot more than it did a few years ago. Clients are more informed and want a fast, seamless, and smart user interface. To meet these new customer demands, brands are using AI in eCommerce to deliver personalized experiences. And Conversational AI with embedded Generative AI techniques is becoming the most effective of them all.
Utilizing Generative AI to enhance Conversational AI text chatbots and voice bots enables eCommerce companies to create personalized journeys. It also helps them respond to queries faster and deploy Points of Sale (PoS) in popular messaging apps, among other benefits.
Statistics of Generative AI in eCommerce
Check out even more insightful ChatGPT and Generative AI statistics for business.
Top Generative AI Use Cases in eCommerce Market
In the following section, we'll explore various practical use cases of Generative AI, demonstrating its versatility and impact in the domain.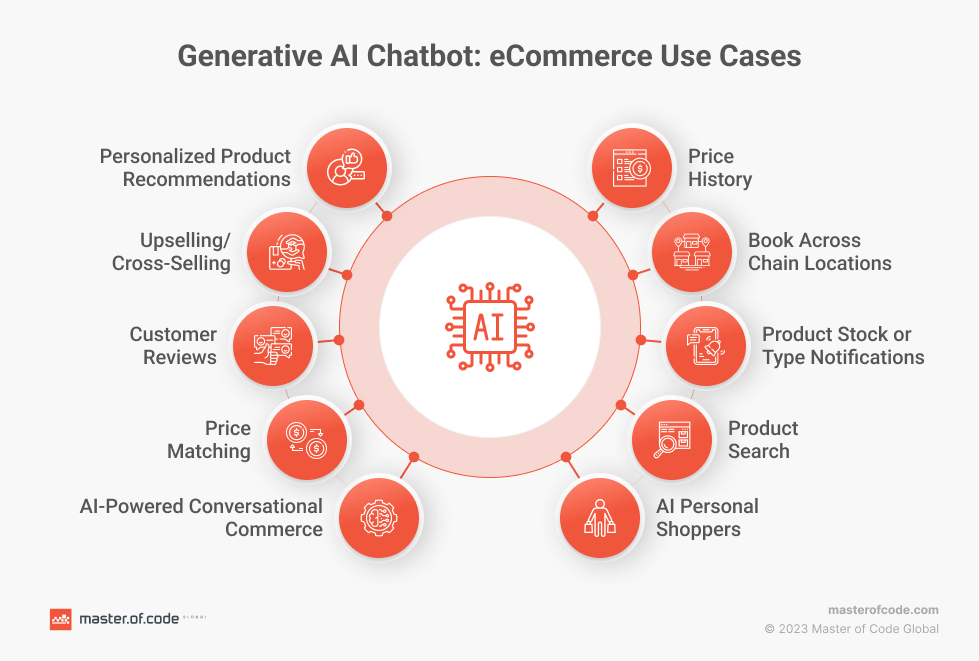 AI-Powered Conversational Commerce
Conversational commerce, powered by Generative AI, revolutionizes online shopping. It combines chat and messaging to assist customers and improve their experience. This technology simplifies the buying process and creates engaging interactions.
Generative AI enhances conversational commerce. Integrated across digital platforms, it learns shopper preferences and offers personalized services. These include customized product descriptions, virtual personal shoppers, and customized recommendations. As a result, businesses foster stronger customer relationships, boosting satisfaction and loyalty.
AI Personal Shoppers
AI-powered personal shoppers offer a solution to the overwhelming choices in online shopping. They guide users through the shopping process, ensuring they find what they need and discover hidden retail deals. Today's shopping journeys often involve searching for various items like clothes in a non-linear way.
Traditional websites treat these searches as separate interactions, leading to a disjointed experience. Artificial intelligence with generative capabilities can improve this by learning user preferences while they shop. Using this information, it enhances their experience when they look at various products. This smooth integration leads to a more personalized and efficient shopping experience for customers.
Personalized Product Recommendations
According to the research, only personalized messaging will be engaging for 72% of customers. Generative AI analyzes clients data to create personalized product recommendations. These recommendations can be sent as product cards via an eCommerce AI chatbot.
This boosts sales by offering consumers personalized product suggestions. These suggestions are more likely to match their interests and needs. For example, if a client needs help finding something to do, cook, or wear, this approach can be very effective.
Upselling/Cross-selling
Generative AI in retail and eCommerce improves the shopping experience for customers. It does this by analyzing their current order and recommending additional items that go well with their purchase. This can be achieved through the use of an AI bot that engages with the client in a personalized way.
For instance, if a customer adds several items to their cart, the bot may suggest other products often bought alongside those items. This creates a more personalized and convenient shopping experience. Generative AI for eCommerce chatbots can even use language similar to a human sales associate, such as "I see that you've added product X to your cart. Did you know that many customers also bought product Y along with it? Would you like to add it to your order?".
This approach assists clients in finding new products they may like. It may also lead to more purchases and increased sales for the business. In fact, business leaders, as reported by Forbes, claim that chatbots increased sales by 67%.
Check out the list of top eCommerce chatbot examples that are changing the way businesses communicate with customers.
Scale Your Customer Support with a Personalized approach in Conversational AI
Check your Inbox! The Guide was sent to your email
Customer Reviews
BrightLocal's online review statistics reveal that almost half (49%) of all consumers trust online reviews just as much as personal recommendations. Thus, online reviews are becoming more important for consumers when they make purchases. Generative AI collects reviews from various domains outside of the current website or platform, such as Amazon or Wayfair.
This eliminates the need for customers to research multiple websites to understand the quality and specifications of a product. Instead, they simply ask a Generative AI-based eCommerce chatbot for information. The bot will provide all of the reviews and the average rating for the item. It helps customers with the process of making informed purchasing decisions quickly and effortlessly.
Price matching
Multichannel sellers often offer similar products on the same selling platform. Using Generative AI, eCommerce bot can prompt users to gather all available prices for a product and then display a comparison result. This helps users make informed purchase decisions by showing them the price range from various sellers. By offering this transparency and convenience, businesses improve the shopping experience and boost sales.
Product Search
Generative AI can be used to help identify a customer's intended product even when the correct name is not provided. For example, a client could make a request to an eCommerce chatbot like, "Find me a product that can do this, looks like that, and is priced around this amount." Generative AI in chatbots allows users to search for products based on style preferences, like "bohemian."
The bot uses natural language processing to understand the request. It also offers a list of product recommendations that match the criteria. This streamlined approach helps consumers find what they're looking for more easily and efficiently.
Product Stock or Type Notifications
An artificial intelligence assistant may inform users about low-stock items and regularly update them on the most popular products. This dynamic notification system offers personalized updates via Generative AI, enhancing the user experience. If you've engaged with a bot and opted in for notifications, you'll receive relevant product updates.
Book Across Chain Locations
When booking appointments at a business with multiple locations, artificial intelligence displays available time slots for each branch. This allows users to choose their preferred location from the options provided. This applies to various reservations, like haircuts, fitness classes, or restaurant bookings. Such an approach is particularly useful for users who prioritize date and time over location.
The flexibility provided by booking chatbot developed by Master of Code for Aveda has resulted in a 7.67x increase in average weekly bookings since it was launched.
Price History
Generative AI enhances eCommerce chatbots by incorporating pricing history data. This data is used to display messages like "lowest price in # of days." Such a method raises the motivation of users to make purchases by highlighting current pricing advantages. This approach leverages pricing history to offer real-time updates and personalized suggestions. Thus, Generative AI bots boost engagement, increase sales, and reduce returns.
Thinking of incorporating Generative AI into your existing chatbot? Validate your idea with a Proof of Concept before launching. At Master of Code Global, we can seamlessly integrate Generative AI into your current chatbot, train it, and have it ready for you in just two weeks.
Generative AI in eCommerce Case Studies
BloomsyBox eCommerce Chatbot
In a partnership with Infobip, Master of Code Global successfully integrated Generative AI into the BloomsyBox eCommerce chatbot. This assistant was developed to create unique and personalized greeting cards. During the campaign, the BloomsyBox eCommerce chatbot engaged users with daily questions. And the first 150 users who answered correctly were rewarded with a complimentary bouquet.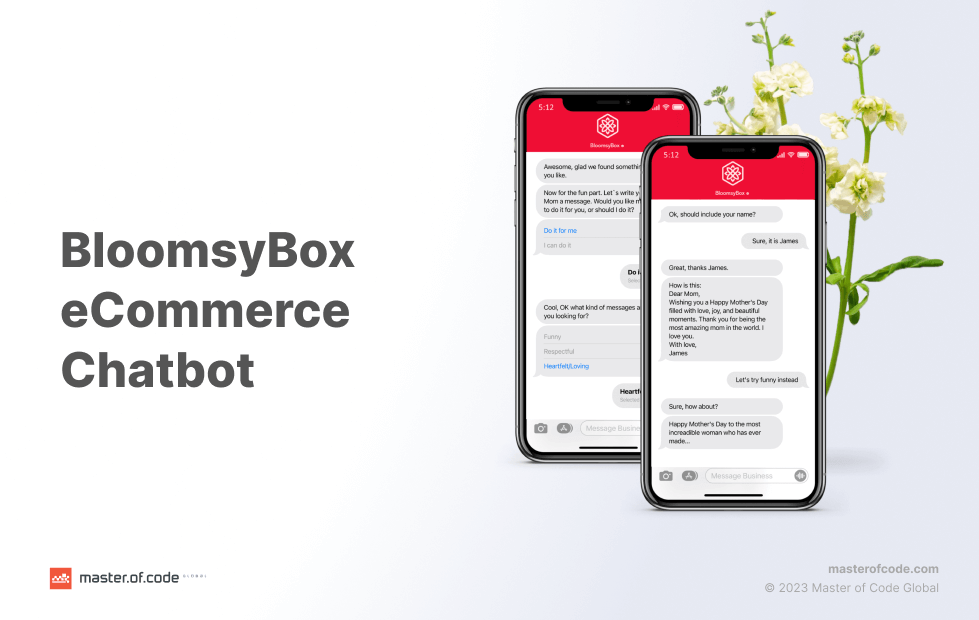 Generative AI integration allowed these winners to generate heartfelt and customized messages for their mothers. These messages ranged from lighthearted to sincere, ensuring a truly memorable and personalized experience for both gift givers and recipients. This innovative use of Generative AI in customer service showcases how technology may elevate the emotional connection and drive engagement.
Shopify Sidekick
Shopify has introduced Sidekick. It's a Generative AI bot designed to assist online store owners with various tasks. It is trained to understand and respond to questions related to Shopify's functionalities and business management. It helps users with setting up discounts, summarizing sales data, and even modifying shop designs. The assistant's goal is to simplify the time-consuming and repetitive tasks involved in managing an online store. It provides personalized responses and assistance that cater to the unique requirements of each user's business.
Furthermore, Sidekick's capabilities mirror the 'co-pilot' approach promoted by artificial intelligence technology companies like OpenAI and Microsoft. It works as a proactive helper that gathers relevant data from the internet and provides actionable insights. Shopify emphasizes that Sidekick is designed to complement users' visions and goals. It also assists them in making informed decisions and changes within their online businesses.
Stitch Fix's AI-Based Ads and Product Descriptions
Stitch Fix uses Generative AI, like GPT-3, to improve its operations. They focus on text generation for tasks like creating catchy ad headlines and detailed product descriptions. With AI, they quickly make many ad headlines that match their brand. Human experts check and adjust the artificial intelligence's work to ensure quality.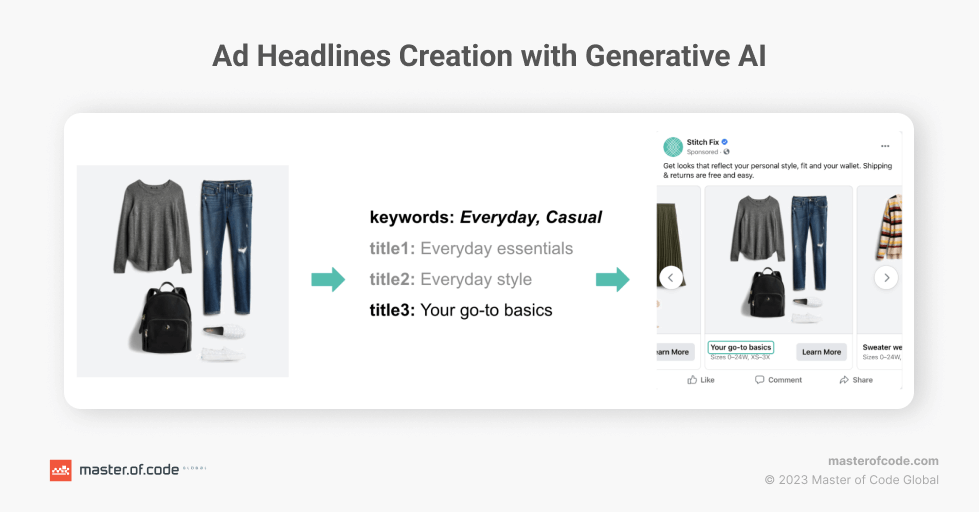 For product descriptions, they use fine-tuning, a process to make AI understand their style and language. This helps create accurate and engaging descriptions for their large inventory. AI-generated descriptions were even better than human-written ones in tests. Stitch Fix's approach involves both artificial intelligence and human experts, making content that keeps getting better.
Generative AI Limitations and Ethical Considerations for eCommerce
Combination of Generative AI and eCommerce comes with certain limitations and ethical concerns that businesses should handle thoughtfully.
Limitations and Challenges:
Evaluation and Feedback: Assessing the quality, accuracy, and usefulness of generated content may be tough. Human feedback, although vital, can be subjective, making model improvement a challenge.
Scalability and Reliability: Requirements for Generative AI services integration limit scalability and reliability. It may occasionally produce unexpected or undesirable results, affecting a business's reputation.
Quality Assurance: Ensuring the accuracy of AI-generated content is crucial to prevent inaccuracies or "hallucinations." Inaccurate product information, reviews, or discounts can harm the brand's reputation.
Latency: Latency in AI responses may negatively impact user experience. Slow response times lead to lower conversion rates and revenue loss. Businesses need to balance artificial intelligence capabilities with latency considerations.
Ethical Considerations:
Privacy and Security: Generative AI accesses sensitive clients data, posing privacy and security concerns. Safeguarding personal information and ensuring secure data handling is essential.
Fairness and Accountability: Biases in data used to train Generative AI or in user interactions lead to unfair outcomes. Businesses must implement mechanisms to ensure fairness and accountability.
Transparency and Trust: Generative AI creates content resembling human-made texts, potentially causing confusion. Maintaining transparency and verifying content sources are crucial for trust.
To effectively use Generative AI technology in eCommerce, businesses must address these concerns with careful planning, responsible practices, and ongoing monitoring while prioritizing consumer trust and satisfaction.
Benefits of Adding Generative AI to Your Existing Chatbot for eCommerce
Instead of developing a new Generative AI chatbot from scratch, Master of Code Global recommends enhancing an existing bot (if you have one) with this technology. However, if you don't have one, Master of Code Global suggests developing a Conversational AI in retail or eCommerce market specifically designed for your needs. This approach allows for more efficient and cost-effective implementation of Generative AI technology, while still providing the benefits of a personalized and engaging bot experience for eCommerce clients.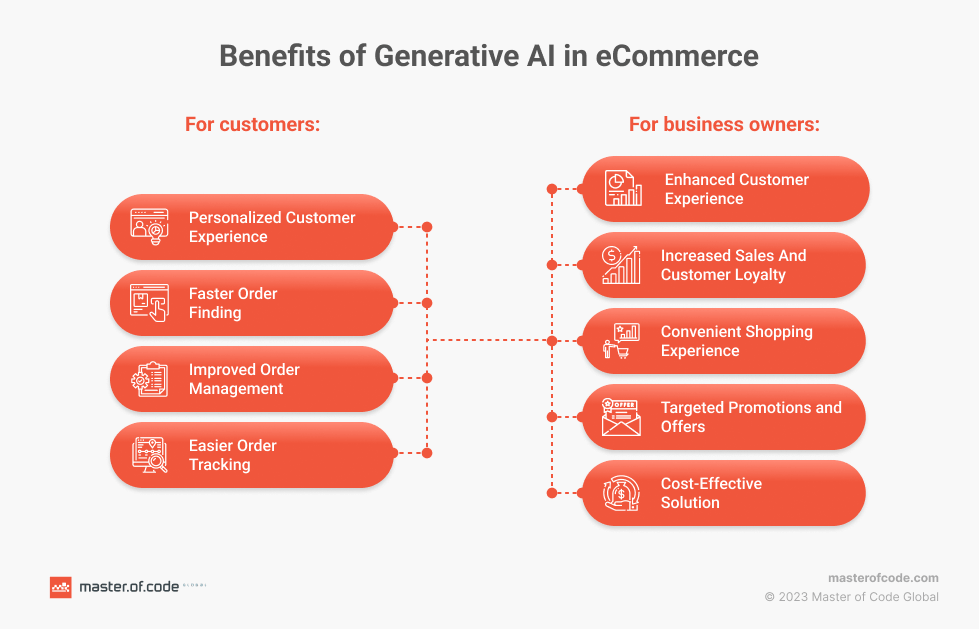 Benefits of Generative AI in eCommerce Chatbots for Business Owners
Enhanced Customer Experience: Generative AI chatbots can give personalized messages, search results, recommendations, and loyalty programs to consumers. This can help clients find the products they are looking for more easily, and it can also help them to feel more valued and appreciated.
Increased Sales and Customer Loyalty: AI-powered eCommerce chatbots can handle a variety of customer service tasks, such as answering questions, processing orders, and resolving issues. This can free up human customer service representatives to focus on more complex tasks, which can lead to improved efficiency and client satisfaction. Additionally, such chatbots can be used to deliver targeted promotions and offers, which can help to increase sales and consumer loyalty.
Convenient Shopping Experience: AI chatbots can understand and respond to natural language queries, which makes it easy for consumers to get the information they need. This can help to create a more convenient and efficient shopping experience for clients. Additionally, these chatbots can be used to provide 24/7 customer service, which can be helpful for clients who need assistance outside of regular business hours.
Targeted Promotions and Offers: AI-powered eCommerce chatbots can use customer data to deliver targeted promotions and offers. This can help to increase sales and revenue during peak shopping periods. Additionally, artificial intelligence chatbots can be used to educate consumers about current and upcoming promotions, which can help to increase consumer awareness and participation.
Cost-Effective Solution: Generative AI chatbots are a cost-effective way to provide personalized service and advanced order management capabilities. This can help eCommerce businesses to offer high-quality service at scale. Additionally, chatbots can be scaled to meet the needs of any size eCommerce business and benefit supply chain management.
Check out the full list of advantages for Generative AI Chatbot in Customer Service.
Wrapping up
In the dynamic world of e-commerce, Generative AI stands as a game-changer. But what numbers talk about the current e-commerce sector? Let's take a look:
In this era of AI-driven commerce, Master of Code Global delivers Conversational AI in eCommerce to elevate the customer experience and optimize business operations. Just as showcased with BloomsyBox, our expertise extends to assisting eCommerce brands in seamlessly integrating Generative AI into their chatbots, ensuring they remain pioneers in this transformative eCommerce landscape.
Submit a request for a Proof of Concept (POC)
Explore the advantages of Generative AI in your company. POC will be done in 2 weeks to validate the business idea!