Fast Company, a leading business media brand renowned for its cutting-edge coverage of innovation and technology, has announced its list of The World's Most Innovative Companies of 2023. Among the winners is Kittch, a culinary media platform that has been making waves in the food and beverage industry.
Kittch aims to become the "Twitch for chefs and food lovers," and has been recognized as one of The Most Innovative Companies in Media for 2023. Developed by Master of Code, Kittch has seen significant user growth since its launch, with over 500 chefs creating profiles on the platform. With its unique focus on culinary content and interactive streaming, Kittch is poised to disrupt the media industry and provide a new platform for chefs and food enthusiasts to connect and share their passion. Fast Company's recognition of Kittch highlights the platform's potential for future success and impact on the food and media industries.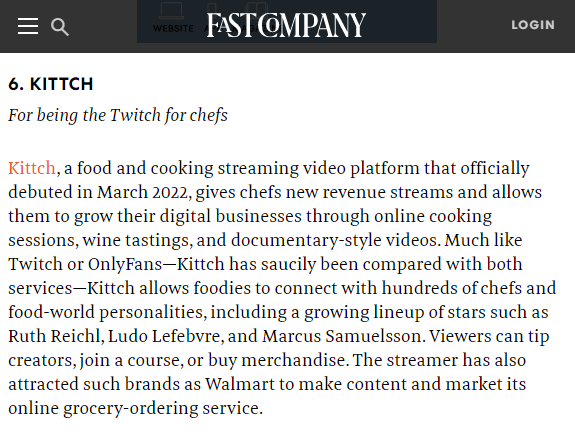 Kittch: behind the scenes of live streaming platform development
Kittch is a one-stop shop for foodies and culinary professionals alike. The platform offers everything from recipes and cooking tips to a marketplace for kitchen tools and ingredients. Kittch is also a social network, allowing users to connect with other food lovers and industry professionals.
The live streaming platform was developed by Master of Code, a company that provides a range of services: Conversational AI services, mobile app development, and software development with a track record of creating innovative and user-friendly digital products. From the idea phase to its launch, Master of Code was responsible for the live streaming platform development process, ensuring that the platform was intuitive, easy to navigate, and delivered an exceptional user experience. The focus was on creating a platform that would allow chefs to interact with their audience in real-time while showcasing their culinary skills.
One of the key features of Kittch is the live streaming functionality, which allows chefs to broadcast their cooking sessions in real-time. This feature enables viewers to interact with the chefs, ask questions, and get immediate responses. Additionally, Kittch provides an archive of past videos, allowing users to re-watch and learn from previous cooking sessions. The interactive chat feature on Kittch also allows users to engage with each other, share recipes, and discuss cooking tips. The platform also includes a marketplace where chefs can sell their merchandise, such as cookbooks, kitchen equipment, and ingredients.
Since exiting private beta, Kittch has seen incredible growth. The platform has experienced 10x user growth and has attracted over 500 chefs to create profiles on the platform. These chefs share their knowledge and expertise with other users, making Kittch an invaluable resource for anyone interested in food and culinary arts.
The future of the Kittch
Kittch's success is a testament to the power of AI, innovation, and collaboration. By partnering with Master of Code, Kittch was able to bring its vision to life and create a platform that truly meets the needs of its users. And by focusing on user growth and engagement, Kittch has been able to establish itself as a leader in the culinary media space.
Kittch is very enthusiastic about adding "smart AI" into the project, one of the most recent initiatives is their Kittch'n Coach AI, which will be able to answer your "What should I make for dinner?" question.

The Kittch's Coach AI will become your own personal chef to help you with all of your kitchen needs. Your coach will answer any questions from suggested recipes to cooking tips – all personalized to you.
In a world where the food and beverage industry is constantly evolving, Kittch stands out as a platform that is not only innovative but also relevant and useful. Its recognition as one of the most innovative companies in media for 2023 is well-deserved, and we can expect to see even more exciting developments from Kittch in the years to come.
Want to learn more?
Master of Code designs, builds, and launches exceptional mobile, web, and conversational experiences.