In the world of competitive online retail, chatbots have become increasingly significant. Their acceptance rates in online retail soar to an impressive 34%. It is even surpassing other sectors like finance (20%) and telecommunications (25%).
Looking ahead, the outlook for chatbots in retail is even more promising. By 2024, the global consumer retail spend via chatbots is predicted to reach $142 billion, up from a mere $2.8 billion in 2019. With nearly 40% of internet users across the world expressing a preference for bot interactions over virtual agents, the rise of chatbots in retail appears unstoppable.
The benefits aren't just customer-centric. The adoption of bots promised annual savings of $11 billion for the healthcare, banking, and retail sectors by 2023. Additionally, around 2/3 of companies are satisfied with their implementations. And a substantial 57% of businesses report achieving significant returns on investment with minimal upfront costs.
Here's the crucial aspect: 62% of respondents prefer interacting with a customer service chatbot over waiting for a human agent. Moreover, 69% of consumers express satisfaction with their most recent bot interaction.
If these statistics aren't ringing the bells, what will? The retail and eCommerce chatbot revolution is in full swing, and its potential to transform your business is boundless. At Master of Code, we've been pioneers in bot development. We invite you to explore the vast potential of bots in retail, bolstered by our expertise.
Enhancing Retail Experiences with Chatbots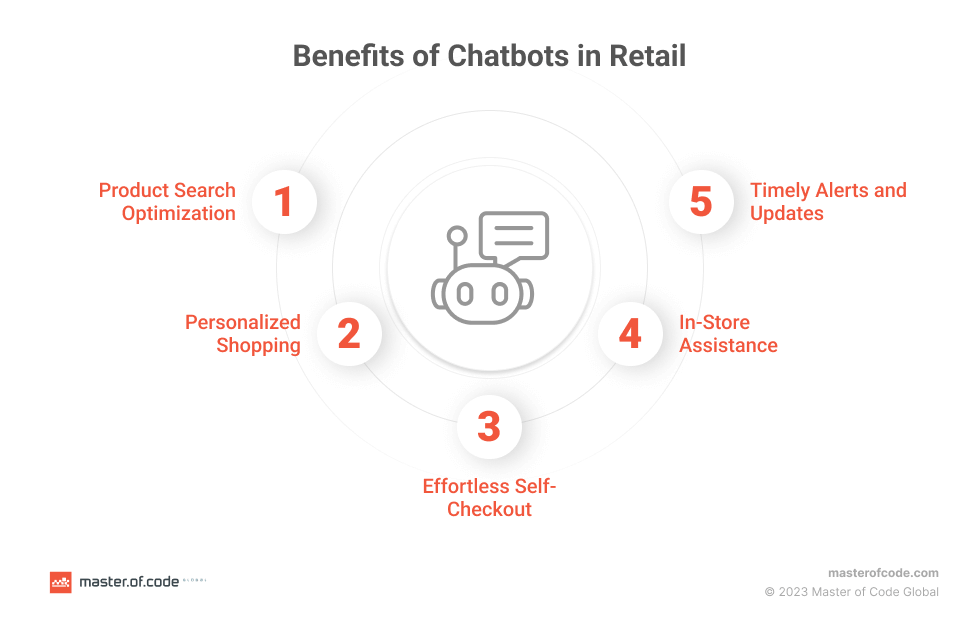 What is a chatbot in the retail industry? It is a virtual assistant that can simulate conversations with customers to answer questions, provide support, and make sales. They offer a multitude of benefits that cater to both businesses and customers. Here are five key benefits of chatbots, supported by compelling statistics:
Product Search Optimization
Finding the perfect product can be overwhelming. Chatbots act as personal shopping assistants, helping clients navigate this landscape with ease. They can instantly provide product recommendations based on customer preferences and needs. Remarkably, 47% of consumers are open to using a chatbot to make a purchase. Furthermore, a striking 71% of surveyed Gen Zs actively seek products using bots.
Personalized Shopping
Personalization is crucial across the entire customer journey. A substantial 76% of consumers prefer brands that offer personalization, and it goes beyond just driving sales. 78% are more likely to recommend personalized brands and make repeat purchases. Retail assistants excel at personalization by remembering consumer preferences and purchase history. This enables them to suggest tailored products and promotions, enhancing the overall shopping experience.
Effortless Self-Checkout
Long checkout processes can deter even the most enthusiastic shoppers. Chatbots streamline this by facilitating quick and easy self-checkout. In fact, according to a survey by the National Retail Federation, the most crucial factors when deciding where to shop are quick search (58%), quality service (44%), and speedy or simple checkout (42%). Bots exceed in delivering these essential aspects of the shopping journey.
In-Store Assistance
Navigating physical stores can be a challenge, especially during busy times. Integrated with store inventory data, bots can guide clients to the products they seek. They provide real-time information on product availability and store layouts. No surprise, chatbots are predicted to become the primary channel for customer service in 25% of all businesses by 2027.
Timely Alerts and Updates
Chatbots provide real-time updates 24/7. This ensures customers are informed about the status and estimated time of arrival of their orders or new offers. In fact, 64% of internet users consider 24-hour service the best feature of bots, which is especially critical in retail. Furthermore, bots have proven to be effective sales boosters. As evidenced by Decathlon, where 29% of conversations in the bot occurred outside of regular store opening hours.
Get more benefits of Conversational AI in RetailCheck out
Chatbot Use Cases in Retail
We will explore the diverse and impactful chatbot use cases in the industry.
Product Recommendations
Bots have proven to be game-changers in the retail industry, boosting sales by an impressive average of 67%. Notably, 26% of all sales originate from initial interactions. Retail chatbots function as personalized shopping advisors, leveraging data on customers' past purchases and preferences to offer tailored product recommendations. As clients browse, these bots can seamlessly suggest items they're likely to love. This enhances the shopping experience, improves customer satisfaction, and ultimately drives higher sales for retailers.
Product Comparison
When a customer is shopping online and wants to compare products, a retail bot serves as a helpful assistant. It presents easy-to-understand tables or lists, laying out the essential features, prices, and reviews of different products. This makes it effortless for consumers to assess their options and make informed decisions. So they save valuable time that would otherwise be spent toggling between multiple browser tabs.
FAQs Around the Clock
Americans highly prioritize customer service, with 90% considering it when choosing a business. Additionally, 51% expect businesses to be accessible 24/7. Retail chatbots, available 24/7, play a crucial role in meeting these expectations. They offer assistance, from clarifying return policies to checking product availability, ensuring clients consistently feel valued and informed round-the-clock.
Find Nearby Stores
The chatbot for retail can help customers find the closest stores with just a few taps. It uses location data to pinpoint nearby outlets, providing addresses and contact details. So, clients can plan their visits with confidence, knowing they're headed in the right direction.
Collect Feedback
Research reveals that over 80% of clients are eager to provide feedback about their business experiences. Moreover, 85% of small and medium-sized enterprises acknowledge the value of online customer feedback. In fact, chatbots collect customer questions and feedback through prompts for ratings and reviews. This feedback serves as a vital resource for businesses, enabling them to pinpoint areas for enhancement and continually refine their products and services.
Place Orders
Ordering products through a chatbot is as simple as having a conversation. Consumers chat with the bot, select items from its suggestions, provide their shipping information, and confirm their purchases. It's like shopping with a friend who takes care of all the details, ensuring a smooth and secure transaction. This user-friendly approach encourages more customers to complete their purchases.
Track Orders
Chatbots keep clients updated on their order status. They provide real-time information on shipment progress, estimated delivery times, and contact details for shipping companies. Therefore, clients can effortlessly track their orders with bots, ensuring a seamless shopping experience.
Multilingual Support
Around 40% of U.S. consumers have used a retail chatbot. However, in a country where 22% speak languages other than English at home, multilingual chatbots are essential. They allow customers to interact comfortably in their language of choice. This capability is particularly vital for businesses operating in diverse or global markets, as it significantly enhances accessibility and engagement.
Manage Complaints
Chatbots for retail efficiently handle complaints, collecting details and escalating complex problems. This ensures timely resolution, enhancing support service. They also track past complaints for issue identification and prevention.
Infer the Levels of Satisfaction
Over 90% of marketers recognize that personalization significantly boosts business profitability. Moreover, brands offering personalized shopping experiences see a 40% increase in consumer spending. Advanced retail AI chatbots equipped with natural language processing capabilities go a step further. They analyze clients' conversations, gauging satisfaction levels by detecting positive or negative sentiment. This enables businesses to proactively address any issues to both attract new and retain satisfied customers.
Retail Chatbot Examples
Let's take a closer look at some of the best chatbot examples in retail.
American Eagle's Facebook Chatbot
American Eagle Outfitters turned to Facebook Messenger chatbot to connect better with its customers. It was introduced during the 2016 holiday season and quickly became a valuable tool for the brand. It made it easy for consumers to reach out, resulting in millions of messages exchanged.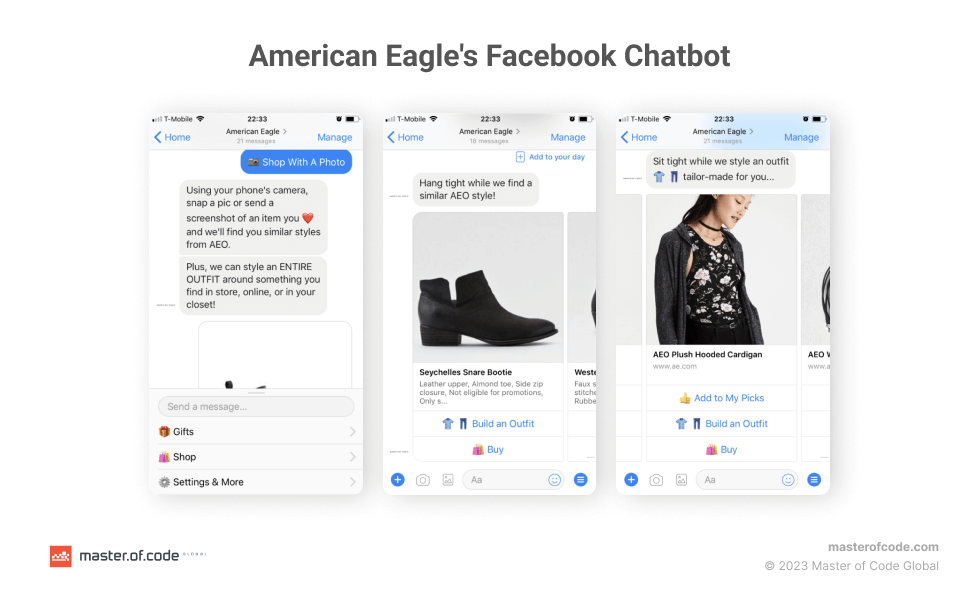 The company has also seen a remarkable 25% clickthrough rate to the website and the addition of 75% of new consumers. This innovative approach allows American Eagle Outfitters to maintain a close, one-on-one connection with its shoppers. The chatbots offer various services, including customer support, fit and care advice, branded content, and shopping assistance, enhancing the overall experience for clients.
Cheerble FAQ Chatbot
Research indicates that an astonishing 82% of clients value swift responses when reaching out to businesses for sales or marketing inquiries. What's more, a remarkable 89% of buyers are more likely to return to a brand if they've enjoyed a positive service experience. FAQ chatbots emerge as a powerful solution to meet these demands.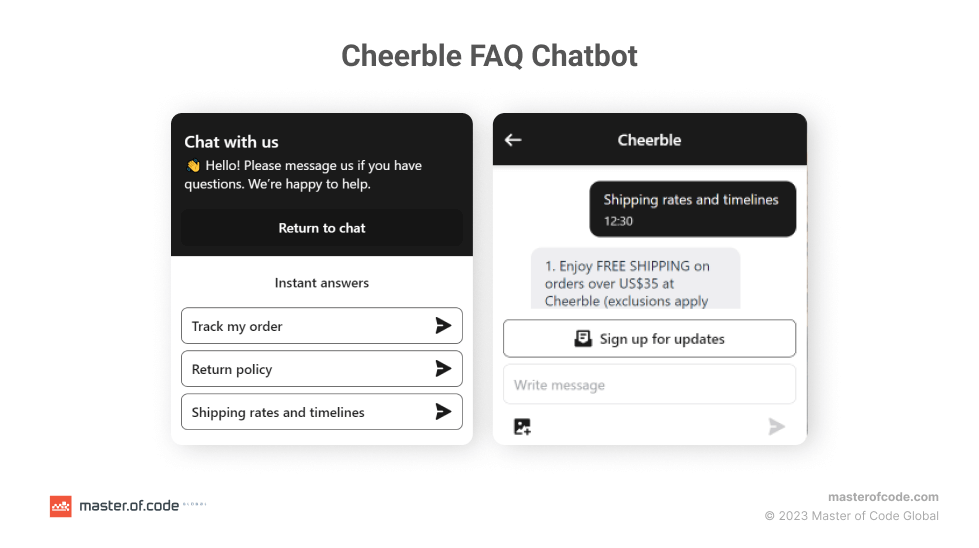 It's no wonder that numerous companies have integrated these chatbots into their operations. Take, for instance, Cheerble, which has used the capabilities of an FAQ chatbot to turbocharge its customer service. It efficiently addresses common queries about their services, spanning from order tracking and return policies to shipping specifics. The result? An elevated customer experience that simplifies the buying process and keeps consumer delighted.
Store Assistance with Ask Sam from Walmart
Ask Sam, a voice assistant designed to assist in-store associates, streamlines tasks and boosts efficiency. By asking questions such as "Where's the hand soap?" or "Who's in charge of the apparel department today?" associates can access information quickly and hands-free. This innovative tool simplifies their work, ultimately enhancing service.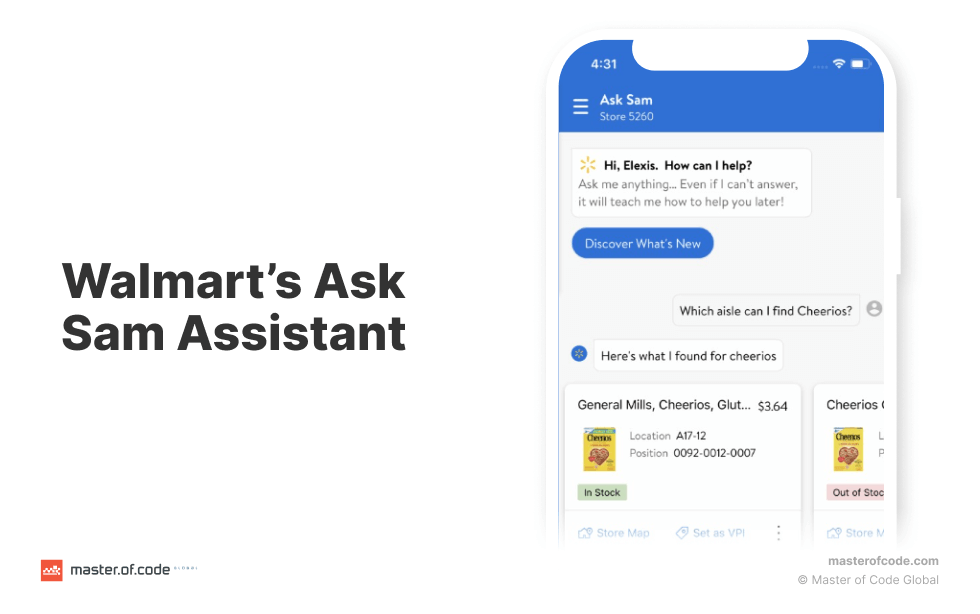 Imagine having a helpful bot by your side throughout your workday. Ask Sam offers this kind of support, making shopping experiences more efficient for both customers and associates. It exemplifies how technology is revolutionizing retail operations, making life easier for everyone involved.
Are You Seeking a Retail Bot Solution for Success?
At Master of Code, we're devoted to chatbot development and work closely with global industry leaders. Our approach begins with a deep understanding of your business, leveraging user data, aligning bot persona with your brand identity, and meticulously crafting AI capabilities. Chatbot features are tailored to your specific needs. This way we ensure your retail bot continuously delivers top-notch performance and engages users effectively. You gain access to advanced functionality, scalability, and a customer-centric approach. Partner with us to unleash the potential of cutting-edge bots that revolutionize your customer support and drive business success.
Best Practices for Your Retail Bot Success
Certain key practices, drawn from our experience, can ensure the successful implementation and utilization of retail bots:
Select a Qualified Service Provider: When selecting a chatbot development service , it's crucial to consider factors such as client reviews and portfolio.

A reputable partner, like Master of Code, with over 19 years of experience, a track record of engaging over 1 billion users through chatbots, and 400+ projects, ensures your bot development is in capable hands.

Comprehend Your Use Cases: Prioritize a clear understanding of your business needs and objectives. Identifying customer pain points and tailoring your bot to address them effectively is crucial for a successful implementation.

Partnering with a Conversational AI development company like Master of Code offers a comprehensive service package, encompassing use case sessions to fine-tune chatbot interactions and optimize user intent.

Craft the Right Bot Persona: Create a bot persona that aligns seamlessly with your brand's tone and values. Consistency in user experience is key to building trust and reinforcing your brand identity.

Master of Code uses user statistics, like location, language, gender, and age, to craft chatbot personalities. This ensures chatbots engage users better, provide content and features suited to their demographics, and address their needs effectively across various platforms and devices.
By following these best practices, you'll be well-equipped to harness the power of retail bots effectively.
Businesses increased in sales with chatbot implementation by 67%.
Ready to build your own Conversational AI solution? Let's chat!