If you've been following the buzz around ChatGPT, OpenAI, and Generative AI, it's likely that you're interested in finding the best Generative AI integration provider for your business. This list of the top 5 companies that offer solutions in Generative AI integration could be of great assistance to you.
These companies have been selected based on their expertise, reliability, and track record in delivering high-quality Generative AI solutions that meet the needs of businesses across various industries. With this compilation, you can save time and effort by easily finding the right Generative AI integration provider for your business.
Top 5 Generative AI Integration Companies
Generative AI integration into existing chatbot solutions serves to enhance the conversational abilities and overall performance of chatbots. By integrating Generative AI, chatbots can generate more natural and human-like responses, allowing for a more engaging and satisfying user experience.
Simple chatbots without Generative AI integration rely on pre-programmed responses and rule-based decision trees to guide their interactions with users. While these chatbots can handle basic inquiries and requests, they often struggle to understand more complex or nuanced queries. This can lead to frustrating user experiences and low customer satisfaction rates.
Generative AI integration, on the other hand, enables chatbots to learn from user interactions and generate responses on the fly. This means that the chatbot can handle a wider range of inquiries, including those that it has not encountered before. Generative AI also allows chatbots to pick up on subtle nuances in language, tone, and context, enabling them to provide more personalized and empathetic responses.
Check out our list of the top Generative AI Integration Companies and put the benefits of this technology into your customer support:
Master of Code
10CLOUDS
Deeper Insights
Data Monsters
The Bot Forge
Now, we will explore further to learn about these Generative AI integration companies. We will delve into their primary services, clients, and, most importantly, their propositions concerning Generative AI.

Year Founded: 2004
HQ: Redwood City, USA
Team Size: 201-500 employees
Clients: T-Mobile, VaynerMedia, Verizon, Esso, Aveda, Luxury Escapes, World Surf League, Tom Ford, Kittch, Post.
Portfolio: https://masterofcode.com/portfolio
Master of Code partners with the world's leading brands to design, develop and launch apps, chat, and voice Сonversational AI experiences across a multitude of channels. Additionally, all of Master of Code's Conversational AI projects come with Conversation Design services from a dedicated designer, and use data to make informed design decisions that address customer pain points, reducing agent overhead costs. Master of Code Global (MOCG) is a certified partner of Microsoft and AWS, and has been recognized by LivePerson, Inc. as a certified partner for delivering end-to-end Conversational AI professional services leveraging LivePerson's Conversational Cloud.
Services: AI, Artificial Intelligence, Conversational AI development, Chatbots and Voice Bots development, Conversation Design, Web Development, Mobile Applications, Software Development, Artificial Intelligence, IoT, Information Technology, Innovation, Business Development, Enterprise Software Development, Corporate Software Development, Virtual Reality, Augmented Reality.
Generative AI development service: proposes "Embedded Generative AI" integration methodology to build Generative AI features into a client's existing Conversational AI platform without creating a chatbot from scratch. Master of Code proposes to create a Proof of Concept (POC) within 2 weeks after the request to explore the advantages of using a Generative AI chatbot in your company.

Year Founded: 2009
HQ: Warsaw, Poland
Team Size: 51-200 employees
Clients: TrustStamp (Identity verification), Emergent Tech (G-Coin), AlephZero (Blockchain), Tapeke (BitCoin Software Development), Tagasauris (Crowdsourcing Software Development), CallerSmart.
Portfolio: https://10clouds.com/case-studies/
10Clouds is a software consultancy, development, ML and design house based in Warsaw, Poland. 10Clouds is a team of 200+ experienced developers and designers, ready to transform your digital ideas into impressive, world-changing products. 10Clouds provide a wide range of services related to digital product development and design, including blockchain services.
Services: Mobile app development, web development, blockchain technology implementation, 360′ design services, DevOps, OpenAI integrations, machine learning and MLOps.
Generative AI integration service: proposes to deliver ChatGPT-4 enabled application on demand.

Deeper Insights has six years of experience in building AI solutions for large enterprise and scale-up clients, a suite of AI models, and data visualization dashboards that enable to quickly analyse and share insights.
Services: AI Solution Development, ML Engineering, Data Science Consulting, NLP, AI Model Development, AI Strategic Consulting, Computer Vision.
Generative AI integration service: proposes to train Generative AI on clients data and add new features to products.

Year Founded: 2009
HQ: California, USA
Team Size: 51-200 employees
Clients: Smith and Nephew, Deloitte, Breast Cancer Now, IAC, Jones Lang-Lasalle, Revival Health.
Data Monsters, a Palo Alto-based R&D lab and consulting company, provides professional services in the AI space. Elite Service Delivery partner of NVIDIA. Data Monsters can help companies deploy, train and test machine learning pipelines for natural language processing and computer vision.
Services: Data Monsters is an Elite NVIDIA Service Delivery Partner with vast expertise in NVIDIA RIVA, NVIDIA Omniverse, NVIDIA Metropolis, NVIDIA Deep Stream, and NVIDIA Replicator.
Generative AI integration service: proposes to design and develop a ChatGPT-based system for customer-facing or internal communications.

Year Founded: 2018
HQ: Buckinghamshire, UK
Team Size: 2-10 employees
Clients: Rossano Ferretti, Help For Heroes, BNP Paribas, Skin Check Champions, EcoATM, Customs Clearance Consortium.
Portfolio: https://www.thebotforge.io/case-studies/
Conversational AI agency: design, develop, optimise and support a range of custom chatbot and voice assistant solutions. Their team is made up of chatbot developers and conversational AI specialists with 20 years of coding experience. Focused on forging engaging voice and text-based conversational interfaces powered by Artificial Intelligence.
Services: Conversational AI, Chatbots, Voice Assistants, Digital Humans.
Generative AI integration service: proposes to prepare and upload training data, and orchestrate the correct platform to create ChatGPT project.
Why are Generative AI integrations important for customer support success?
Generative AI integrations are important for customer support success because they enable businesses to provide more personalized and efficient customer support experiences. By leveraging Generative AI, companies can improve the accuracy and speed of their responses, leading to higher customer satisfaction rates and increased loyalty.
Generative AI integrations offer several benefits for customer support success, including:
Enhanced Natural Language Processing (NLP) Capabilities: Generative AI can help chatbots better understand and interpret natural language inputs from users, including complex or nuanced inquiries. This can lead to more accurate and relevant responses, improving the overall user experience.
Real-Time Response Generation: With Generative AI integration, chatbots can generate human-like responses in real-time, enabling faster and more efficient customer support interactions. This can help businesses handle a higher volume of inquiries and requests, while still maintaining a high level of service quality.
Personalization and Customization: Generative AI integration can help businesses tailor their responses to individual users based on their history, preferences, and other contextual factors. This can lead to a more personalized and empathetic customer support experience, improving customer satisfaction rates and loyalty.
24/7 Availability: With Generative AI chatbot, companies can provide customer support around the clock, regardless of their physical location or availability. This can help businesses improve their service levels and responsiveness, leading to higher customer satisfaction rates.
Market Mapping: From Conversational AI to Generative AI landscape
The market for conversational AI technologies is currently experiencing a surge in growth and development. Apart from well-known chatbot development framework companies and NLU & Dialog Design tools that facilitate communication between chatbots and humans, Large Language Models (LLM) companies should also be taken into account as they are reinventing the customer support market.
We conducted research on the "Conversational AI landscape" and examined whether these companies have integrated Generative AI techniques into their solutions available below: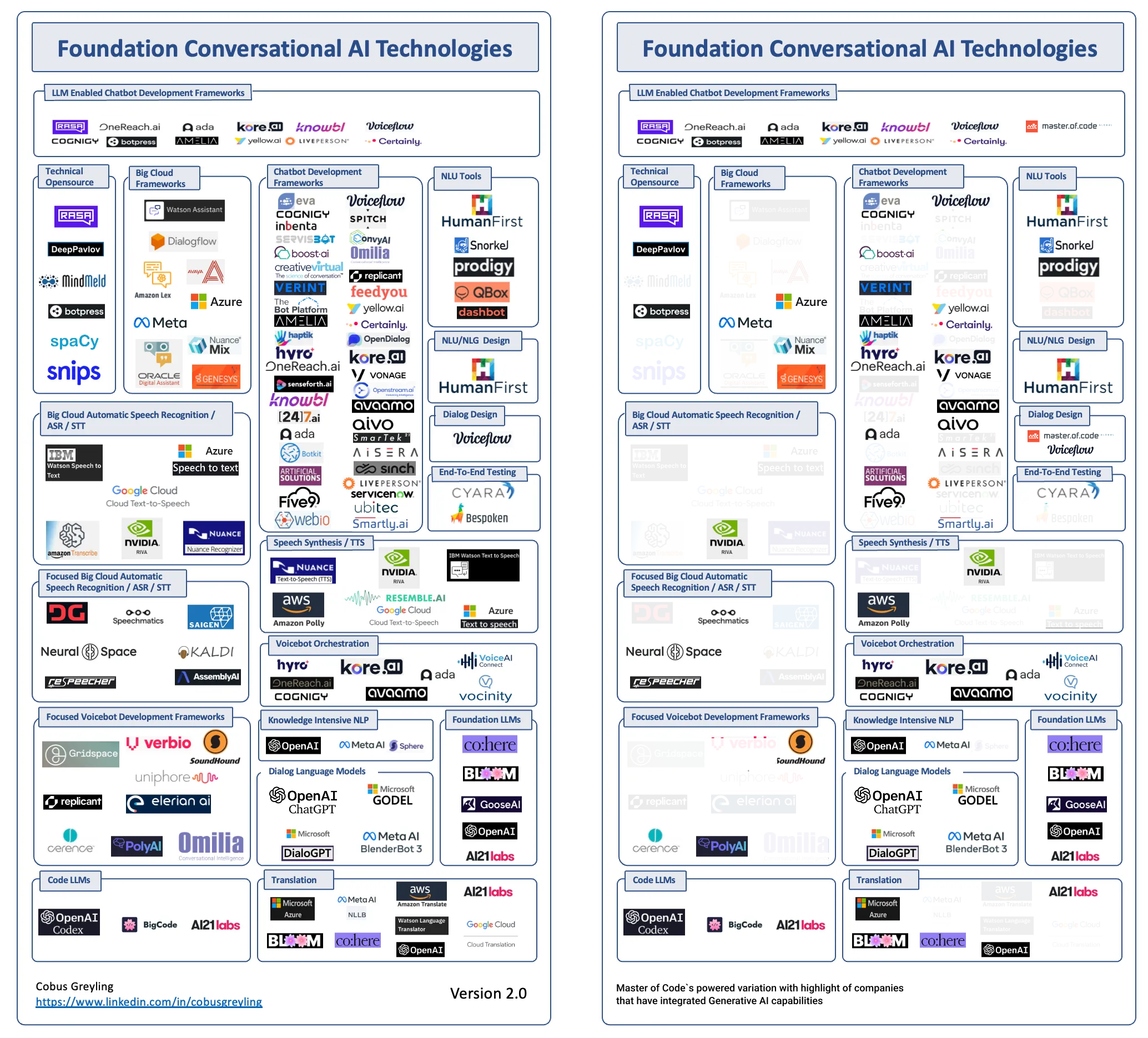 The research with the original Conversational AI Technologies Landscape and our map has revealed that many Conversational AI companies are indeed incorporating Generative AI techniques into their solutions. These advanced systems can create highly personalized and engaging conversations with users, resulting in a superior customer experience. By leveraging Generative AI, Conversational AI companies can offer a more human-like interaction that is capable of understanding complex queries and providing relevant responses in real-time.
Wrapping up
The expertise and methodology of Generative AI integration companies will greatly influence your timeframe when it comes to enhancing your customer support experience. The above mentioned top 5 Generative AI integration companies will determine critical elements and design their preferred development methodology to provide customized solutions to meet the unique requirements of businesses. The integration of Generative AI by these top Generative AI integration companies will help automate customer support operations, providing personalized responses to customers and enhancing customer satisfaction.
Generative AI integration into conversational AI technologies is rapidly transforming the customer support market, creating new opportunities for businesses to improve their customer experience and drive growth. The results of our research demonstrate the importance of considering these advanced conversational AI solutions when seeking to optimize customer support and engagement.
Submit a request for a Proof of Concept (POC)
Explore the advantages of Generative AI in your company. POC will be done in 2 weeks to validate the business idea!