Not every business has yet achieved the sort of process efficiencies that ensures staff are liberated from mundane and manual tasks. According to a 2018 Forrester report, The Sorry State of Digital Transformation, 22 percent of companies haven't achieved process excellence and workflow automation.
With Business Process Automation (BPA), recurring tasks can be automated, new efficiencies created, and manual and mundane tasks replaced with systems that can dramatically improve productivity.
What Is Business Process Automation?
Business Process Automation (BPA) is the streamlining of manual processes with automatic systems. Instead of human input and management of a wide range of processes, costs can be minimized, workflows streamlined, and manual effort replaced with automatic systems.
There are a number of ways this can be done, including using artificial intelligence (AI), machine learning (ML), Robotic Process Automation (RPA), and Digital Process Automation (DPA). There is no wrong or right way to go about this. It depends on your systems, processes, user-research, the capabilities of existing systems, the data that makes them run, and how ready or not an organization is for an extensive digital transformation project.
Why Automate Your Business Processes?
Organizations go about automating processes for several reasons. Some of the most common include reducing costs, increasing efficiency, improving existing processes, or putting whole new workflows in place to help a company innovate and develop new products and services.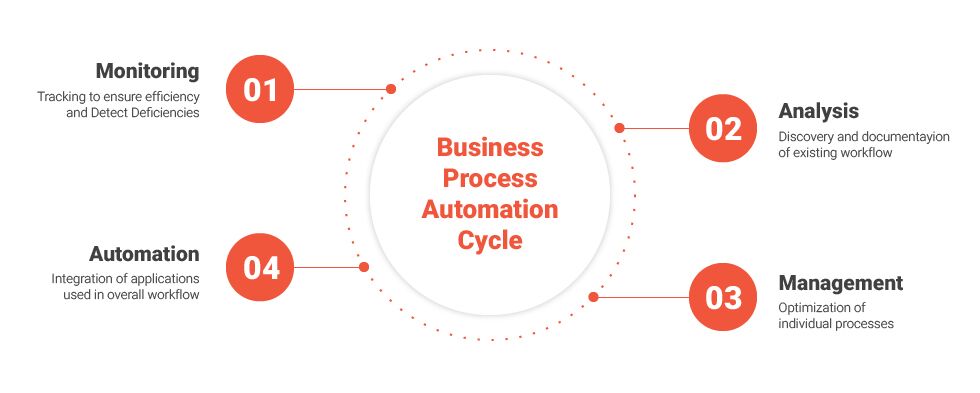 Companies are always looking to generate new revenue, grow, and save money, and with BPA all three are achievable.
Basic Steps of Business Process Implementation
Before going ahead with business process implementation, organizations need a clear understanding of what needs to be automated, how processes are currently working, and the impact and positive outcomes they can expect for the business and end-user.
Implementing new business processes involves multiple stakeholders working together within an organization. Senior managers need to fully support BPA implementation, to ensure that those responsible for the projects have the time and resources to make this possible. Alongside that, external IT teams are required to develop the systems, either through creating new ones or overhauling legacy systems.
Regardless of the operational area being transformed, BPA projects often go through a discovery phase (often involving user testing and research), a trial development phase, followed by full-scale roll-out and implementation.
Subscribe to get notified about new articles and news from Master of Code Global
Subscribe
Elements of Automated Business Systems
Automated business systems include a series of key elements. Firstly, every automated system starts with a clear understanding of the workflows, tasks involved, and people responsible for them. If you don't understand this data, systems can't be designed around these needs and developed to create improved efficiencies.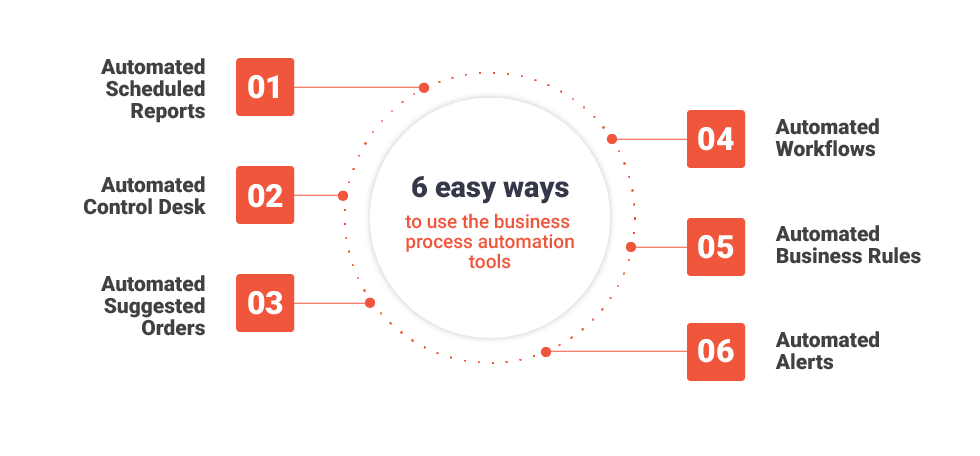 Streamlined processes are one of the most positive and common outcomes of the automation of business systems. End-users, often front-line staff, benefit from systems that are easier to use, whereas managers gain clearer notifications and oversight when work tasks have been completed.
Other elements usually include analytics and dashboards, and user-friendly software that's connected to databases that can have the benefit of an AI or ML-powered interface. That way, the data running through companies' systems can play a more direct role in operational and front-line decisions.
Use Cases of Business Process Automation
BPA use cases can cover a wide range of operational areas, from hiring to operations management, sales, marketing, and to employee analytics. We look at a few of these more closely:
#1: Recruitment and HR
Recruitment and HR can be an intense area due to the amount of processes and paperwork that needs to be managed. Recruitment and onboarding is often a chaotic and time-consuming process. Whereas, with HR process automation, manual ways of working, from putting job adverts out to going through compliance for new employees, could be automated.
HR is another area that involves a lot of manual paperwork tasks, many of which can be automated. Instead of HR staff continuing to work through simple manual tasks, the focus of these teams could shift to looking after employee wellbeing. HR teams could more effectively manage training, culture, wellness (including and especially mental health), working with the right partners to deliver real long-term value to employees and companies.
Business process automation would free up an enormous amount of time, making HR more of a value-added function instead of a cost area.
#2: Sales and Marketing
Sales and marketing is another area that would benefit from automated processes and systems. Despite a lot of software and systems designed to automate pieces of work within these operational areas, there isn't sufficient joined-up strategies and systems to make this happen to the fullest extent, in a way that adds real value.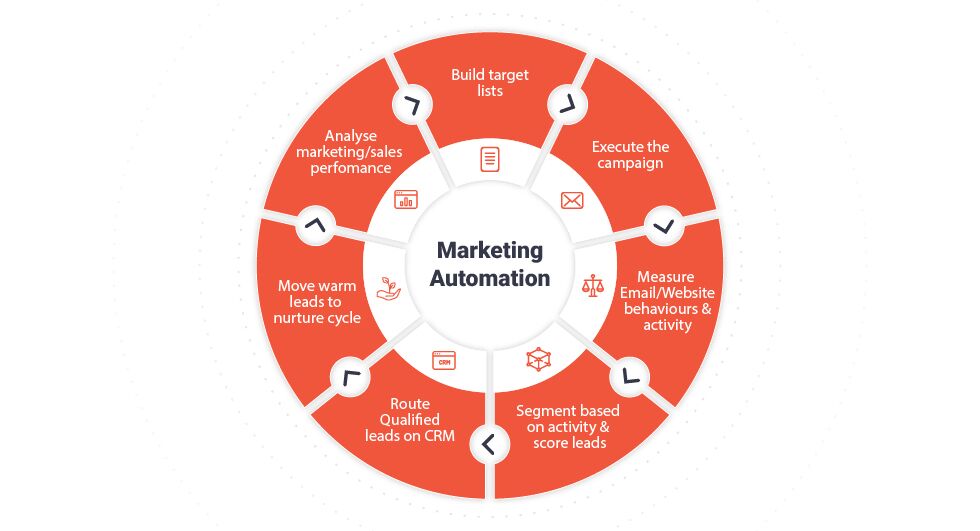 We need to look at BPA as an opportunity to improve processes and streamline areas currently not covered by existing forms of automation. From data entry to pipeline management, some of the most challenging pain points could be resolved with the roll-out of BPA. Leads could be sourced, nurtured, and managed easier. Not only would this make sales and marketing teams more efficient, but a higher volume of leads could also be converted, thereby generating revenue improvements.
#3: Employee Analytics
Another area that would benefit from BPA is a relatively new operational area known as employee analytics.
How does your company currently measure workloads and task management?
In most cases, this is ad-hoc, with data siloed in different systems, and no one senior has a clear overview of productivity and employee performance. With employee analytics, workloads, what's being delivered, and outputs could be measured on a simple single-view dashboard. This way, managers could see who's performing well and who isn't, who would benefit from training or other types of support.
There are dozens of other ways Business Process Automation for Customer Communication. The technology already exists. We already have a high level of operational understanding surrounding how we improve processes. To make this happen, companies need to take a short, sensible leap into the future, ensuring systems are connected in the most efficient ways possible to improve how staff work and what they do within working hours.
BPA is the future, and our team at Master of Code knows how to implement these new operational models to drive forward the change companies need.
Want to learn more?
Master of Code designs, builds, and launches exceptional mobile, web, and conversational experiences.