The days when human agents were the only viable form of customer service are long gone and things are changing. In fact, a large part of online shoppers actually want to talk to AI chatbots. A recent report revealed that more than half of online shoppers (70%) prefer talking to a chatbot over a human agent if it means they do not have to wait.
Chatbots have also become far more advanced. Thanks to Сonversational AI, chatbots are now capable of understanding contexts, intentions, and handling multiple questions or deviations from the main topic flawlessly. Chatbot implementation and use cases have grown as well. Businesses are deploying different types of chatbots including sales, market research, and customer engagement chatbots.
Some of the most popular and successful chatbots have been deployed as standalone and website chatbots and on popular messaging platforms too, such as Facebook Messenger, WhatsApp, and Google RCS.
Statistics Behind the Best Examples of AI Chatbots
Every business has at least one business function that involves regular communication with the customer, in fact, most businesses have numerous (social media, customer service, direct business messaging, etc). More importantly, functions related to communication can be automated with conversational AI, meaning almost every business has the potential to reduce costs on communication, ensure 24/7 availability with call center automation, and enjoy personalization at scale.
Check out your potential cost savings by implementing a chatbot solution for customer supportCalculate ROI
And many businesses are already making use of this technology. Though we're focusing on the most successful implementations of AI chatbots in this article, there are numerous other examples of AI in everyday life, across various industries and markets. The following statistics will help you better understand the extent of chatbot adoption: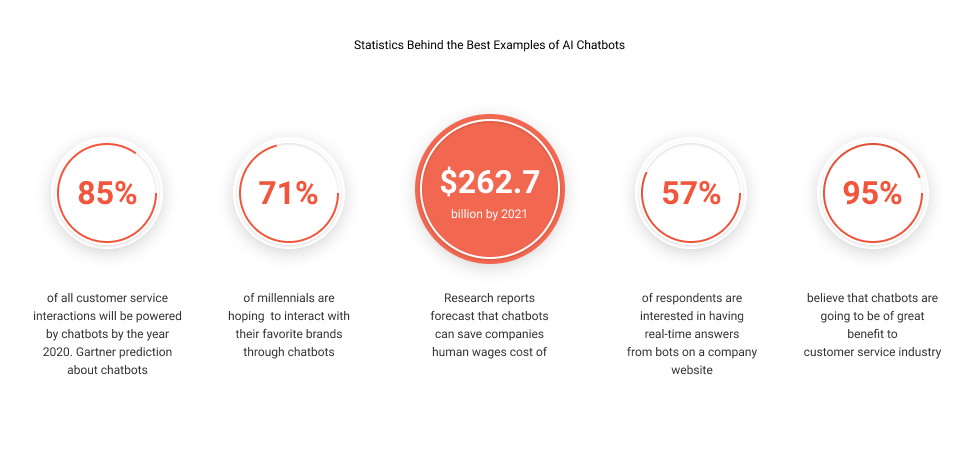 Customer Service Chatbot Examples
In the realm of customer service, chatbots have emerged as powerful tools to enhance support experiences. When it comes to the best examples of chatbots, there are several standout instances that showcase the impressive capabilities of these virtual assistants. Let's explore some remarkable customer service chatbot examples that have revolutionized the way businesses interact with their customers.
Customer Service Chatbot Example #1: T-Mobile Austria Tinka
T-Mobile is no stranger to Conversational AI and was recently one of the first major telecom companies to launch Google RCS on their devices. However, they have been relying on chatbots for a lot longer. Meet Tinka, T-Mobile Austria's customer service chatbot that has been providing digital assistance to users on their website and Facebook Messenger since 2015 and 2016 respectively. Stay on track with technologies and check the full range of advantages with Generative AI Chatbot in Telecom.
Tinka is a very capable chatbot with answers to over 1,500 questions that help customers get the help they need instantly. If however, the customer has a question that Tinka cannot answer, its LiveAgent Handover feature seamlessly transitions the conversation to a human agent without the customer having to do anything.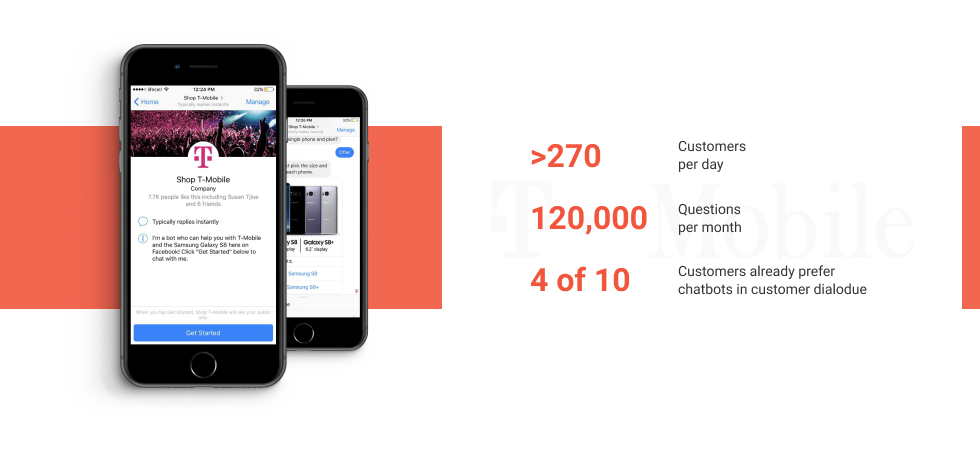 Tinka is still operational and is one of the longest-running eCommerce chatbots – a testament to the technology's viability in the long-run.
Customer Service Chatbot Example #2: Casper's Insomnobot-3000
In 2016, Casper, a major mattress manufacturer, and retailer, launched, arguably, the most well-known Conversational AI in ecommerce example – Insomnobot-3000. This chatbot utilizes a powerful conversational AI engine to talk to users who have trouble sleeping. This award-winning chatbot was deployed on SMS and became an instant hit thanks to his friendly and light-hearted conversations.
Unlike some of the other bots in this list, the Insomnobot-3000 is a purely customer engagement bot with no direct sales directives. However, even without direct sales directives, the Insomnobot-3000 has been extremely successful as it was able to improve brand image and reach hundreds of thousands of new customers through its unique approach. That said, this chatbot did bring thousands of valuable warm leads to the business for retargeting.
Customer Service Chatbot Example #3: Slush
Having efficient customer support is essential for maximizing the event experience and value for participants, which necessitates substantial resources. In Slush 2017, the Jenny chatbot successfully managed as much as 67% of the chat conversations, resulting in a significant decrease in workload for the Slush info team. This also enabled round-the-clock chat support for event participants.
The Jenny chatbot was accessible through both the Slush mobile app and the Slush website. Thanks to the availability of a 24-hour support channel, there was a notable 55% increase in chat discussions compared to the previous year.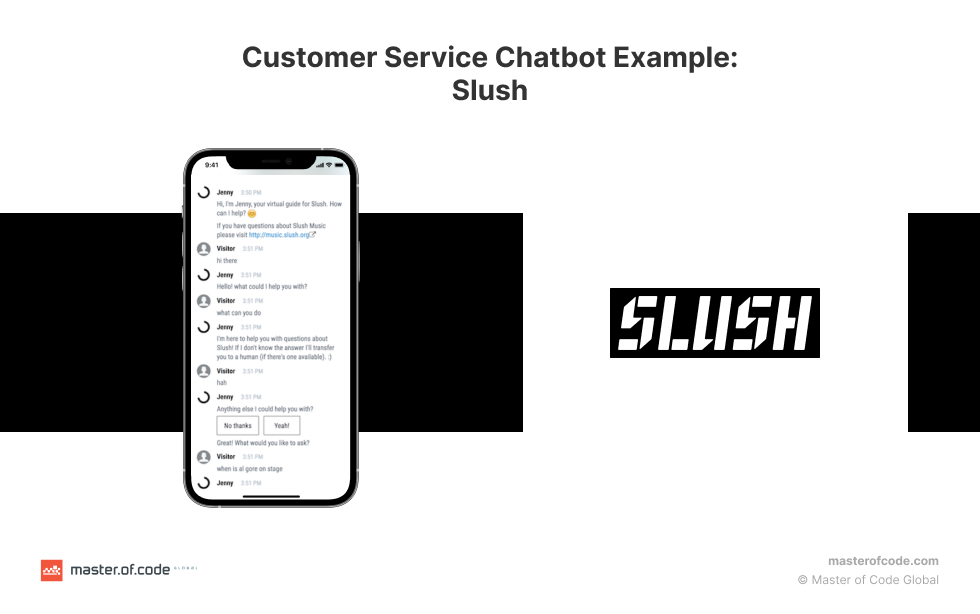 Sales Chatbot Examples
Sales chatbots have become valuable assets for businesses seeking to optimize their sales processes and drive revenue growth. As an example of chatbots, these intelligent virtual agents have proven to be highly effective in engaging with potential customers, nurturing leads, and guiding prospects through the sales funnel. Let's delve into some notable sales chatbot examples that have demonstrated exceptional performance in boosting conversions and improving sales outcomes.
Sales Chatbot Example #1: Aveda Booking Chatbot
Despite all of the advancements, online shopping is still (and likely will be for the near future) a one-sided experience. None of the traditional methods of customer engagement are compatible with the eCommerce business model – but that didn't stop Aveda from trying.
Aveda, a botanical hair and skincare brand popular among both enthusiasts and professionals, wanted to improve its online booking system and leverage automation. To achieve their goals, Aveda partnered with Master of Code who built the Aveda Chatbot, an AI bot for Facebook Messenger that used an advanced natural-language-processing (NLP) engine.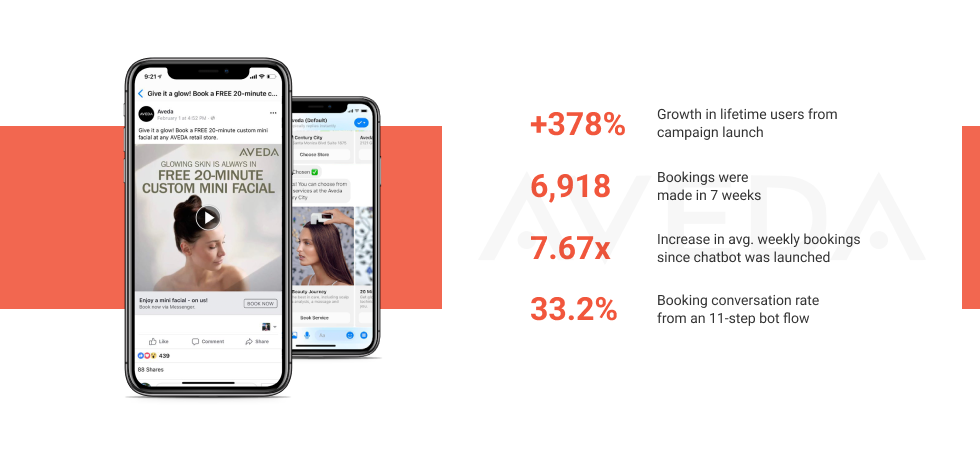 Over just a 7 week period, the Aveda chatbot managed to surpass everyone's expectations with the following achievements:
A 378% increase in lifetime users from campaign launch
An additional 6,918 bookings in just 7 weeks
Average weekly bookings increase 7.67 times
33.2% increase in booking conversion rate
The Aveda chatbot is one of the best examples of what conversational AI can achieve in even short periods. It enriched the online shopping experience for Aveda's customers while also automating numerous processes including the booking process, reminders, and connecting shoppers with the customer service team.
Want to evaluate your Conversational AI solution?
Download our Chatbot Analysis Framework!
Check your Inbox! The Guide was sent to your email
Sales Chatbot Example #2: Subway's RCS Chatbot
Unlike most of the chatbots on this list, Subway's latest chatbot was neither deployed on Facebook Messenger, nor on their website. No, Subway's latest conversational AI hit was deployed as a Google RCS bot – a relatively new messaging platform that aims to replace traditional SMS.
The Subway RCS chatbot is a business messaging bot and leverages RCS' support for rich-media to send interactive messages to consumers on their smartphones. Subway's initial campaign run two offers were a great success, or as one executive puts it, the chatbot delivered "blow-the-doors-off" results, including 140% and 51% more conversions on the two offers respectively.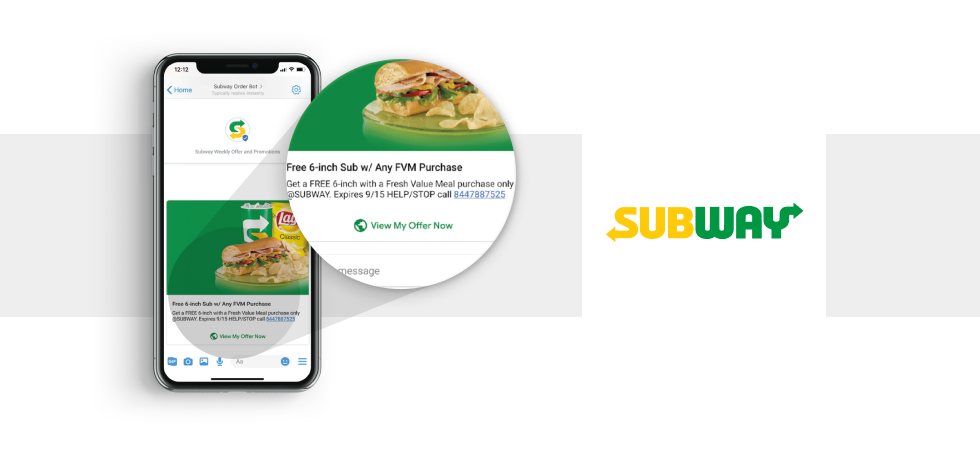 Google RCS is a relatively new platform for chatbots but its numerous success stories are proving this to be a viable platform for eCommerce business messaging.
Sales Chatbot Example #3: Luxury Escapes Chatbot
Luxury Escapes is one of the biggest luxury travel agencies in Australia and operates in 29 countries around the world. Over 2 million visitors would check Luxury Escapes' website each month for new deals and offers but the company wanted to improve the online customer experience. Their goal was to offer more personalization, a quicker way to find deals, and easier notifications. To reach these goals, Luxury Escapes partnered with Master of Code to reinvent their shopping experience in the form of an AI chatbot.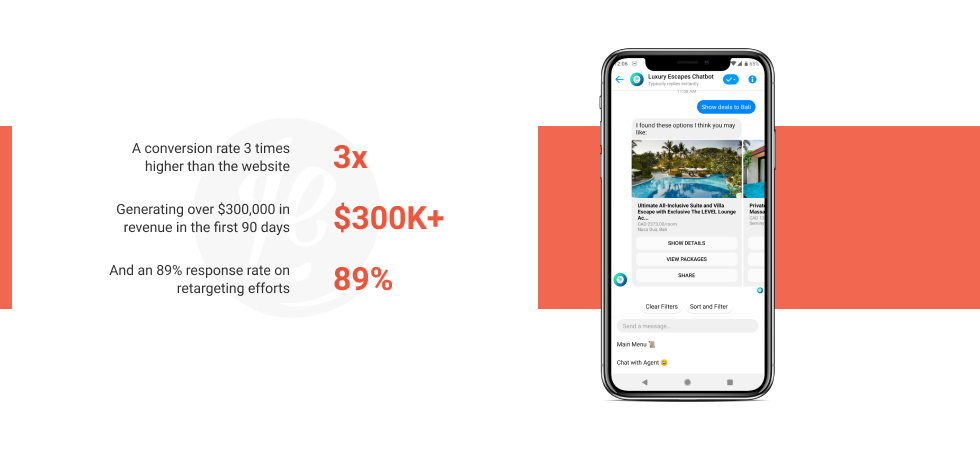 The chatbot more than delivered on the company's goals and expectations by achieving the following:
a conversion rate 3 times higher than the website
generating over $300,000 in revenue in the first 90 days
and an 89% response rate on retargeting efforts
In addition to the main goals, this AI bot also enhanced the shopping experience with additional features such as a holiday planner which customers could use to craft their own holidays and a powerful recommendation engine that would recommend the most suitable holiday packages based on a few questions. The chatbot also included a fun game called Roll The Dice to suggest random holiday destinations which were played over 16,800 times during the initial 90-day campaign.
Customer Experience Insights 2023
Complete Guide to Conversational AI in CX
Check your Inbox! The Guide was sent to your email
Marketing Chatbot Examples
In the rapidly changing field of marketing, chatbots have become radical tools, offering creative methods to interact with customers and prompt marketing endeavors forward. When it comes to examples of chatbots in the marketing realm, there are numerous cases that illustrate their effectiveness in capturing leads, personalizing customer experiences, and streamlining marketing campaigns. Let's explore some remarkable marketing chatbot examples that have proven to be invaluable assets for businesses looking to make a lasting impact in the digital world.
Marketing Chatbot Example #1: H&M's Digital Stylist
H&M, the global clothing retailer understands that shoppers are becoming more style-conscious these days and don't just buy clothes randomly. They have different styles and outfits for different looks and occasions. To cater to this growing demand, H&M created an AI chatbot on Kik, a popular messaging app with 300 million users.
H&M chatbot asks users a series of questions to understand their tastes and preferences. To make the process more engaging, this Conversational commerce AI chatbot also sends pictures of clothes to help users answer style questions. Furthermore, understanding that online shoppers are very active on social polls and discussions, the H&M chatbot has an option to browse pre-existing outfits and even vote on them.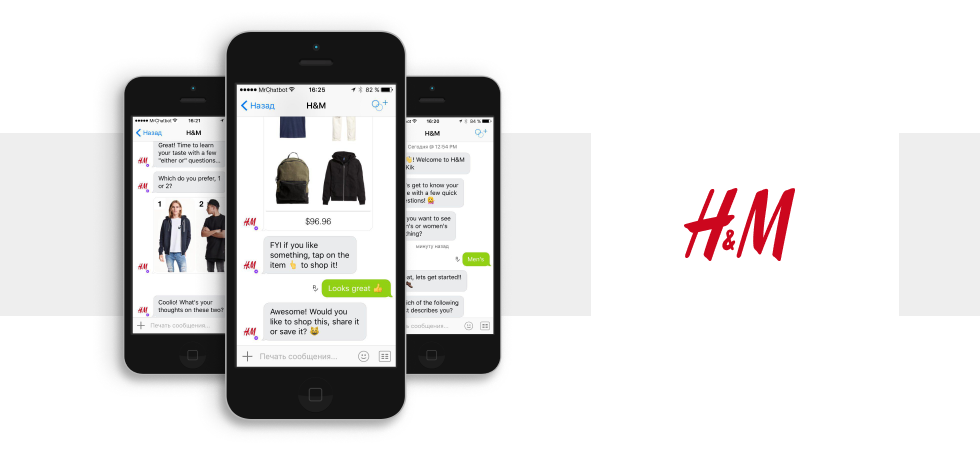 H&M's chatbot takes the role of a personal digital stylist and helps customers save time by helping them avoid browsing through hundreds of clothing items before finding the right piece in just a few minutes. Most importantly, the H&M chatbot remembers each user's tastes and preferences and uses this for retargeting customers in the future with better recommendations.
Marketing Chatbot Example #2: Lego's Ralph
For most adults, Lego is more of a fond memory than an active hobby but that doesn't mean that they won't ever buy a Lego set. And with this, Lego identified two issues in its sales approach:
adults who want to reminiscent in the past with a Lego set may not be up to date with the new line up
adults buying Legos as gifts may not know where to start at all
In both of these ways, Lego identified a need for powerful digital assistance that could provide recommendations to users based on their requirements, tastes, and preferences. Lego knew that the most efficient way of doing this was with a chatbot and thus Ralph was born.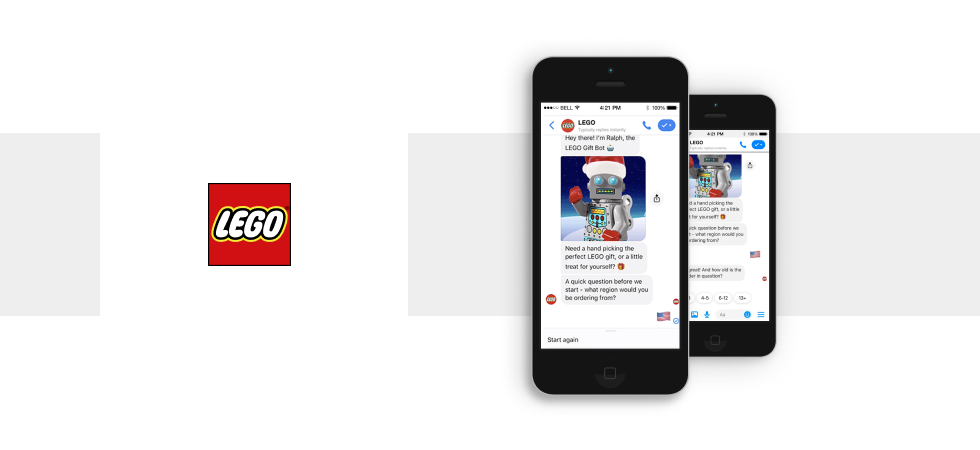 Ralph, an AI chatbot deployed on Facebook Messenger helps users find the right Lego set, and right off the bat, it was an overwhelming success. Ralph quickly became the sole driver behind 25% of all of Lego's social media sales and 8.4 times more effective at conversations than Facebook Ads – and efficient too, with a cost-per-conversion 31% lower than ads).
Marketing Chatbot Example #3: Patrón Tequila's BotTenders
Patrón, part of the Bacardi umbrella of companies is a brand of premium tequila products. They are known for their customer experience and wanted to inspire more customers to try out new drinks over the summer. To do this, they created the BotTenders, a pair of virtual bartenders that used a powerful recommendation engine and conversational AI to talk to the "patrons" of the brand and suggest them new drinks based on their preferences.
The chatbot was deployed on Twitter and over the course of this campaign, sent and received 120,000 messages, including thousands of drinks and recipes. The company plans on using the customer data to drive customer insights and create more effective drinks campaigns in the future.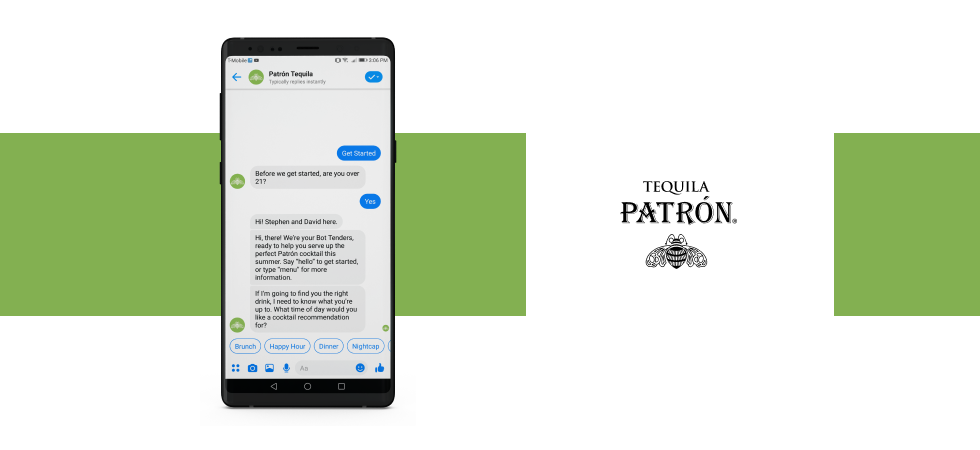 Marketing Chatbot Example #4: Domino`s dating bot
Domino's introduced a unique initiative by launching a dating bot specifically designed to assist UK Tinder users in finding their ideal match. This marks the first instance of a company utilizing Tinder's chatbot service. This ai chatbot example operates as a regular profile within the dating app, and once a user shows interest by swiping right, a chatbot named Dom Juan engages with them by offering humorous pick-up lines, including cheesy puns and amusing GIFs, with the aim of helping individuals secure a date.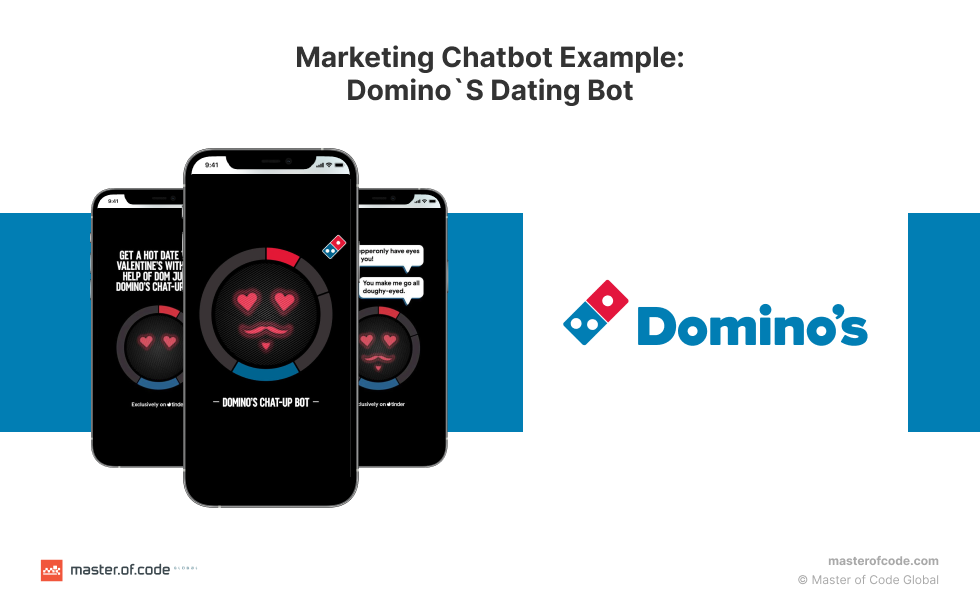 According to VCCP London, the campaign employed a comprehensive strategy that encompassed various channels such as social media, Spotify, influencers, CRM, and PR. Dom Juan, the example of a chatbot for dating, generated impressive results by accumulating over 2 million impressions on Tinder, attracting significant attention from national consumer press, and even being recognized as Campaign's Ad of the Day.
Importantly, the campaign also had a significant impact on sales, delivering a remarkable 35 times return on advertising spend and achieving a 10% increase in sales compared to the previous year.
Conversational AI Chatbot Examples
Conversational AI chatbots have changed the way businesses communicate with their audience, enabling dynamic and interactive conversations. When exploring chatbot conversation examples, it becomes evident how these advanced AI-powered bots can engage users, provide personalized assistance, and deliver seamless user experiences. Let's delve into some noteworthy examples of conversational AI chatbots that showcase the power of intelligent automation in enhancing customer interactions and achieving business goals.
Conversational AI Chatbot Example #1: Esso's Pass the Puck Bot
Esso, part of the ExxonMobil umbrella of companies is one of the largest publicly traded oil and gas companies. As a major sponsor of the National Hockey League in Canada, Esso wanted to engage its hockey fans and partnered with Master of Code for chatbot development and deployment an AI solution on Facebook Messenger that hockey fans could use to sign up for Canada's first social hockey game – Pass the Puck,
The AI chatbot was responsible for giving users an easy platform to sign up for the game and also engage users with emails, postcodes, and information about users who "passed" the puck to them.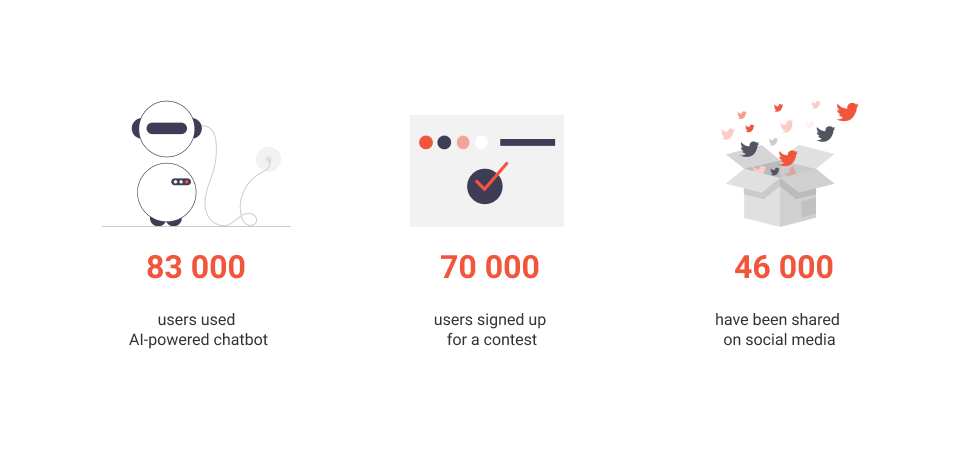 The chatbot was very successful at driving this community event as it achieved the following results:
83 000 users used AI-powered chatbot
70 000 users signed up for a contest
46 000 posts have been shared on social media
Scale Your Customer Support with a Personalized approach in Conversational AI
Check your Inbox! The Guide was sent to your email
Conversational AI Chatbot Example #2: Babylon AI-powered Symptom Checker
Babylon offers an AI-powered Symptom Checker that effectively examines your symptoms, identifies potential causes, and suggests appropriate actions. By inputting your symptoms, Babylon's conversational chatbot, comprehends the information and provides you with relevant health-related information and triage guidance.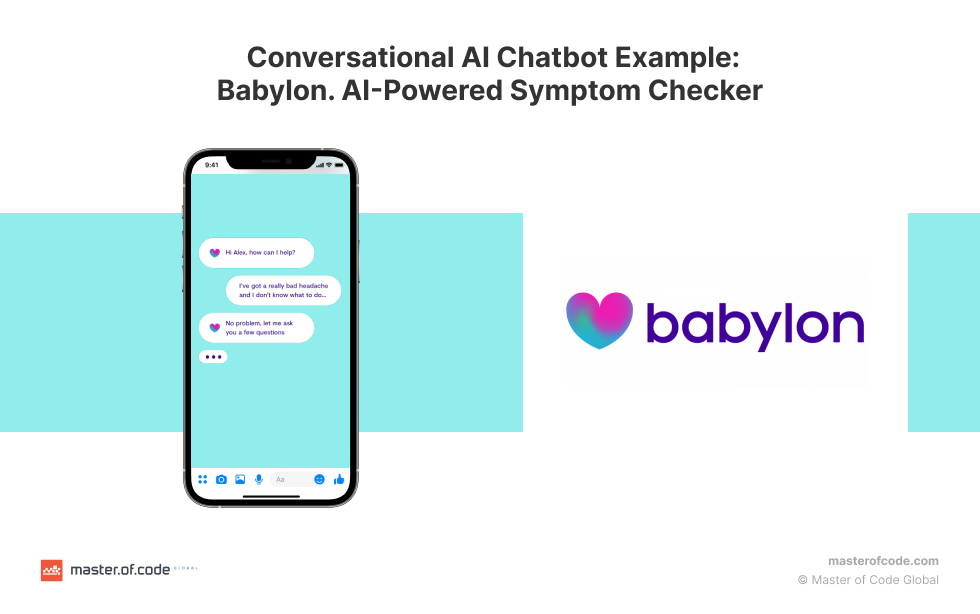 The Symptom Checker has been developed by a team of scientists, engineers, and doctors, who have integrated cutting-edge machine learning techniques to interpret the symptoms you provide. Additionally, the system has the capability to identify associated risk factors that may be related to your symptoms.
Conversational AI Chatbot Example #3: L'Oreal
Acording to Brand Inside, L'Oréal has introduced a chatbot platform in collaboration with Mya Systems, a startup specializing in AI solutions for recruitment. This chatbot platform specifically targets candidates seeking internships or positions related to beauty products recommendation staff or Beauty Advisor.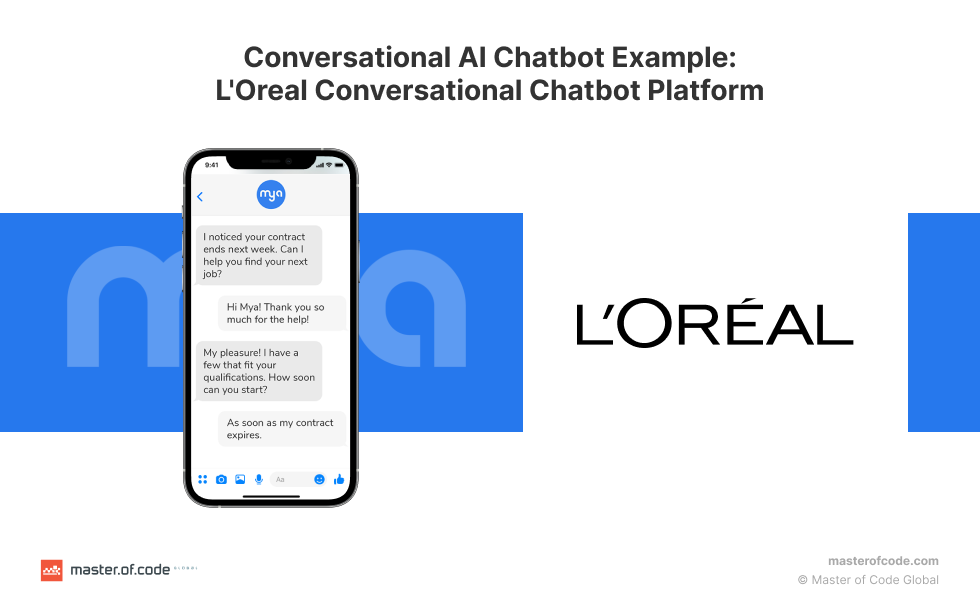 The initial analysis of the platform's performance revealed that out of the first 10,000 recruitment conversations, the chatbot effectively engaged with 92% of the applicants. Moreover, the platform achieved an impressive satisfaction rate close to 100% and received positive feedback from the candidates who interacted with it. Many individuals expressed their satisfaction with the experience of using the chatbot.
Common Use Cases for Conversational AI Chatbots
Conversational AI chatbots have found widespread application across various industries, transforming the way businesses interact with their customers. Let's explore some common use cases for Сonversational AI chatbots:
Customer Support: AI Chatbots can handle customer inquiries, provide basic troubleshooting assistance, and offer information about products or services. As a support chatbot example, they can also escalate complex issues to human agents when needed.
eCommerce Assistance: Chatbots can help customers with product recommendations, order tracking, and answering questions about shipping, returns, and promotions. They can also assist with upselling and cross-selling.
Appointment Scheduling: Artificial intelligence chatbots can interact with users to book appointments, confirm availability, and send reminders. Bot message examples are particularly useful in industries like healthcare, salons, and service-oriented businesses.
FAQ and Knowledge Base: Chatbots can answer frequently asked questions, provide information about company policies, procedures, and general inquiries. This helps reduce the load on customer support teams.
Lead Generation and Qualification: AI chatbots can engage with website visitors, collect their information, and qualify leads based on specific criteria. This enables businesses to capture potential customers and prioritize follow-up actions.
Surveys and Feedback: Chatbots can conduct surveys and collect feedback from customers. They can ask targeted questions, record responses, and provide instant acknowledgments or follow-up actions.
Virtual Assistants: conversational chatbots can act as personal assistants, managing tasks such as setting reminders, sending notifications, organizing schedules, and providing relevant information based on user preferences.
HR and Employee Support: Chatbots can assist employees with HR-related inquiries, such as leave requests, benefits information, and policy queries. They can also help with onboarding processes and training materials.
Deploying Successful Chatbots
Getting started with chatbots has become easier with the rise of numerous platform solutions that help businesses build chatbots. However, most of these "pre-built" chatbots do not leverage conversational AI which is responsible for the life-like conversations and thus may not be as successful.
This is why Master of Code, as a Сonversational AI company, leverages conversational AI and natural-language-processing (NLP) to ensure all of our chatbots are not only viable but also excellent at 24/7 customer service, product recommendations, and personalized shopping experiences. If you'd like to learn more about how conversational AI and chatbots can be tailored to your exact business needs, schedule a consultation with the Master of Code today.
Boost Your Business
Increase avg. weekly conversion in 7.67x with chatbot launch for your eCommerce solution.