ChatGPT and other Generative AI solutions have been making waves in the business world lately, but it can be hard to separate the hype from the reality. As companies look for ways to enhance their customer experience and cut costs, they're turning to AI-powered tools like ChatGPT to automate customer service and provide personalized support. In this article, we'll explore the potential benefits of Generative AI in telecom market, as well as real-world examples of how it's being used to improve customer satisfaction and drive growth.
This blog post will delve into the most recent statistics regarding ChatGPT and Generative AI in business world. This research offers valuable insights into the perceptions of ChatGPT and Generative AI among employers and employees across various industries, specifically Generative AI for Marketing, PR, customer service, and product management. The study analyzes the potential impact of ChatGPT on productivity gains, potential job losses, and concerns about losing human interaction. We'll discuss current industry trends, opportunities, and challenges involved in integrating Generative AI in businesses. Furthermore, we delve into the level of trust that employers have in ChatGPT to operate autonomously and their willingness to invest in this technology.
Key ChatGPT Statistics and Trends this 2023
ChatGPT is currently a hot topic, with over 40% of American adults knowing about the program. In less than a week, the generative AI software achieved a new record among technological phenomena by gaining one million users. (Statista)
The rapid increase in the use of AI chatbots has led to a significant turning point that will have long-term implications on society. ChatGPT has achieved unprecedented growth, surpassing all other apps in history, with a user base of over 100 million and over 10 million daily queries. Fortune 500 companies are adopting this technology without regard for the potential consequences, leading to a chain reaction that amplifies its impact across the businesses that implement it. (Venture Beat)
Following the success of OpenAI's ChatGPT, many global publishers have released mobile apps utilizing the terms "chatbot" and "ChatGPT". In the first ten days of January 2023, the ChatGPT – GPT 3 app was downloaded 3,771 times by users worldwide, while the Lia ChatGPT app was downloaded 3,560 times during the same time frame. (Statista)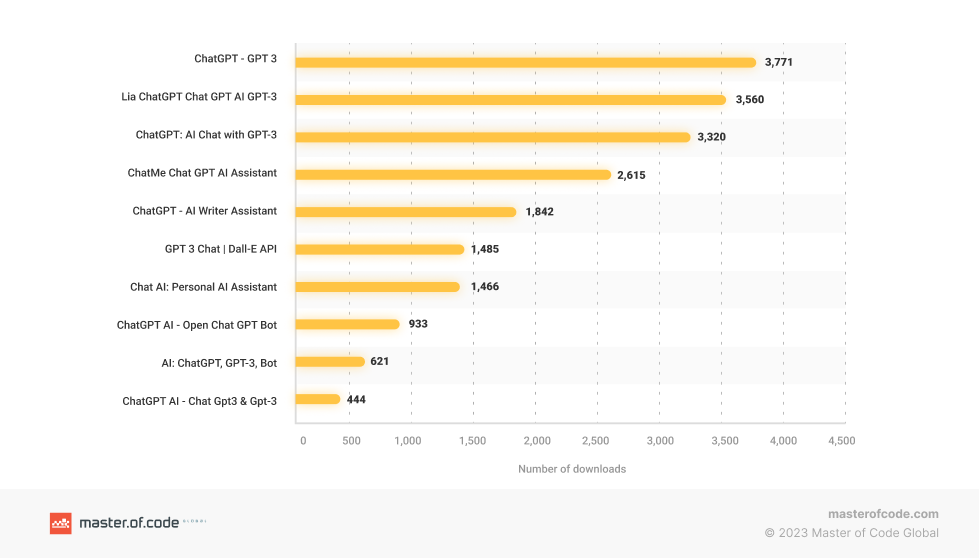 ChatGPT Adoption Statistics
In March 2023, it was reported that 8.2% of global company employees had experimented with ChatGPT at least once in the workplace. Among those employees who had used the AI-powered tool, only 3.1% had entered confidential corporate data into the program. (Statista)
Fishbowl, a professional networking app, conducted a survey among working professionals in which 43% of respondents claimed to have employed AI tools, including OpenAI's ChatGPT, to complete work tasks. Surprisingly, 68% of those individuals had not informed their usage of these tools to their bosses. The survey took place from January 26th to 30th and featured responses from over 11,700 workers using the Fishbowl app, with participants from companies such as Amazon, Google, IBM, JPMorgan, Meta, and Twitter. (Insider)
The chatbot has the ability to generate text by processing input, identify errors, question false assumptions, and refuse inappropriate demands. ChatGPT has rapidly gained popularity and is considered as one of the most significant advancements in the technology industry in recent decades. It set a new record as the fastest IoT service to amass a user base of one million in just five days. (Statista)
According to Statista, a survey was conducted among American adults in January 2023 about the usage of ChatGPT, and the results were as follows:
Only 12% of American adult survey respondents had used ChatGPT to produce text themselves.
43% of female participants reported never having seen or used ChatGPT, while 38% of all respondents had witnessed someone else using the AI to generate text.
Among respondents aged between 18 and 29 years old, 48% had witnessed someone else using ChatGPT to produce text, and 17% had used it themselves.
Among respondents aged between 30 to 44 years old, 46% had witnessed someone else using ChatGPT to produce text, and 17% had used it themselves.
Among respondents older than 65 years old, 59% had never used or seen anyone else use ChatGPT to produce text.
ChatGPT for customer service statistics
ChatGPT is a revolutionary Generative AI technology that has the potential to improve chatbots by delivering accurate responses in real-time. At Master of Code, we believe in combining Generative AI technology with Conversation Design best practices to create chatbots that offer the best of both worlds. Our approach leverages the benefits of AI technology while maintaining a human-like approach to the conversation. This unique combination enables us to create Generative AI services that provide a seamless and personalized user experience for chatbots.
According to a Gartner report, more than half of the respondents are utilizing some sort of conversational AI platform, such as chatbots, for customer-facing applications. Meanwhile, research conducted by PSFK shows that 74% of consumers prefer to use a chatbot rather than waiting for a human agent. However, many consumers feel that the current chatbot interactions are not satisfactory. ChatGPT Plugin Development could change this. It has the potential to overcome the limitations of current chatbots, which are restricted by a fixed decision tree of scripted responses. By utilizing NLP and Large Language Models (LLM), these chatbots can recognize a wide range of GPT prompts engineering and requests and provide accurate responses in real-time.
Among 18-24-year-olds, 58% think that ChatGPT could double their productivity in responding to customer inquiries, while 50% believe that the chatbot's greatest value lies in writing code and producing non-marketing content. (Sortlist)
The survey participants showed eagerness for the productivity advantages ChatGPT can offer, but almost 39% also expressed worry about losing the personal touch. Interestingly, of those who share this concern, 46% imagine ChatGPT being used mainly in customer service. (Sortlist)
Those who are concerned that ChatGPT might make their content less trustworthy are likely to use it for answering customer queries (52%) and reaching out to potential customers (43%). Interestingly, these individuals are 1.6 times more likely to worry about the loss of human touch. (Sortlist)
Statistics of using ChatGPT for business
Sortlist conducted a survey of 500 employee and employer users in six different countries to explore their perspectives on the introduction of ChatGPT Professional by OpenAI. The survey aimed to determine their attitudes towards ChatGPT's entry into the workforce, their willingness to pay for it, and whether they perceive it as a threat or opportunity.

The research findings indicate that ChatGPT is causing concern among 23% of employees in the software and tech industry who fear losing their jobs. This worry seems to be justified, as 26% of employers in the same industry are reportedly considering reducing headcount due to the implementation of ChatGPT.
The survey covers how employees and employers view the potential impact of ChatGPT on their jobs, with a focus on the marketing and PR departments. Both groups agree that ChatGPT has potential in marketing copy, but the study also found that employers are more keen to hire ChatGPT as a marketing copywriter, with 43% of them wanting to do so compared to 36% of employees. (Sortlist)
ResumeBuilder conducted a survey in February 2023 of 1,000 business leaders in the US to determine the number of companies that presently use or plan to use ChatGPT in business.
Here are the primary results of the survey:
49% of companies presently use ChatGPT, while 30% intend to use it in the future.
48% of businesses using ChatGPT have replaced human workers with the technology.
25% of companies employing ChatGPT have already saved more than $75,000 with the technology.
93% of current users of ChatGPT plan to expand their use of it.
90% of business leaders believe that having experience using ChatGPT is a valuable skill for job seekers.
Companies leaders report various uses of ChatGPT in business. Among those that use ChatGPT, 66% use it for coding, while 58% use it for creating content or copywriting. Additionally, 57% use chatbot for customer support, and 52% for summarizing documents or meetings. Most companies also utilize ChatGPT in the hiring process. For instance, 77% of businesses say it helps them to write job descriptions, 66% use it to draft interview requisitions, and 65% use it to respond to applicants. Overall, a majority of business leaders view ChatGPT's work favorably. Specifically, 55% consider the quality of work produced by ChatGPT as "excellent," and 34% say it is "very good."
Using ChatGPT is proving to be cost-effective for companies. Almost all companies that use ChatGPT claim to have saved money, with 48% of them reporting savings of more than $50,000 and 11% having saved over $100,000.
Business leaders consider AI or chatbot experience and ChatGPT-specific experience as valuable attributes when evaluating job candidates. Specifically, 92% of business leaders consider having AI/chatbot experience as an advantage, while 90% believe that ChatGPT-specific experience is beneficial. (ResumeBuilder)
General statistics of Generative AI implementation
The Generative AI industry is projected to expand significantly in the coming years. From 2022 to 2032, the global market is predicted to increase from USD 8.65 billion to USD 188.62 billion at a CAGR of 36.10%. In 2022, the North American region held the largest market share. (The Brainy Insights)
Although almost all survey participants were familiar with the utilization of generative artificial intelligence (AI) in social media, only a fraction of them, less than one-third, could accurately identify that they had used it before. Furthermore, in the United States, less than 10% of the respondents had used generative AI in business for social media purposes. These findings indicate that while AI in social media is a well-known concept among nearly half of the U.S. population, it remains a topic of interest for the minority. (Statista)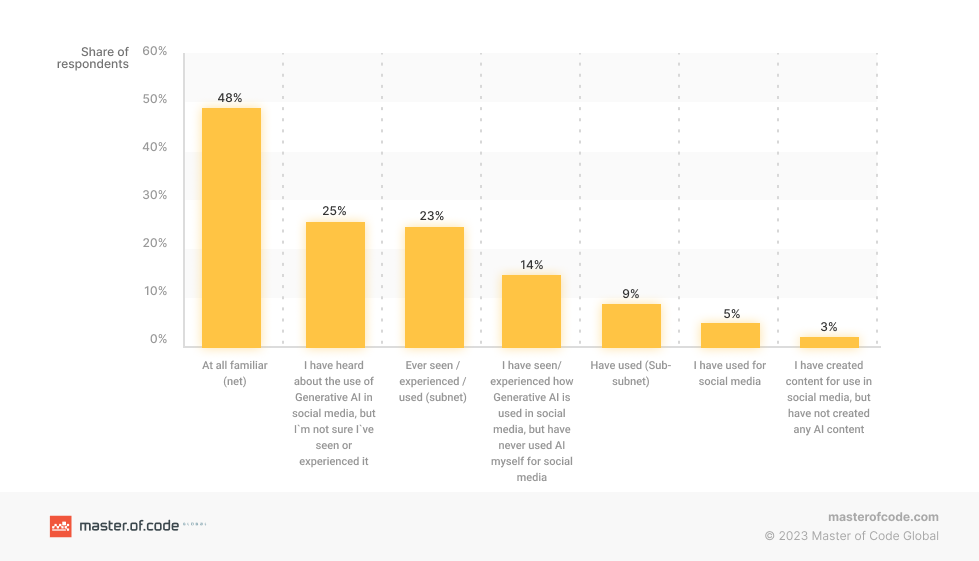 In a survey conducted among professionals in the United States in 2023, it was discovered that 29% of Gen Z respondents had utilized generative AI tools. Similarly, 28% of Gen X and 27% of millennials had also used these tools, respectively. (Statista)
Statistics of the Generative AI adoption in business
There is significant enthusiasm of integration Generative AI in business, as indicated by 72% of survey participants planning to increase their AI investments this year, it is evident that large enterprises, small companies, and governments still have uncertainties regarding the adoption of this technology. Executives are rapidly understanding that simply utilizing pre-existing models will not yield a distinctive business advantage. It is crucial to train these models according to specific business needs and leverage proprietary data to unlock their full potential.
Although a majority of respondents (60%) are either currently experimenting with generative models or have plans to work with them in the coming year, only 21% have successfully deployed these models in production. While companies recognize the potential benefits of generative models for enhancing their business operations, the process of putting them into production poses challenges. To fully harness the power of their data and maximize the advantages of these models, companies require expertise in machine learning and a robust infrastructure for fine-tuning.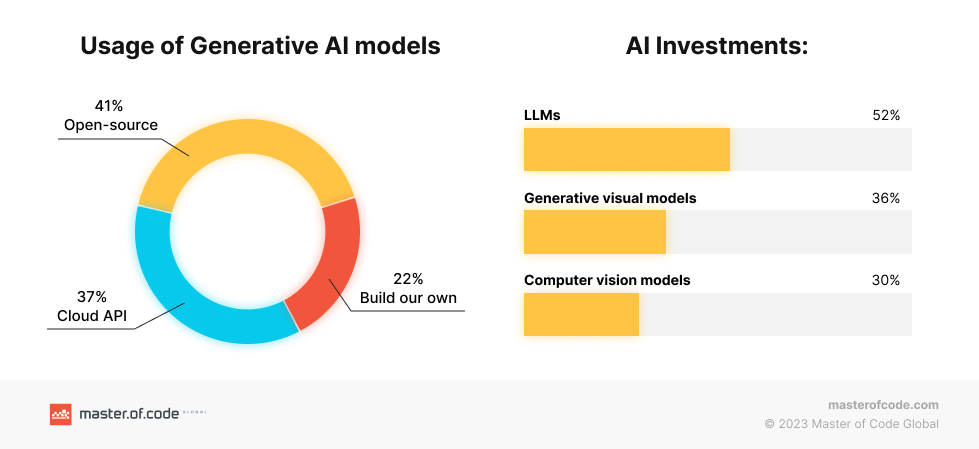 Companies are shifting their focus away from traditional computer vision applications and directing their investments towards Large Language Models (LLMs) and Generative AI for business purposes. Among companies making substantial AI investments, 52% are prioritizing LLMs, 36% are investing in generative visual models, and 30% are allocating resources to computer vision applications. The rise in popularity and advancements of LLMs have prompted companies to swiftly adjust their AI strategies to leverage the potential of Generative AI.
Statistics of Generative AI Usage in Business
Generative AI solutions have received more than $1.7 billion in investments from venture capital firms in the past three years, with the most funding going towards AI-enabled drug discovery and AI software coding.
Early foundation models like ChatGPT focus on the ability of generative AI to augment creative work, but by 2025, we expect more than 30% — up from zero today — of new drugs and materials to be systematically discovered using generative AI techniques. And that is just one of numerous industry use cases.
Generative AI pertains to algorithms that are designed to generate fresh content such as music, text, images, speech, code, or video. This technology is a component of deep learning, which is a branch of machine learning that intends to minimize the need for manually programming parameters for AI. Currently, generative AI is utilized by developers and researchers in several industries, such as advertising and marketing. However, there are rumors that suggest that more businesses and consumers will integrate this technology in the coming years for a variety of purposes.
By 2023, it is expected that the majority of businesses (80%) will adopt sentiment analysis solutions. This technique, which involves analyzing the emotional tone of text, images, or videos and categorizing them as positive, negative, or neutral, can provide valuable insights into customer sentiment. By using sentiment analysis, companies can develop effective strategies to improve their products or services.
As AI models such as ChatGPT continue to advance, businesses can automate their natural language processing tasks, including sentiment analysis, without the need for manual analysis of text data. (AIMultiple)
Generative AI Industry-Specific Statistics
According to the The Brainy Insights, the generative AI market was analyzed in several regions, including North America, Europe, South America, Asia Pacific, the Middle East, and Africa. North America emerged as the dominant market globally, accounting for 42.10% of revenue share in 2022. The high market growth rate is attributed to the presence of well-established industries using Generative AI. The market in North America is expected to grow due to investments in the artificial intelligence and machine learning sectors supporting the generative AI market. Additionally, the presence of tech giants in the US and Canada presents lucrative growth opportunities for the market in the region:
In the technology segment, there are four divisions: transformers, diffusion networks, generative adversarial networks, and variational auto-encoders. The transformers segment had the largest market share, accounting for 35.77% of revenue in 2022. Transformers are primarily used for text-to-image applications and are widely utilized in many end-user industries. They convert text data into images, which is beneficial in advertising.
In the market analysis, the component segment is categorized into service and software. The software component holds the major share of revenue, accounting for 65.10% in 2022. It plays a critical role in enabling efficient functionality of generative AI technology and facilitating hardware with IoT and AI capabilities. Various software advancements in recent times have significantly contributed to improving the performance and features of generative AI.
In 2022, the media and entertainment sector had the largest market share of 31.19%. This sector utilized generative AI for creating effective advertising campaigns and attracting customers on various social media platforms. The integration of generative AI technology in the media and entertainment industry has opened up profitable growth prospects for the market.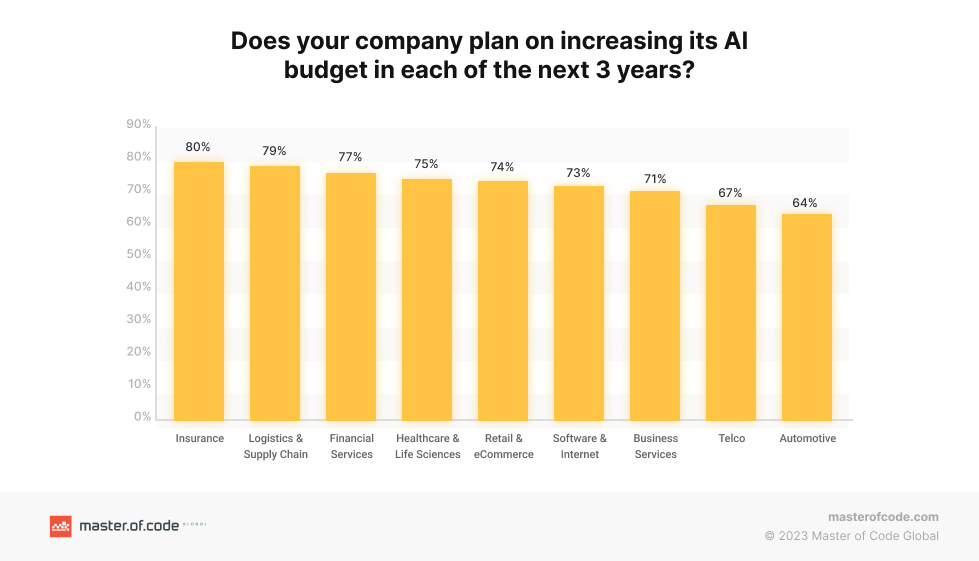 A 2023 survey of professionals in the United States revealed that the adoption rate of generative AI in the workplace varied by industry. Among those surveyed, 37% of individuals working in advertising or marketing reported using AI to aid with work-related tasks, while healthcare had the lowest adoption rate with only 15% of respondents reporting the use of AI in their work. (Statista). Check out the full potential and possible impact of
Generative AI Chatbots in Healthcare and Pharma industry.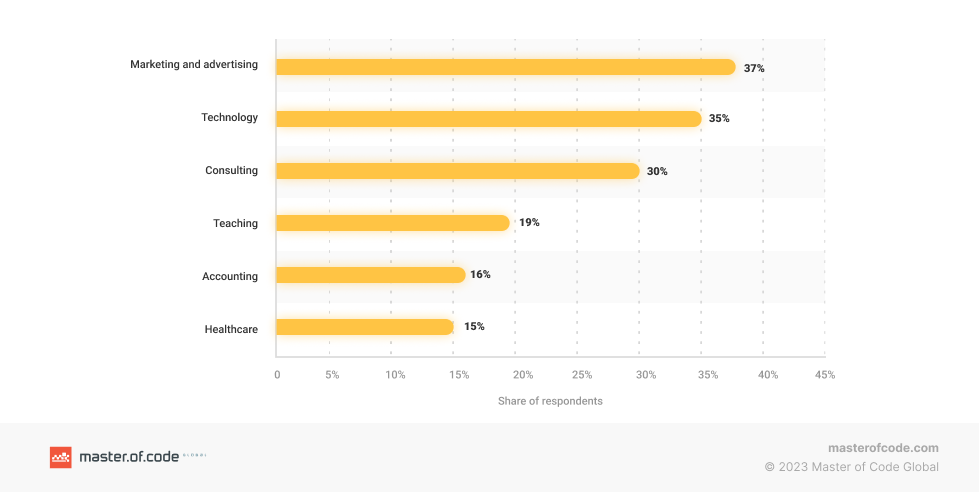 Gartner predicts that by 2025, 30% of large organizations' outbound marketing messages will be artificially generated, a significant increase from the current 2% in 2022. Additionally, by 2030, a major blockbuster film will be produced using AI to generate 90% of its content, a drastic shift from the current 0% in 2022. (Gartner)
To sum up, the data on ChatGPT and Generative AI in business indicate that AI technologies are growing in popularity as a means for businesses to engage with customers. Generative AI chatbots are becoming more advanced and can be utilized in various areas such as customer service, workflow automation and optimization and marketing. As chatbot technology advances, businesses should capitalize on the benefits it offers to enhance customer satisfaction and improve efficiency. Master of Code is committed to assisting businesses in utilizing Generative AI chatbots to revolutionize their customer service.
Request a Demo
Don't miss out on the opportunity to see how Generative AI chatbots can revolutionize your customer support and boost your company's efficiency.