Macroeconomic issues such as supply chain disruption, input cost inflation, and employee shortages continue to dominate headlines. Amidst the uncertainty, organizations are turning to technology to solve their "heart of the business" challenges. Here at Master of Code, we continue to see a significant uptick in technology investment in automation and Conversational AI to streamline internal workflows and scale customer communications.
Conversational AI scope withing the company activities
A major theme we continue to see evolve is cross-team technology adoption. Conversational AI, with its battle-tested business case in a customer support setting, is spreading throughout the organization. For instance, organizations want an integrated approach to engaging with a customer across the customer journey through Marketing, Sales, Customer Success, and Customer Support teams. In the past, these teams typically made technology investments in isolation. As these silos break down, technology investments need to consider the unique needs of each team and how they are interrelated in an increasingly matrixed organization.
In uncertain times, planning often takes a backseat to urgency and action. Over the past year, we've helped our clients invest in Conversational AI innovation and increased 7.67x weekly bookings or conversion rate 3x higher since chatbot was launched, while avoiding several common mistakes during the planning and scoping phase.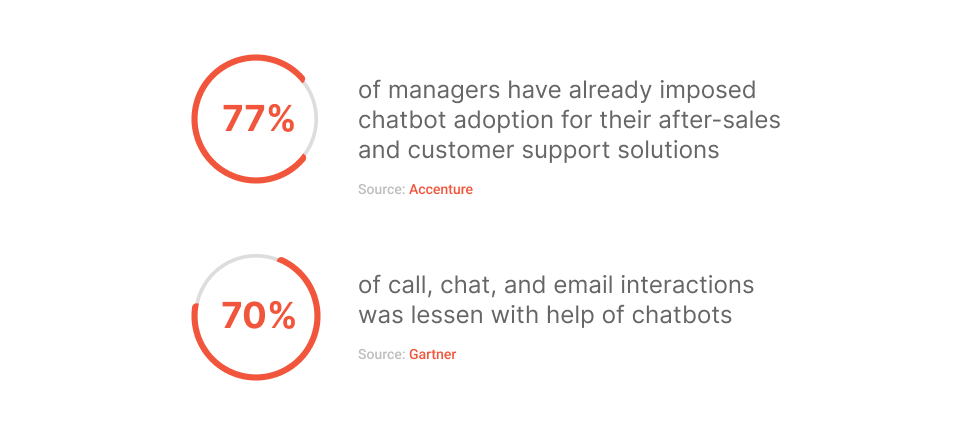 Top mistakes during Conversational AI implementation planning
Validate Conversational AI Use Case First
In our experience, teams that experiment with low-risk projects focused on use case validation typically introduce more innovation over the long term. We also find that many organizations underutilize their existing technology investments. We encourage teams to use technology that already contains Conversational AI capabilities built into the platform. Typically, it's much quicker to develop and validate a proof of concept than to evaluate and implement new technology. For instance, using common enterprise software, we can build a virtual agent in less than one sprint cycle using tools including but not limited to:
Digital Transformation in the Cloud (Google Cloud, Microsoft Azure, AWS)
Workflow Automation (ServiceNow, UiPath)
Call Center Software (Genesys)
CRM (Salesforce Einstein)
Customer & Agent Support (LivePerson, Zendesk, Hubspot)

Measure Twice Cut Once
Urgency and excitement can lead teams to make sub-optimal technology decisions. Within the Conversational AI ecosystem, there are a significant number of platforms, software, and other vendors offering cutting-edge AI solutions. Changing technology platforms is a costly endeavor including the porting of Natural Language Understanding (NLU) models, existing chatbots and virtual agents, and building new integrations. A transition can set back a team 6-12 months of development time and spend. We work with clients to implement a Technology Evaluation Framework to ensure the best technology decisions are made. Choose the platform that addresses your unique use case, industry, organizational size, architecture, and administrative needs.
In the first quarter of 2022, Master of Code has helped a record number of clients navigate Conversational AI solutions. What is your next opportunity to innovate?
Exploring technology platforms? Check out the Checklist available below.
Conversational AI Platforms Checklist
Download checklist to evaluate Conversational AI Platforms
Check your Inbox! The Guide was sent to your email
Want to learn more?
Master of Code designs, builds, and launches exceptional mobile, web, and conversational experiences.