Many tech giants, Microsoft included, are stating that the insurance industry is where the future of chatbots is. Insurance chatbots are among the most robust and successful messenger applications that are available right now. In particular, these bots fulfill a common need: the ability to quickly and simply acquire information (more specifically, insurance information).
There are actually two groups of people who benefit the most from insurance AI chatbots: customers and insurance brokers. Before you get up in arms about chatbots stealing jobs from hard-working insurance brokers, please hear me out:
The Benefits of Chatbots for Insurance Brokers
Many calls and messages a broker receives can be simple policy changes or queries. A bot is be able to help reduce those simple inquiries by answering customers directly, which gives brokers more time to focus on difficult cases or acquiring new clients. Bots can be implemented across a variety of platforms in order to best suit your customers.
Insurance Chatbots Can Assist with Customer Onboarding
For example, a potential client contacts an insurance company via Messenger. A bot can ask them for relevant information including their name, contact information, what they are wanting to purchase insurance for, the value of the goods they are wanting to insure, and basic health information. From there an agent can review the information, ask additional questions if needed, draft up an insurance plan, and get it signed. Bots can help make the process more efficient and free up time for brokers to accomplish other tasks.
Personal Trainer Insurance by Next Insurance is a great example of customer onboarding being done well by a bot. It asks for business owner contact information, details regarding their business, when they would like their coverage to start, and general insurance questions including if they have had any claims in the past five years. Check out the full list of advantages for a company with Generative AI Chatbot for Insurance.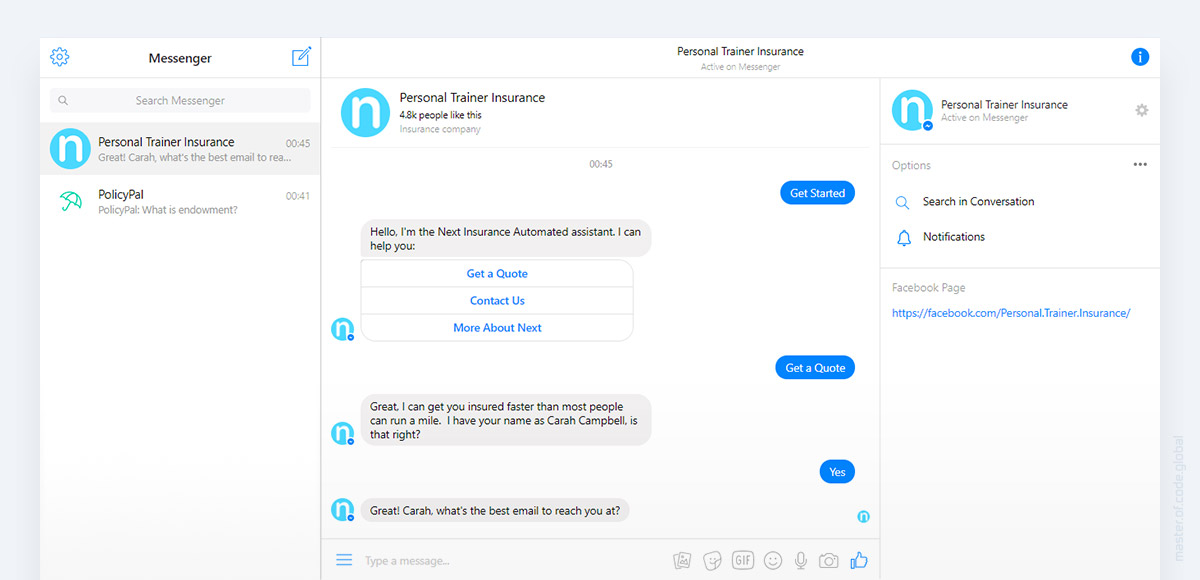 Insurance Chatbots Help with Fraudulent Claims
Fraudulent claims are a big problem in the insurance industry, costing US companies over $40 billion annually. Bots can comb through claim data and identify trends that humans may miss, therefore identifying fraud and saving companies money.
70 percent of our customers are buying insurance on their phones.
The Ease of Access of Information Provided to Brokers
Backend chatbots can be implemented by insurance companies to provide insurance information to brokers quickly and painlessly. A broker can ask a bot a question, the bot purses the insurer's knowledge base for an answer, and the bot returns with a response for the broker. This is more efficient than the majority of website searches.
Check out your potential cost savings by implementing a chatbot solution for customer supportCalculate ROI
The Benefits of Chatbots for Consumers
Quick and Easy Acquisition of Insurance Information
Many consumers prefer to communicate via messaging as opposed to on the phone or via email. They are able to receive the information they need, when they need it, in their preferred medium. Insurance can be intimidating, especially for young consumers. Chatbots help make the entire experience of purchasing insurance and making claims more user friendly.
AI bots will power 95% of all customer service interactions by the year 2025
Source: Servion
PolicyPal does that: they provide general insurance information through their bot. This is great for customers who want to learn more about insurance but don't know where to look or who to ask.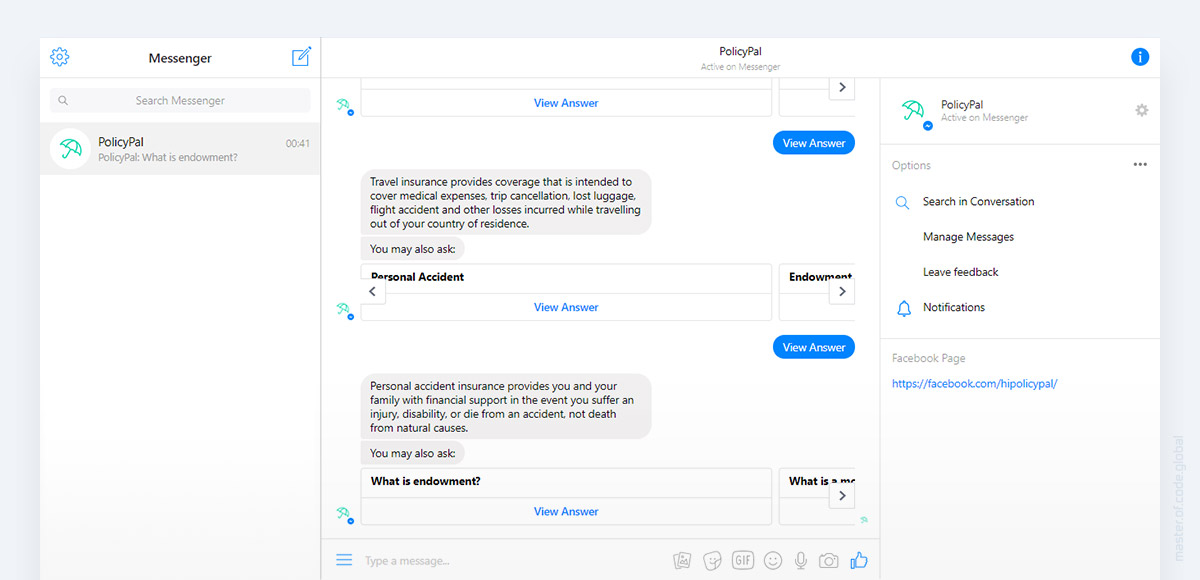 Chatbots Allow Users to Get the Information That They Require 24/7
Traveling and lose your glasses? No problem – simply use the messenger application on your phone to get the information you need ASAP. Bots can inform customers of their insurance coverage and how to redeem said coverage. They can also allow customers to purchase insurance, for example, travel insurance, at any time, and even more use cases were covered with generative AI in aviation examples.
A Custom Built Experience Through a Chatbot
Through NLP and AI bots have the ability to ask the right questions and make sense of the information they receive. Chatbots are able to take customers through a custom conversational path to receive the information they need, all without waiting or needing to talk to a person. These give bots a valued advantage over a website or an email campaign.
Simply put, chatbots are disrupting the insurance industry. Month over month, more customers are interfacing with companies via messenger applications. There are a variety of reasons bots do well in the insurance industry: they are personal, they are replacing apps, they're easy to deploy, they have been shown to increase customer engagement, and they can automate the claims process.
In Conclusion
Bots offer a better experience for both your customers and your brokers. They increase organizational efficiencies, make it easier for agents and customers alike to find the information they need, and improve customer service. Chatbots thrive in the insurance industry. If you are in the industry and don't have a bot yet, what is stopping you?
Explore the ways on how to improve your customer engagement within Conversational AI