As the insurance industry becomes more competitive and customer expectations continue to rise, insurance companies are turning to Generative AI chatbots to stay ahead of the competition. According to Sprout.ai's report, an encouraging 59% of insurers report that their organizations are already using Generative AI. The adoption of Generative AI offers several benefits to insurers, including improving the efficiency and productivity of staff (61%), enhancing customer service (48%), achieving cost savings (56%), and fostering business growth (48%).
One crucial aspect of adopting Generative AI is customer acceptance, and the statistics indicate positive sentiments among customers. Approximately 55% of respondents reported that their customers had positive opinions of the technology, signaling the potential for higher customer satisfaction. Moreover, the data from Statista reveals that 44% of customers are comfortable using chatbots to make insurance claims, and 43% prefer using them to apply for insurance. This indicates a growing acceptance of Generative AI chatbots as valuable tools for insurance-related interactions.
In this blog post, we'll explore the various use cases for Generative AI chatbots in the insurance industry, including claims processing, policy management, and customer service. We'll also examine the benefits of integrating Generative AI Solutions into existing insurance chatbots. Finally, we'll provide real-world examples of insurance companies that have successfully implemented Generative AI chatbots to drive business results.
Generative AI adoption examples by Insurance companies
Generative AI insurance chatbot example #1. Helvetia Insurance Switzerland
Helvetia, a Swiss insurance group, has become the first to use Generative AI technology to launch a direct customer contact service. This AI-powered service focuses on responding to customer requests related to insurance and pensions.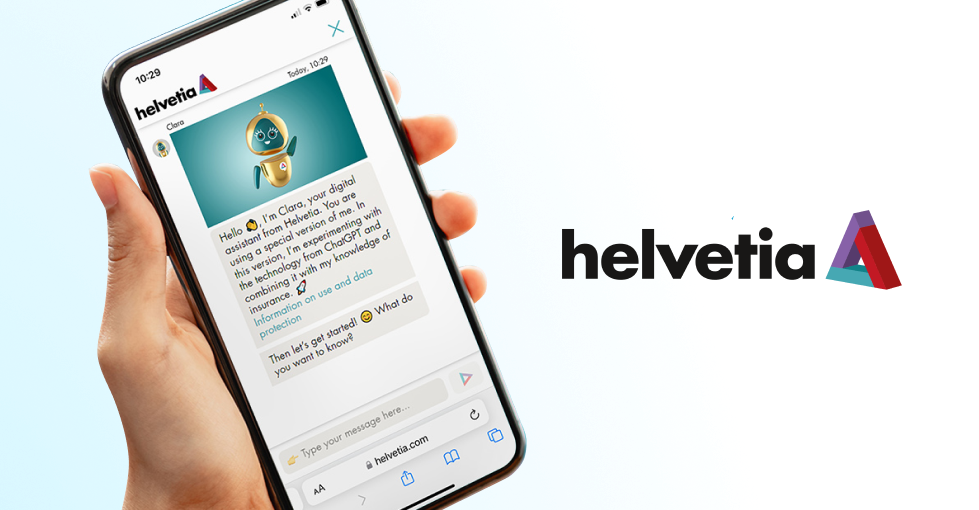 We are investing in a positive customer experience on an ongoing basis and at a number of levels. Consequently, we want to be able to gauge the added value artificial intelligence can offer our customers.
Helvetia's digital assistant, Clara, is currently testing the OpenAI's ChatGPT and integrating its knowledge about insurance. Clara uses the information available on Helvetia's website. Whenever a question is asked to Clara, the AI chatbot searches for the relevant information on the website and provides an interpretation to the person who asked the question. This eliminates the need for the person to look for information on their own, as they will receive an answer formulated by AI. This new service is open to anyone seeking answers related to insurance, pensions, and homeownership.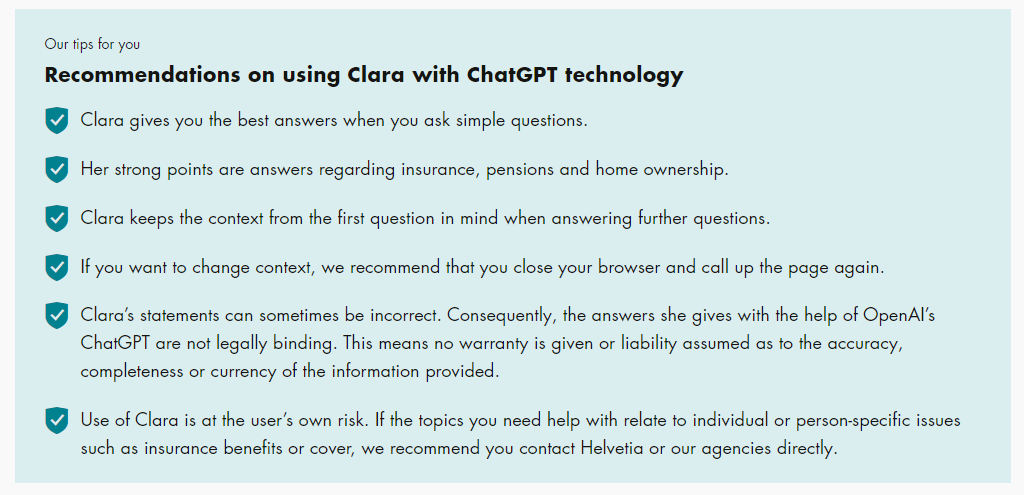 Thinking of incorporating Generative AI into your insurance chatbot? Validate your idea with a Proof of Concept before launching. At Master of Code Global, we can seamlessly integrate Generative AI into your current chatbot, train it, and have it ready for you in just two weeks.
Example of Generative AI for insurance #2. Zurich Insurance
Zurich Insurance is experimenting with ChatGPT artificial intelligence technology to address the challenges posed by startups and competitors such as China's Ping An. The insurer is exploring the use of AI in claims and modeling, including extracting data from claims descriptions and analyzing six years of claims data to identify the cause of loss and improve underwriting.
Ericson Chan, Group Chief Information & Digital Officer told the Financial Times that AI could create "a huge amount of efficiency" in jobs such as extracting information from long documents and writing code for statistical models. "You're not going to replace a developer, it's a co-pilot. Similarly, for underwriting, for claims, it is not going to replace [people] but it is going to make it a lot more efficient."
These research and facts demonstrate the growing impact of AI in the insurance industry and the potential benefits of using Generative AI to enhance operations and improve customer service.
Top Generative AI chatbot use cases in the insurance industry
The article delves into the numerous use cases of Generative AI chatbots for insurance industry, highlighting the benefits of their integration.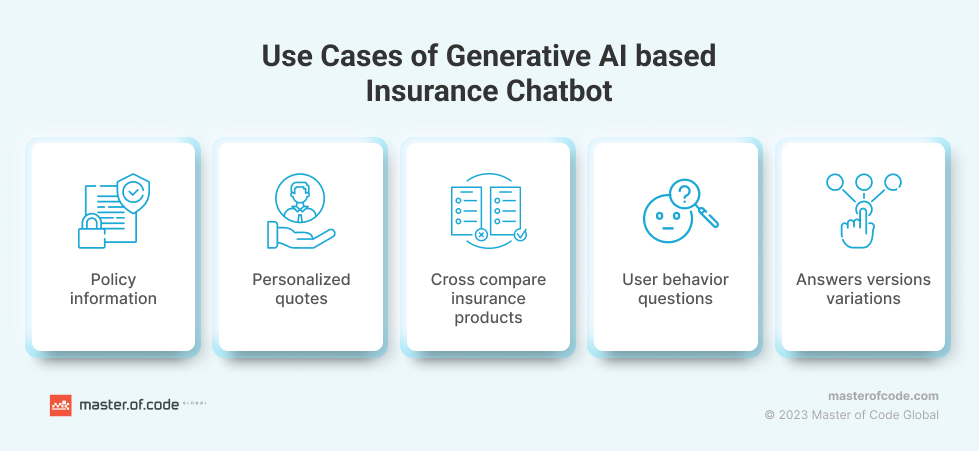 Use Case of Generative AI Chatbot for Insurance #1. Policy information
Generative AI chatbots are becoming increasingly popular in the insurance industry due to their ability to offer personalized responses on policy coverage, deductibles, and other relevant information based on the customer's policy history. By analyzing past claims, these chatbots can provide tailored recommendations, helping customers make informed decisions about their insurance policies.
Let's say an insurance company has a chatbot that is integrated with Generative AI technology. A customer might ask the chatbot a question about their policy, such as: "What is my deductible for my car insurance?". The chatbot would use natural language processing to understand the customer's question, and then it would draw on the information in the customer's policy to generate an answer. The answer could be something like: "Your deductible for your car insurance is $500". If the customer has follow-up questions or wants more detailed information, the chatbot could provide that as well. And, as mentioned earlier, the chatbot could also learn from the customer's interaction history and adjust its responses accordingly.
Use Case of Generative AI Chatbot for Insurance #2. Personalized quotes
Generative AI chatbots can analyze various factors of a customer's data, including their medical history, driving record, and other personal details to create a personalized quote for insurance plans. The chatbots can also recommend specific insurance plans that meet the customer's unique needs, preferences, and budget.
For instance, a Generative AI insurance chatbot could use data analysis to recommend a car insurance plan that fits a customer's driving record and vehicle type. Similarly, it could use information about a customer's medical history to recommend a health insurance plan that covers their specific health conditions and medications.
Based on the Youbiquity Finance report, it was found that around 21% of customers have reported that their insurance providers do not provide any customization. The research also shows that approximately 80% of customers are looking for personalized offers while 77% are willing to exchange their behavioral data for lower premiums and faster settlements. Check out even more insightful ChatGPT and Generative AI statistics for business.
Use Case of Generative AI Chatbot for Insurance #3. Cross compare insurance products
With the help of Generative AI insurance chatbot, you can easily cross compare different types of insurance products and understand the differences between coverage levels, which allows you to make a decision about which insurance plan to choose. When a customer is attempting to purchase a specific service or product, there is a brief moment to compare other available products. It is critical to note that suggesting relevant products is essential for effective cross comparing.
Integrating chatbots with learning models and recommendation systems enables them to make informed predictions about the product a customer is likely to purchase during cross comparison. By retaining information about the customer's profile and previous purchases, chatbots can use this data to improve their sales techniques and give better recommendations. Check out Top Generative AI integration companies to drive customer support.
Use Case of Generative AI Chatbot for Insurance #4. User behavior questions
AI chatbots can analyze large amounts of data collected from different sources. By leveraging machine learning algorithms and natural language processing, Generative AI chatbots can analyze customer buying behavior patterns and provide insights into common purchasing behaviors, such as the typical deductible customers set for their car insurance.
For example, a user may ask a chatbot how much they can expect to pay for their car insurance premium based on their driving history. The chatbot can use generative AI to analyze the user's driving history and provide a personalized quote based on their unique situation. The chatbot can also learn from the user's interaction history and adapt its responses accordingly, providing more detailed and relevant information over time. Additionally, AI chatbots can use predictive analytics to forecast future customer buying behaviour.
Use Case of Generative AI Chatbot for Insurance #5. Provide different versions of answers based on the same input
Generative AI Chatbot can produce different summaries of an answer to a question based on the user it's interacting with.
For example, when a customer asks a question about a particular policy, the insurance chatbot can provide a concise answer for customers who prefer brief responses. On the other hand, for customers who prefer more detailed responses, the chatbot can provide a more in-depth answer with additional information and examples.
Moreover, Generative AI chatbot can also learn from the user's interaction history and adjust its responses accordingly. For instance, if a user frequently asks for more detailed answers, the chatbot can adapt and provide more detailed responses to that particular user in the future.
Benefits of Generative AI for Insurance chatbots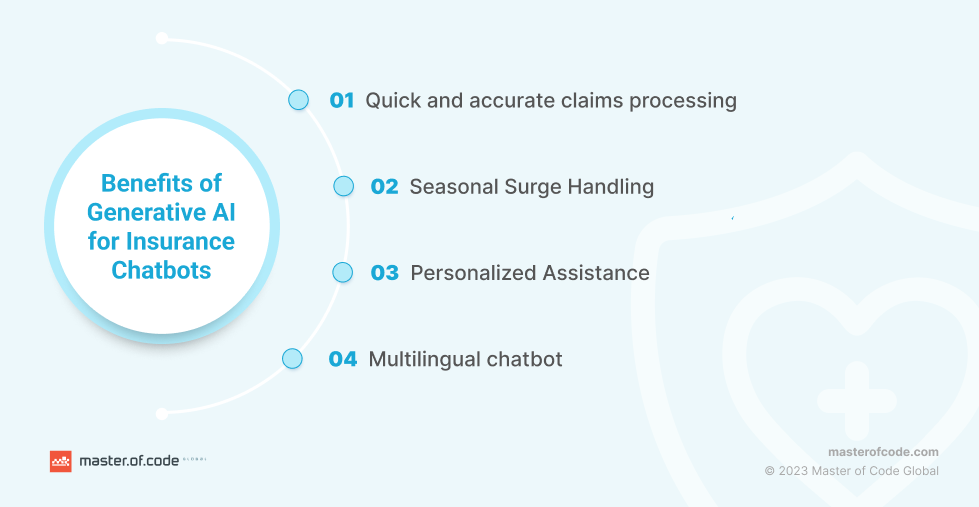 Quick and accurate claims processing. Chatbots can leverage Generative AI to accurately and quickly process claims, reducing the need for manual intervention and saving time and resources for both the insurance company and the customer.
Seasonal Surge Handling. A Generative AI insurance chatbot can effectively handle a surge in customer inquiries during seasonal periods, ensuring that all tickets are covered without overwhelming the support team. This not only enhances the customer experience by providing timely and accurate responses but also allows the business to automate call center operations even during high-volume periods.
Personalized Assistance. Generative AI chatbot for insurance can remember all client data and use it to provide personalized assistance. This means that customers don't have to enter their information repeatedly, and the chatbot can make suggestions based on previous interactions. This leads to a more efficient and satisfying customer experience.
Multilingual chatbot. AI-powered chatbots that use natural language processing can facilitate multilingual customer service by translating customer inquiries and replying in the language preferred by the customers.
Increased Efficiency. By automating routine tasks and providing quick and accurate responses, Generative AI chatbots can reduce the workload on human agents, freeing them up to handle more complex tasks and improving overall efficiency.
The integration of generative AI chatbots in the insurance industry has significantly impacted customer service. It can help insurers better understand customer behaviour and preferences. With the ability to analyze vast amounts of data, these chatbots provide insights into customer needs, allowing insurers to tailor their services to individual customers. The use of natural language processing and machine learning algorithms also enables multilingual customer service and adapts responses based on user interaction history. Overall, generative AI chatbots offer a valuable tool for insurers to improve customer satisfaction and streamline operations. And with different generative AI architectures available, insurers can select the one that is most suitable for their needs.
Submit a request for a Proof of Concept (POC)
Explore the advantages of Generative AI in your company. POC will be done in 2 weeks to validate the business idea!