It's pretty difficult to overestimate the benefits AI-powered chatbots offer businesses, from agent cost savings due to solving repetitive requests, the opportunities continue to grow. According to Juniper research, cost savings, up-selling, marketing, and cart recovery are major retailer chatbot 'push' factors. Retailers will take advantage of these opportunities; propelling chatbot implementation and driving e-commerce transactions via chatbots to reach $112 billion by 2023.
However, not all chatbots are created equally. There are many virtual assistants in production that do not have Natural Language Processing (NLP) which means it cannot understand a user's natural language inputs, causing the bot to be quite limited and robotic, rather than helpful and conversational. To ensure your chatbot's metrics are being analyzed well, we've put together a list of the top chatbot analytics tools in the industry.
Chatbot ROI Calculator
It is crucial for businesses to monitor and evaluate the effectiveness of their launched conversational solution to understand how to improve CSAT, containment, and user adoption. But how can you measure the perceived value and savings a chatbot can offer before implementing one? Check out this Chatbot ROI Calculator from Master of Code that can take your business metrics and generate an estimated savings in labor costs from a successful conversational AI implementation.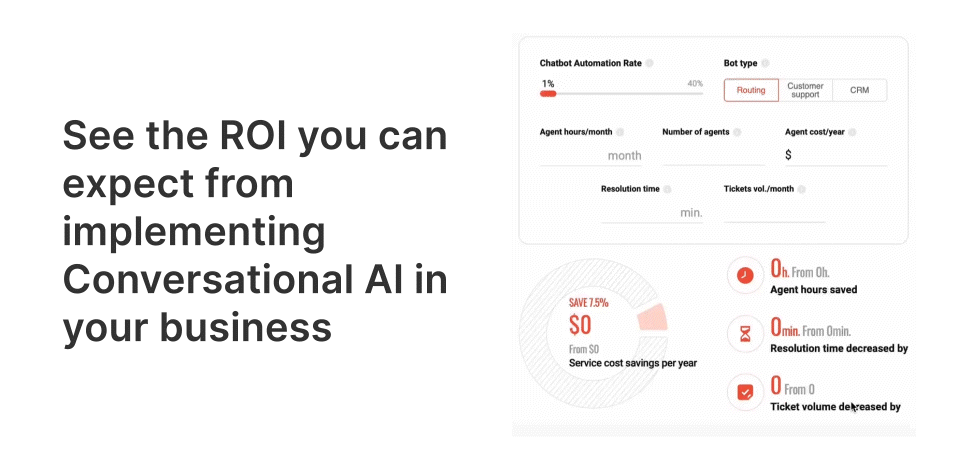 This calculator provides a detailed report on your potential service cost savings, based on your current state with human live agents or call centers. Looking athe current state of the global chatbot market, the average ROI can be up to 1,275% for support cost savings. For healthcare and banking agents, the cost saving was increased from $0.50 to $0.70 per interaction.
To calculate your anticipated chatbot's Return on Investment, you need to understand your current state of call center resources: how many agents you have and their salary, how much time they spend on average on each ticket, and how many you have per month. Different chatbots types provide various automatization, for instance, handover for a live agent, FAQ automation bot, or Conversational AI solution with integration will reflect different chatbot ROI picture.
Check out your potential cost savings by implementing a chatbot solution for customer supportCalculate ROI
Chatbot Analytics Tools for Testing
Testing is a crucial part of chatbot development, once a step from the development process is ready, you will need to test it to be sure you are on the right track. From reviewing transcripts, to troubleshooting chatbot conversation flows to understanding containment and abandonment.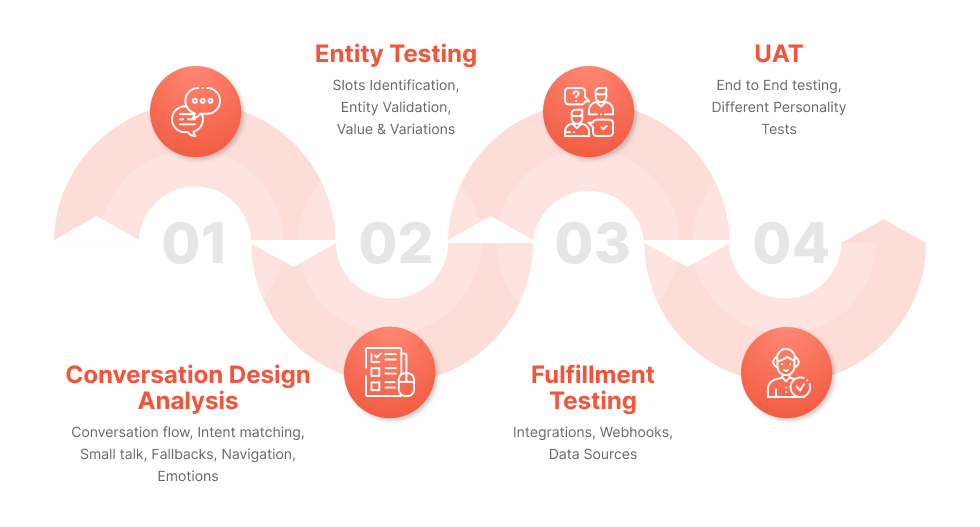 Working with a Conversational AI development company such as Master of Code, you receive a full package of services, including testing as well as optimizing existing conversation flows, and implementing new use cases. For others who develop in-house solutions and are seeking out of the box testing solutions, here are a list of tools that can provide chatbot testing for you.
Testing Chatbot Analytics Tool #1. Botium
Botium: test automation toolset for testing different chatbots or virtual assistant conversation flow. Free version doesn`t limitate the number of chatbots or users and includes Conversation Flow Testing, Live Chat Recorder, Visual Test Case Editor, Script Editor, Quickstart Wizard, and access to their chatbot testing community.
Testing Chatbot Analytics Tool #2. User Testing
Ready to test your chatbot on real users? UserTesting platform proposes to choose your target audience, create a focus group and they will check your chatbot before the real clients. As a result, you will have a review of people who engaged with your solution and are ready to show issues and vulnerabilities or suggest potential improvements.
Testing Chatbot Analytics Tool #3. QBox
QBox: Conversational AI testing tool that enables not only the result of your AI chatbot but actually training data that are the basics for all chatbot behavior. Free plan is pretty limited and includes only one user and 5 tests, but also direct import from NLP providers, compare tests between some NLP providers, confusion matrix, and word density.
Top 10 insights on how to improve Customer Experience: Trends & Benchmarks & Use Cases
Check your Inbox! The Guide was sent to your email
Performance Analytics Tools for Chatbots
Once deployed and released, each AI-powered chatbot needs to be tracked by several KPI metrics to understand the value it provides, successful use cases, and options which need to be improved.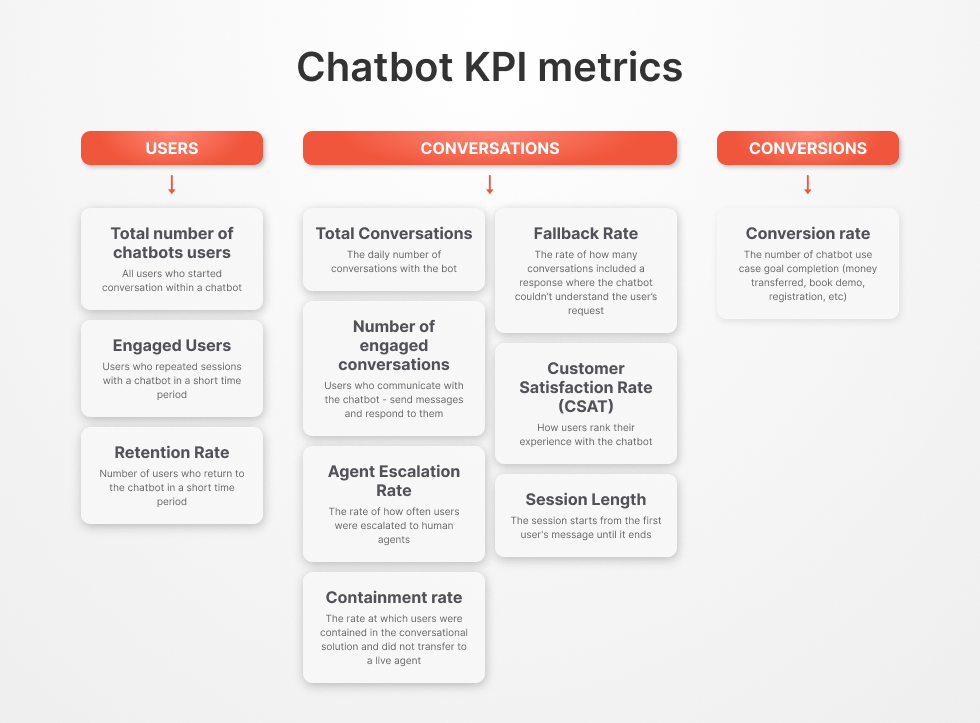 Whether you're looking to scale your Conversational AI Solution, analytics will provide you a full picture of how your chatbot is performing and could be a benchmark for further decision-making strategy. Mostly, all chatbot analytics tools gather information within an integration capability and convert it into understandable and readable information in the graphic and diagrams view.
Here is a list of chatbot performance analytics tools.
Chatbot Analytics Tool #1. BotMetrics
BotMetrics: a free and easy-to-use chatbot analytics tool for Facebook Messenger bots and use REST API as a core technology. These basics chatbot KPI metrics could be tracked within this solution:
User engagement: the number of active/daily/ total users, received/sent/total number of messages.
Cohort Retention Analysis: the number of users who messaged a chatbot again.
Conversation history.
Chatbot Analytics Tool #2: Dashbot
Dashbot: a conversational data platform that offers different levels of tracking KPIs no matter which platform your chatbot was developed on. It can integrate with Facebook Messenger, Google Assistant, Amazon Alexa, Rasa, Genesys, and more. Your chatbots can be tracked and all their data visualized for easy review and analysis:
Customer Support KPI: from basic ones such as users/sessions/messages/intents to more specific escalation rate/conversion rate/ NPS with custom filters available.
Use Cases sessions: an overview of the users intent (what was asked and what was the chatbot response).
User Flow overview: which helps to identify where under the website a user needs help and did he get it or not with the ability to check the transcript of each session.
Chatbot Analysis Framework
We've explored chatbot analytics tools that can collate data, transcripts, pull in containment and other numerical metrics, but how can you benchmark your bot against the industry's user centric best practices?
Introducing Master of Code's Chatbot Analysis Framework. It offers a scorecard where you can test your solution and better understand its maturity, complexity, and areas for optimization and scale. The capabilities of this chatbot evaluation framework allow companies to evaluate their current conversational solution and find potential pain points and new ways for further improvements.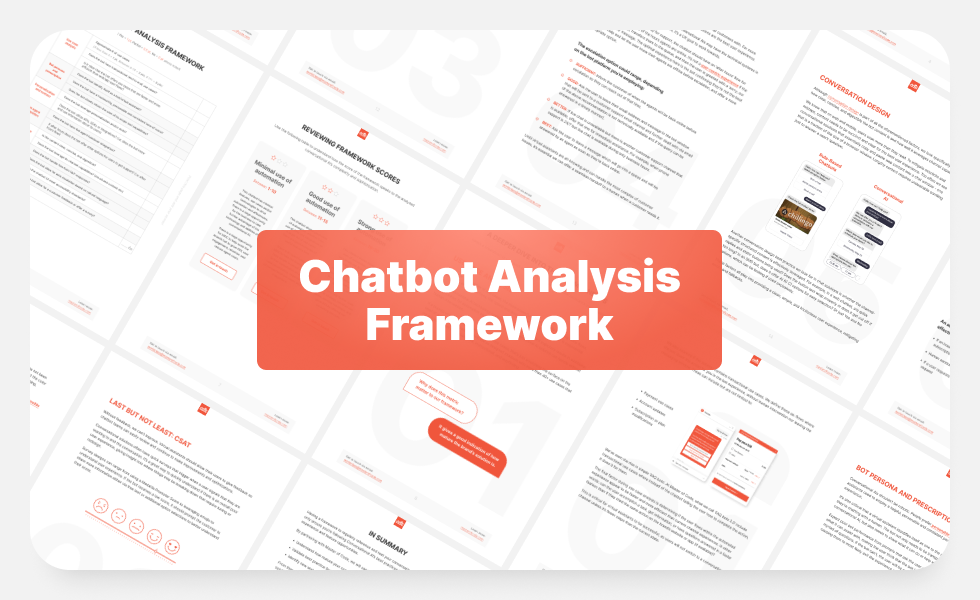 Want to evaluate your Conversational AI solution?
Download our Chatbot Analysis Framework!
Check your Inbox! The Guide was sent to your email
Our Chatbot Analysis Framework consists of the following eight components:
Chatbot use case analysis: Use Cases number and their transactions give a good indication of how mature the brand's solution is.
Bot persona and prescription: The bot not only needs to be transparent to the user that it's a conversational AI, but also needs to share what it can do or help with.
Personalization and context: If there's a lack of personalization and context in your chatbot, chances are the user is doing the heavy lifting of providing information in order to get the answers they need.
Live agent integration: Until virtual assistants are all-knowing and can handle the most complex of customer issues, it's essential we can offer a seamless handoff to a human when a customer needs it.
Conversation design: Although conversation design is part of all the aforementioned factors, we look specifically here at how clear, concise, and digestible the bot content is and how well it leverages channel capabilities, so this is one of the basic chatbot analytics component.
Natural language processing: Users now expect chatbots to understand natural language and will often prefer to type responses instead of clicking through buttons and links to get the information they need.
Accessibility: Having chat windows and UIs that are colorful and engaging are great but the color scheme must follow WCAG guidelines pertaining to field labels, legends, error messaging, keyboard access, and color ratios.
Feedback: Virtual assistants should allow their users to give feedback so chatbot teams can easily review and continue to make improvements and optimizations, so this is a fundamental data for chatbot analytics.
Tracking chatbot analytics is critical when investing in or scaling your conversational AI solution. Whether you're starting out or are looking for areas to optimize your chatbot, the above list can offer something for everyone.
Want to learn more?
Master of Code designs, builds, and launches exceptional mobile, web, and conversational experiences.