At Master of Code, we talk a lot about Conversation Design, how to plan a conversation flow diagram and the importance of the flow and feel of a chatbot. Customer support, user or patient management, and answering customer questions are all great use cases that a conversational chatbot is perfect for. Another great chatbot application is one that can help frustrated customers solve issues and give back some time to agents: troubleshooting use cases.
In a troubleshooting flow of a conversational solution, a bot's main goal is to automate simple fixes to free up agents' time for more complicated issues. The customer's goal is to get their issue fixed without waiting for help.
While it's nice for a chatbot to be empathetic and conversational, it becomes more important to get each point or troubleshooting flow step across in the least amount of words (and the lightest cognitive load possible).
Here's how you can make your troubleshooting chatbot conversation flows more impactful
Edit, edit, edit
For your chatbot, you can borrow from the world of UX, copy editing, and heuristics to drive troubleshooting conversation flow strategy and find clarity in your messaging. Taper messages down as much as possible by:
removing unnecessary words that clutter the chatbot messages.
removing redundant language that dilutes the meaning.
using imagery for guidance.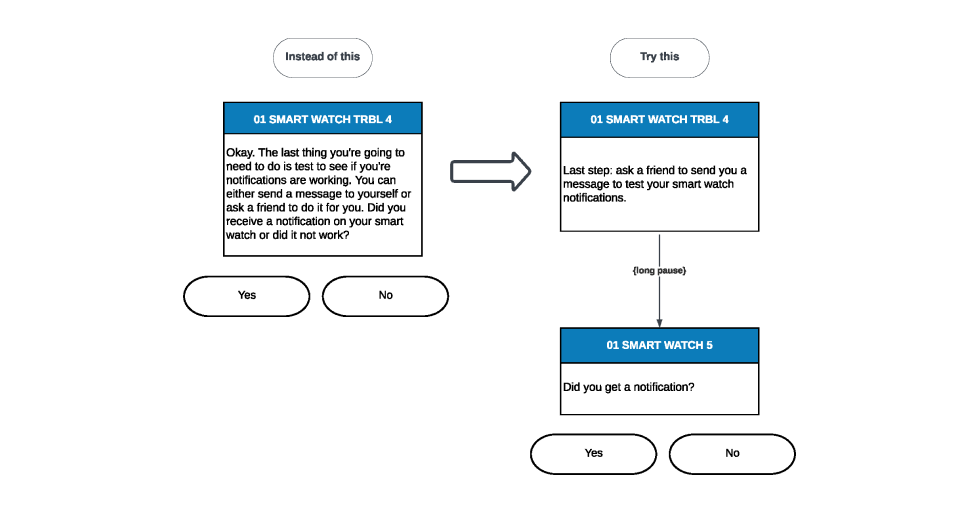 By simplifying messages, you're already one step closer to helping customers achieve their goal by alleviating some of the cognitive load for them.
Want to evaluate your Conversational AI solution?
Download our Chatbot Analysis Framework!
Check your Inbox! The Guide was sent to your email
Let the customer set the pace
Another way to make chatbot troubleshooting content more digestible is to break longer messages into two messages. Keep in mind that it takes two to converse and a bot should never hog the conversation or overwhelm the customer with too much information at once.
Review your conversational flow diagram and be cognizant of how many messages your bot is consecutively sending. To ensure you're not sending more than three messages in a row, invite the customer to let you know where they're at in the process by interacting with you. You can use quick replies or give options that:
lead to other relevant information in the conversation flow or in another flow.
let customers connect to a live agent if they've run into an issue that the bot can't help with.
use Natural Language Processing (NLP) to let customers stop troubleshooting whenever they want to.
give the customer the option to let the bot know when they're done and ready to move on.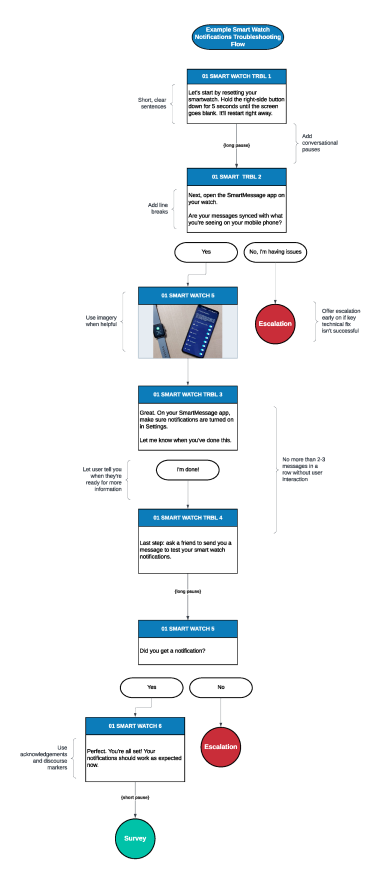 Keep in mind that not every point in a troubleshooting chatbot conversation flows should be an escalation point. In other words, there's no need to add the option to connect with a live agent after one or two standard troubleshooting steps. Doing so could lower your containment rate and increase wait times. Offering escalation at a key step in the beginning and at the end of the conversation flow is plenty.
Consider other paths of conversational flow
Another important piece of troubleshooting with a chatbot is to remember that customers may finish the troubleshooting conversation flow and move on to another flow in the bot. For example, a customer may need to activate a product or service before they set it up. This means that they could start in an activation troubleshooting conversation flow and end up in a set up flow.
To understand your customer's journey, review bot conversations and chatbot analytics to see where customers are going and identify patterns into subsequent flows. This will help you anticipate where your customer needs to go next and how to map their journey. Keep flows smooth and consistent by paying attention to how much content the customer will see when they transition flows.
Troubleshooting Conversation Flow
How to keep chatbot retention rate, while removing this common mistakes
Check your Inbox! The Guide was sent to your email
The takeaway of troubleshooting chatbot conversation flows
Technical jargon and language in a chatbot is inherently more difficult to understand than checking out or asking an FAQ. On top of that, customers are often frustrated when one of your products or services isn't working for them. To make their lives easier, always keep your troubleshooting messaging short, to-the-point, and cooperative.
Well-designed troubleshooting conversation flows require a good amount of upfront work and continued data-based optimization. Following the tips above will help you build a useful, frictionless and efficient experience that's a win-win for you and for your customers.
Ready to build efficient troubleshooting conversation flows as part of your impactful conversational AI solution? Let's chat!