Attracting the right talent to a business is crucial for a business to succeed. Yet it is surprising just how many businesses out there continue to manage their HR using outdated manual processes.
Use of outdated HR methods can prevent a business from accelerating growth and becoming more efficient. After all, trying to manually navigate expense claims, performance management, and vacation requests leaves little time for HR to focus on higher-value tasks.
There are various solutions out there. Many of them, however, rely on programming and the need for skilled staff. This adds yet another unwanted expense to the business. Thankfully, HR automation is a viable option for many companies. It is both easy to use and incredibly cost-effective.
A Workflow Automation Real-World Scenario
One notorious manual process that is common for HR teams to deal with the world over is the onboarding of new members of staff. This typically involves:
Printing forms or retrieving files.
Sending documentation to the new hire.
Reviewing the returned forms for errors.
Sending the forms back for amendments.
Receiving them back and entering the data onto the system.
Distributing the forms amongst other departments.
Following up with staff to make sure they've received and signed them.
Filing the forms away upon return.
Continually communicating with the new hire and other departments.
Continually checking documentation status and updating stakeholders.

As you can see, such processes are unnecessarily laborious. Indeed, the historical role of an HR department is very much administrative. Managing tasks such as staff wages, amongst other things. But things have now moved on, and companies are encouraged to 'get with the times' by automating and streamlining their HR processes. Time and resources are not only conserved, but information becomes accessible in one central location for everybody who requires it.
Steps For An Effective Workflow Automation
HR departments can benefit from automated solutions in many ways. But onboarding can be particularly well-streamlined using the following features:
Templates. Automated software makes use of pre-made or user-generated templates that incorporate drag and drop functionality for fields. Forms can also execute custom behaviors like calculations or auto-completion of certain fields.
Workflows. A big advantage of a workflow is that they allow forms to be automatically sent between departments, helping eradicate the back and forth movement. Staff are reminded automatically of the next steps and errors are flagged in real-time.
Data Mapping. Forms completed using AI software enable data mapping across multiple documents. This prevents repetition and enables the auto-filling of certain fields.
Testing. Forms can be tested before being set live to ensure they're easy to use, and their logic performs correctly. The days of HR staff having to chase forms or waste time on labor-intensive tasks are over.
Subscribe to get notified about new articles and news from Master of Code Global
Subscribe
Real Examples of HR Automation in Action
#1: Risk Management and Analyzing Data. Analysis and comparison of HR data is a breeze thanks to automated software. Risks can be easier to spot, while better outcomes can be determined more effectively. Within larger businesses, a lot of information tends to be collected by HR departments. Automated software enables easier data analysis and prevents the need for HR personnel to trawl through documents to capture information.
#2: Managing Staff Benefits. Automated HR software can be used for things like setting up staff retirement plans. Staff are then able to better compare their options. They can also benefit from a personalized plan. In turn, this saves time for HR staff and employees. Allowing them to focus on customers instead. Above all, an automated approach to retirement planning allows HR departments to gain insight into the popularity of certain plans. This enables future changes to be made for the benefit of all employees.
#3: Employee On-boarding. During the onboarding process, it is normal for information to be passed around multiple people and departments. Companies doing this manually are likely to experience multiple errors along the way, making the entire process labor-intensive. Thankfully automated HR software makes this a thing of the past. Information remains centralized and through alerts, everyone remains aware of when they need to complete specific actions.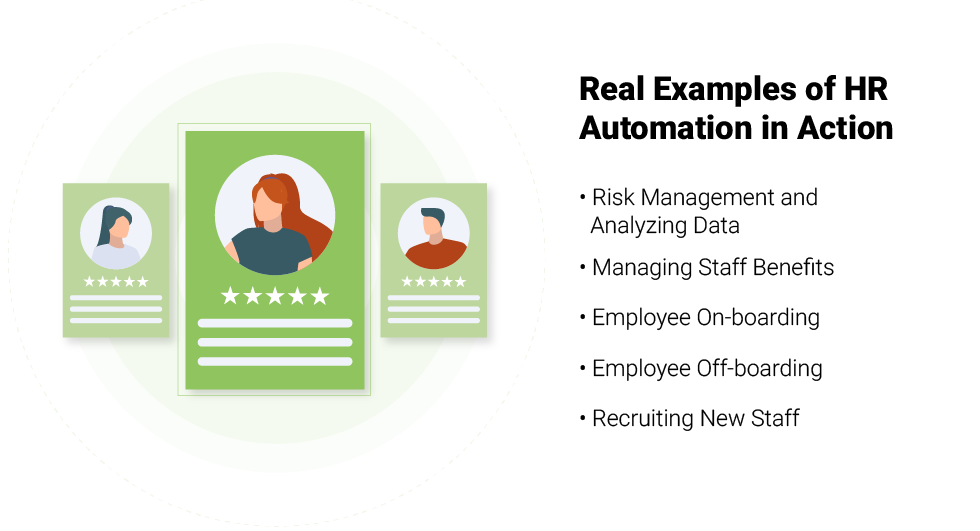 #4: Employee Off-boarding. Off-boarding can be a complex and particularly emotional process for all involved. Resultantly, mistakes can be made which are difficult to fix. This can cost organizations a lot of money. With automated software, the whole process becomes more organized, and staff are less stressed because they automatically receive all the information they need.
#5: Recruiting New Staff. As already mentioned, modern companies need to attract the highest caliber of staff if they are to succeed. The number of millennials within the workforce is growing. This is placing greater emphasis on companies to make sure they are meeting the needs of a 'tech-savvy' workforce.
The Benefits of Automating Human Resources Operations
Provides Useful Insight. Manual HR processes are unreliable and difficult to use, making assumptions rather than using actual data. Cloud-based HR software is a solution to this, providing plentiful data to inform a solid business strategy.
Improves Teamwork and Communication. Most HR professionals would agree that the followup process required during the onboarding process is nothing short of a nightmare. An automated HR solution reduces the need for continual followup e.g. by using reminders for important tasks.
Eliminates Need for Technical Knowhow. Automated HR software can be set up by virtually anyone, eliminating the need for expensive programmers. Forms can be built using drag and drop features. Security is also improved because sensitive data remains protected and accessible only to those with permission.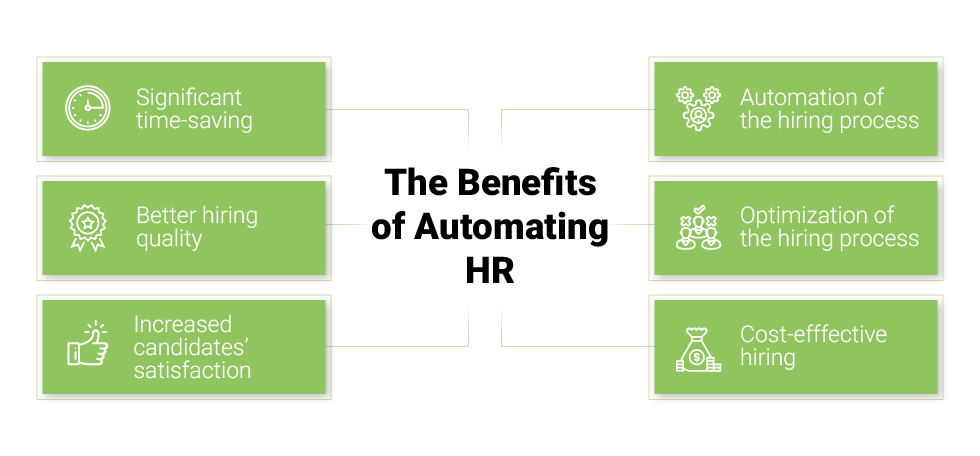 Removes Complexity. Using automated HR software eliminates the need for paper forms. Instead, new starters can complete them online, making the process faster. Because information is mapped to other fields across several documents, repeated form filling is also eradicated.
Focuses on People. Most personnel working within HR probably do so because they enjoy working with people. Yet it is likely that up to 40% of their time is spent on completing admin. Automated HR software enables these staff to do what they were born to do. While new starters aren't overwhelmed by a wad of paperwork to complete.
Enables Faster Recruitment. Dealing with hundreds of CV's during the recruitment process can be inefficient. Thankfully, HR automation software makes the process easier by scanning candidate information based on the original hiring criteria. This allows an automatic selection of shortlisted candidates.
Why Your Business Needs a Custom AI-Based HR Solution
If your HR team still relies heavily on a manual process, you should seriously consider making the switch to an AI-Based solution. You will experience massive benefits to efficiency and your staff will thank you for helping them to make their roles much easier.
Want to learn more?
Master of Code designs, builds, and launches exceptional mobile, web, and conversational experiences.