Chatbot is rapidly becoming the most popular brand communication medium, with a growth rate of 24.9%. This is because chatbots offer a number of benefits for businesses, including increased sales, improved customer service, and reduced costs.
While sales (41%) and customer support (37%) are the most common use cases for chatbots, marketing (17%) is the third most common and one of the most effective ways to use them. Chatbot marketing is the application of chatbots to promote products or services and engage with clients.
Let's take a closer look at the data to see how chatbot marketing is helping businesses achieve their goals:
In this article, we will explore the benefits of marketing chatbots in more detail and provide chatbot examples used by businesses to achieve success through marketing. We will also discuss how to develop a proper chatbot marketing strategy.
Chatbot Marketing: Definition and Applications
Chatbot marketing, an innovative marketing technique, entails the use of computer programs to automate interactions and boost sales. Companies employ chatbots on websites, Facebook Messenger, and other platforms. These bots initiate conversations, qualify leads, and even upsell clients.
Implementing chatbot marketing offers several benefits to businesses and brand reputation. Firstly, it provides 24/7 customer service with instant responses, enhancing user satisfaction. Moreover, data from chatbots helps businesses understand client pain points and emerging trends.
Find Your Marketing Chatbot's Purpose and Learn the Advantages of Custom AI Bot Development
Check out
Additionally, chatbots facilitate closer engagement between brands and customers. Chatbots quickly provide answers and resolve complaints. They also offer detailed responses and connect clients to the right support team.
Here are just a few of the successful adoptions of chatbot for marketing by famous brands.
BloomsyBox Mother's Day Chatbot
BloomsyBox leveraged AI chatbot for marketing to create a highly personalized Mother's Day campaign. Partnering with Infobip and Master of Code Global, they introduced a Generative AI Chatbot. It engaged users with daily questions, offering a chance to win a free bouquet. The chatbot also personalized greeting cards with unique messages. This approach enhanced the brand's gift-giving experience.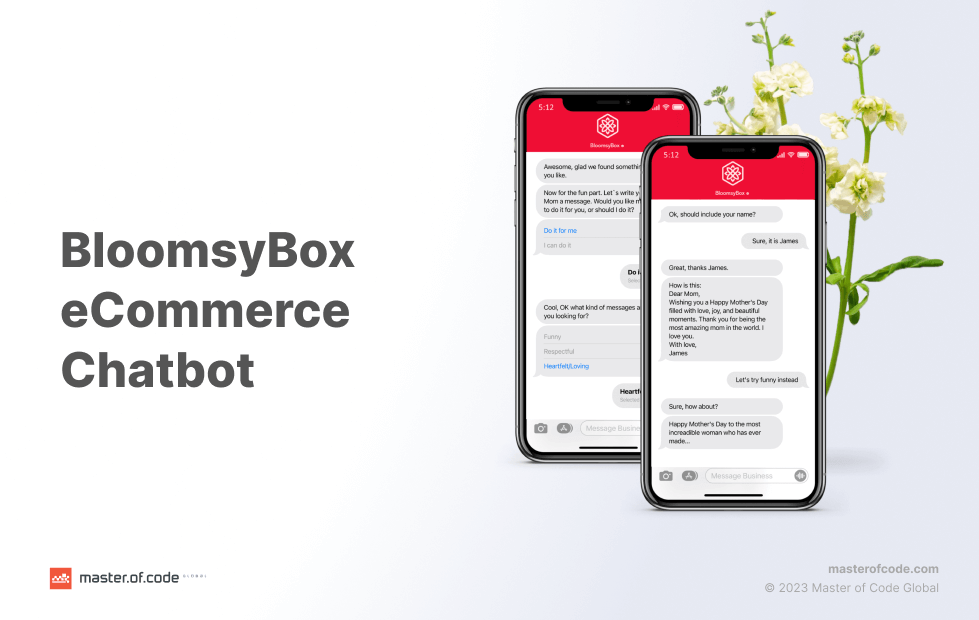 Key results:
60% of users engaging with the bot successfully completed the quiz;
28% of visitors answered all questions correctly, earning them a free bouquet;
38% of users opted for Generative AI to create personalized greeting cards;
78% of winners successfully claimed their prize.
Dom Juan on Tinder
In a clever move for Valentine's Day, Domino's partnered with Tinder to introduce 'Dom Juan'. It was a chatbot that posed as a regular Tinder profile. When users swiped right, Dom Juan delivered playful chat-up lines to enhance their dating game. This creative campaign used Tinder's Valentine's Day popularity to its advantage. It resulted in significant engagement and brand visibility.
Key results:
Achieved a 35x return on advertising spend;
Resulted in a 10% increase in sales compared to the previous year;
Generated over 2 million impressions on Tinder alone.
Mountain Dew's DEWbot on Twitch
Mountain Dew ventured into the gaming world with its DEWbot on Twitch. This innovative chatbot was launched during the "Rig Up" promotion. It offered gamers the chance to win a $50,000 gaming Super Rig supplied by Origin PC. DEWbot helped Mountain Dew run a gaming campaign on Twitch. Fans voted on the best electronics for the Super Rig. This engaged the gaming community and taught Mountain Dew more about its Twitch audience.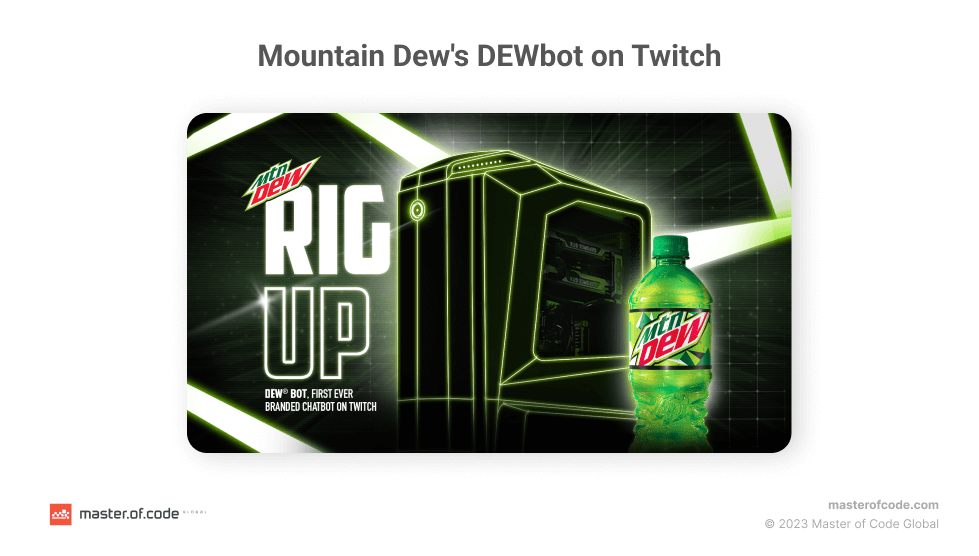 Key Results:
550% increase in in-stream conversation;
265% growth in Mountain Dew Twitch fans;
572% increase in channel engagement;
190,000 unique in-stream viewers;
11,600 hours of branded content watched.
Chatbot for marketing helps businesses automate interactions, engage clients, and grow revenue. It's a versatile tool that can be used on many platforms. Therefore, it is valuable for modern marketing strategies.
Benefits of Marketing Chatbots
Chatbots have become invaluable tools in modern marketing strategies for several compelling reasons:
Engage and Qualify Leads. Digital assistants engage and qualify leads effectively. It initiates conversations with website visitors and collects basic qualification details. This data, combined with enrichment tools, allows for user segmentation and personalized interactions. Swift identification and routing of high-intent leads to the sales team. This significantly increases conversion chances.
Customer Engagement. It's a smart idea to have an AI bot for your business as 53% of people are more likely to shop with a business they can message. Bots enhance client engagement through consistent communication with a wider audience. This ultimately boosts sales through conversational marketing. They streamline ordering processes and guide users through the sales funnel.
Save Time and Cost. Chatbots save time and money by answering common questions quickly and automatically. They are a one-time investment, work 24/7, and need few resources to give real-time responses. Bots are rule-based, AI-enabled, or hybrid. They cut wait times and improve customer support. It also gives users access to information outside of regular business hours, enhancing client satisfaction.
Segmenting Traffic. Bots excel at segmenting traffic and directing product advertisements to the right audience. This is crucial, given that approximately 77% of a company's ROI comes from segmented and targeted communication. Market segmentation helps businesses target the right customers with the right message. This leads to more sales and a better ROI.
Collect Data for Analysis. Chatbots collect data from clients, such as their names, contact information, and interests. They also conduct surveys to learn how customers feel about the brand. This data helps businesses improve their knowledge bases and make bots more effective. Additionally, digital assistants use machine learning to understand consumer demographics and behaviors. This allows businesses to create personalized offerings and gain a competitive advantage.
Bots are very useful in modern digital marketing. They automate tasks, personalize messages, and engage with customers. Chatbot marketing can help businesses nurture leads, increase sales, and gather information about their consumers. It is an important part of marketing strategies and helps businesses save time and improve the customer experience.
How Can You Use Chatbots in Marketing?
NLP chatbots help businesses interact with clients more effectively and make processes more efficient. Here are some ways of how to use chatbots for marketing.
Lead Generation
Generally, 36% of companies turn to the chatbot market to improve lead generation. This is because digital assistants simplify the process of generating leads. They engage with website visitors and collect essential information.
They replace traditional online forms with friendly and conversational interactions. This makes it easier for users to provide their details. This approach not only increases lead quantity but also enhances user experience.
Lead Qualification
Chatbots for marketing go beyond lead generation by automatically qualifying leads. By asking relevant prequalifying questions, bots assess a lead's quality and interest. This way businesses focus their resources on the most promising prospects. Such automation reduces manual work and ensures that sales teams receive leads that are more likely to convert.
Quote Generation
Marketing chatbots can offer instant quotes based on consumer responses. This feature is useful for services with personalized quotes, like insurance or consulting. Actually, 54% of customers prefer talking to a bot when making the payment. Digital assistants make the process efficient and convenient, increasing the chances of conversion.
Appointment Booking & Reservations
Multilingual chatbots are excellent tools for managing appointments and reservations. They schedule, modify, and cancel appointments. Thus, bots save time for both customers and businesses. By automating this process, businesses can improve client satisfaction and reduce administrative burdens. One in four travel companies are already using bots to help users with questions and bookings.
Loyalty Programs
Many customers forget about their loyalty program benefits. In fact, 54% of loyalty program memberships go unused. Chatbots help loyalty programs by reminding members of their point balance and encouraging them to use their rewards. This boosts client engagement and ensures loyalty program participation. Bots can also collect valuable feedback and insights from loyal consumers.
On-Site Services
Marketing chatbots provide on-site services, such as sharing business information and offering virtual receipts. They can also present menus and assist with event schedules. These services enhance customer experiences and engagement. Chatbots act as virtual assistants, making it easier for clients to access information and services. That's why 80% of companies are looking for ways to use chatbots in their services.
Contests
Contests are effective marketing tools, and virtual assistants can make them even more engaging. Bots attract participants, collect entries, answer questions, and announce winners. This interactive approach fosters user engagement and provides a seamless experience for participants.
Reviews
Chatbots for marketing prompt customers to leave reviews and share feedback. Chatbot for business makes it easier to collect valuable feedback from users. This feedback helps brands improve their products and services. It can also help businesses boost their online reputation.
Community Management
Chatbots help online communities by inviting new members, sharing updates, and enforcing rules. Additionally, they can answer member questions, providing support and assistance. Thus, they enhance community management and engagement. Virtual assistants ensure that communities run smoothly and provide valuable resources to members.
Content Distribution
Chatbots deliver content directly to users. This includes spreading blog posts, podcasts, videos, or other forms of content. Users access and consume content within the bot interface. Such approaches save time and create a smooth experience for your customers. Content distribution through virtual assistants also helps businesses reach their audience more effectively.
Surveys
95% of companies collect feedback, and chatbots can optimize this process. Conversational surveys are simple to complete, mobile-friendly, and have a higher engagement rate. They allow for real-time data collection and personalization. Bot-driven surveys provide valuable insights and feedback for businesses to make data-driven decisions.
How Master of Code Global Can Enhance Your Chatbot Marketing Strategy
To create a winning chatbot marketing strategy develop a comprehensive plan. You have to define your audience, their brand interactions, and success metrics. These steps will guide your chatbot's user experience and maximize bot benefits. Let's break it down:
Define Your Chatbot Marketing Goals and Use Case. Clearly articulate your objectives for using chatbots in your digital marketing strategy. Do you want to use the chatbot for client acquisition, brand awareness, or customer service enhancement? We will work with you to understand your goals and make sure the chatbot meets your marketing needs.
Develop a Robust Chatbot Content Strategy. Determine the type of content you want your consumers to engage with. Virtual assistants may cover FAQs, product information, or support resources. We'll help you create a content strategy that works. Our expertise in chatbot flows helps to deliver relevant information to users.
Utilize Purpose-Built Marketing Chatbots. Choosing the right type of bot is crucial. There are various chatbots designed for different purposes. We specialize in creating marketing chatbots customized as per your specific needs. You may need product recommendations, order placement, or appointment scheduling bots. We have the expertise to develop any bot that effectively serves your objectives.
Create a Distinct Bot Personality. Define your chatbot personality, aligning it with your brand's tone and values. Consider naming the bot for a more personalized touch.
We will assist in shaping your chatbot's persona. We ensure it resonates with your target audience and maintains consistency across channels.
Provide Live Chat Capabilities. Let your potential customers know that a real person is just a click away. Some people prefer human interaction over chatting with a bot. We can integrate live chat features into your chatbot to make sure real human agents are always available. This gives users the option to talk to a human if they need more help. Such an approach can assist save potential leads and facilitate sales.
Collect Customer Feedback. Gathering customer feedback is crucial to understanding their needs and improving your services. We can make your virtual assistants send client satisfaction surveys and follow-ups after conversations. This feedback helps you learn about your consumers' preferences and likelihood to recommend your brand. It provides actionable data to make necessary enhancements and better meet client needs.
Track and Analyze Performance. To continuously enhance your marketing chatbots, monitoring their performance is essential. We can integrate analytics and metrics to check how your bots are operating. This data offers insights into customer interactions and engagement levels. You can make real-time adjustments to the virtual assistants to optimize their effectiveness. Regularly tracking performance ensures your chatbot remains aligned with your digital marketing goals.
Master of Code Global will work with you to define your marketing goals, identify your target audience, and create a chatbot plan. We'll look at how your customers interact with your brand to make sure the bot is right for you. Once we have a plan, we'll start building the virtual assistant.
We'll create a bot persona that matches your brand and engaging content. Our company will adjust the development process for your specific needs. We will make sure your chatbot is top-notch and helps you achieve your goals.
Chatbot Marketing Examples
Sephora Marketing Bots
In the midst of a pandemic, Sephora stood out by using mobile chatbots in their stores. They started with Kik and later introduced the Sephora Reservation Assistant on Messenger. This smart move helped the company stay ahead of the competition and grow significantly, doubling its success.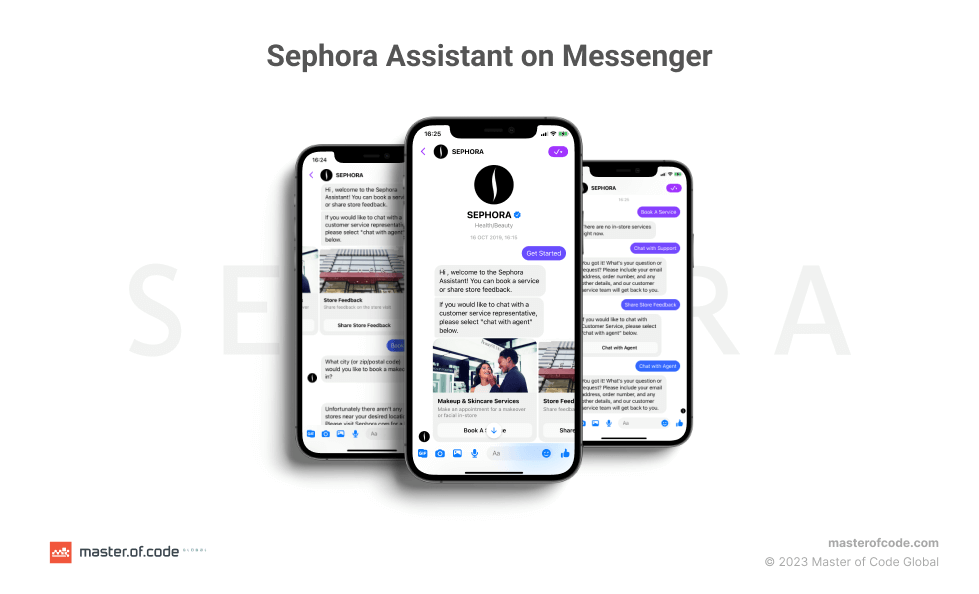 Key Results:
Generated 4 million visits to the Sephora app.
Facilitated over 90 million shade try-on experiences.
Increased foot traffic by 11% through the booking app.
Achieved an average spend of $50 per in-store visit.
H&M's Consulting Chatbot
H&M's Kik Chatbot is a chatbot that uses AI to help customers find clothes, learn about fashion trends, and get styling advice. The virtual assistant asks customers a series of questions about their preferences. This allows it to recommend specific items of clothing and outfits. H&M's bot is a good example of how marketing bots engage customers and promote products and services.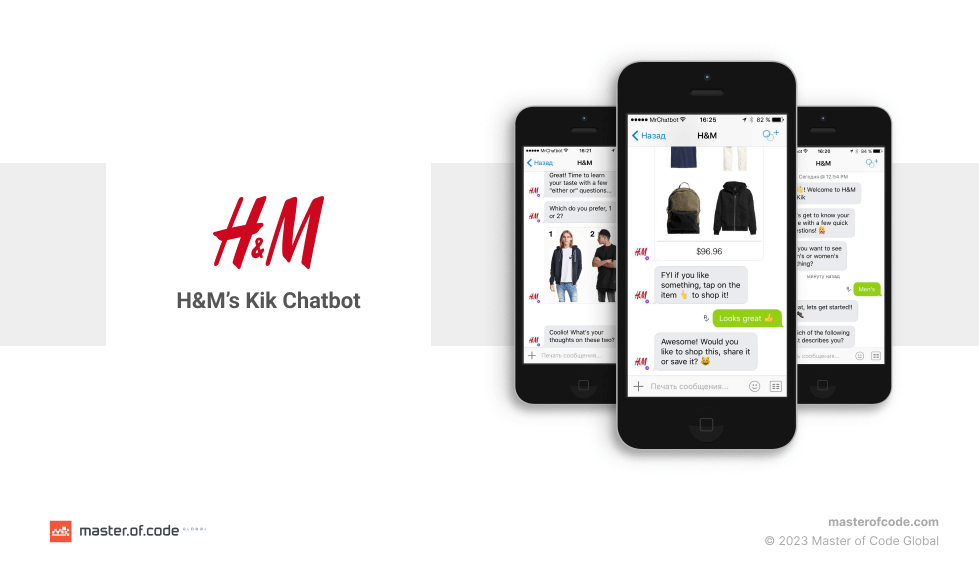 Key results:
86% engagement rate, 4-minute average interaction time;
8% click-through rate, which is 6% higher than rate for email marketing;
200% increased engagement and 70% higher revenue.
Luxury Escapes Booking Bot
Luxury Escapes uses a chatbot to make it easier to find and book luxury travel deals. Customers can tell the bot their travel preferences. Then, the virtual assistant uses AI to suggest personalized accommodations and experiences. This bot improves the user journey and makes luxury travel planning more accessible and enjoyable.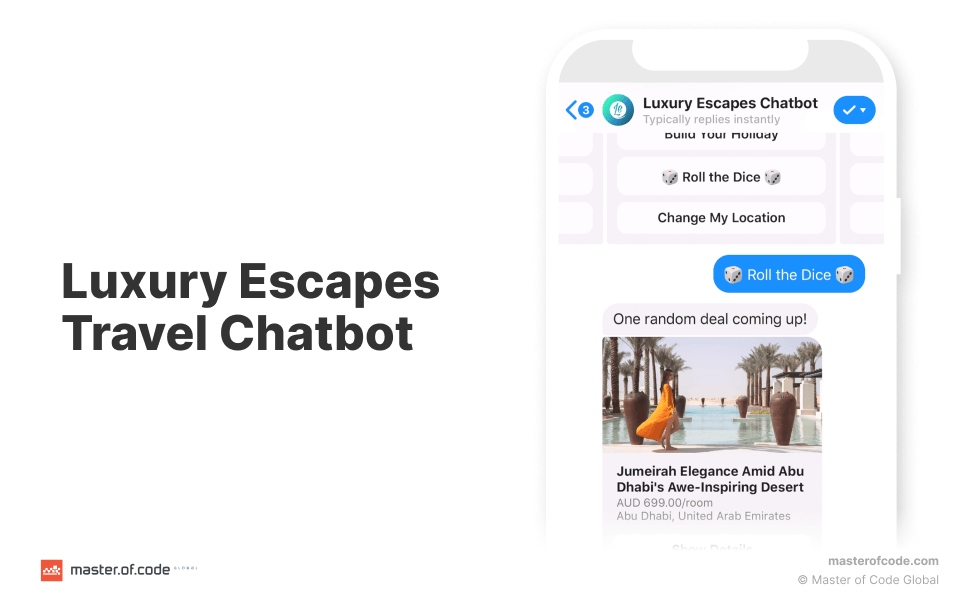 Key results:
4070+ deals viewed and 6200+ users engaged with the bot in 3 months since launch;
$300,000 in revenue within its first 90 days;
a reply rate of 89% for retargeting messages and a conversion rate of 52.63%;
conversation rate of 12%, which is 3 times higher than the website's.
Summary
Chatbot marketing is a powerful tool for automating interactions and enhancing sales. Businesses benefit from 24/7 customer service, data-driven personalization, and closer customer engagement. Successful examples from BloomsyBox's, Domino's, and Mountain Dew's marketing campaigns demonstrate its effectiveness.
Marketing chatbots find applications in lead generation, booking, content distribution, surveys, and others. We can help with customized chatbot development. We can also assist with integrating Generative AI for marketing into your current chatbot. With our virtual assistants, you will be able to enjoy all the benefits of AI solutions repeating other brands' achievements.
For example, Sephora achieved millions of app visits, shade try-ons, and increased traffic. H&M's bot achieved high engagement and click-through rates. And Luxury Escapes simplified luxury travel bookings, generating substantial revenue.
Overall, chatbot marketing streamlines interactions, engages customers effectively, and drives revenue growth. Its versatile applications make it a valuable asset in modern marketing strategies.
Businesses increased in sales with chatbot implementation by 67%.
Ready to build your own Conversational AI solution? Let's chat!