Air travel is taking a whole new turn thanks to airline chatbots. These digital assistants are shaking up how we connect with airlines and even changing how companies work behind the scenes. According to SITA's projection, by the year 2023, around 68% of airlines and approximately 42% of airports will be considering the implementation of chatbot services powered by AI.
In this article, we're diving deep into the chatbot benefits for both travelers and the airline industry. We'll explore many use cases and share real-life chatbot examples. So, get ready to discover how these chatbots are giving a fresh twist to your air travel experience!
Airlines Chatbot Benefits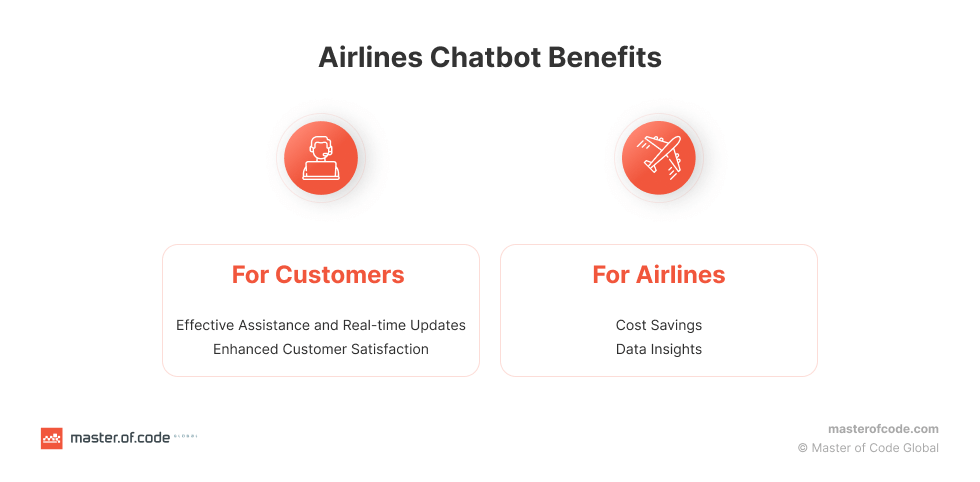 For travelers, chatbots in the airline industry offer more than help. They provide immediate support, granting access to flight-related information and updates. As bots gather insights into customer behaviors and preferences, companies obtain valuable data for services. They also create tailored marketing strategies and respond to new trends. Join us on a journey through the advantages that airline chatbots bring to both customers and airlines.
For Customers
Effective Assistance and Real-time Updates
Customers can receive immediate and efficient assistance, accessing information about flights, services, and policies through the airline chatbot. The airline offers real-time updates on flight statuses, gate changes, and delays to passengers. According to the Salesforce, 58% of clients say that chatbots and voice assistance have changed their expectations of companies.
Enhanced Customer Satisfaction
Research indicates that chatbots achieve a remarkable customer satisfaction level of 73%. Chatbots in airline industry simplify the flight booking process by helping customers in selecting flights, seats, and extra services. Operating 24/7, they provide customers with information and support at all times, regardless of time zones or holidays.
For Airlines
Cost Savings
By automating tasks like FAQs, assisting with bookings, and managing routine requests, companies can cut operational costs. This reduces manual work and the need for a large customer support team, resulting in lower expenses. With airline chatbots handling these tasks, companies can divide resources, optimize their budget, and raise financial efficiency. Among the top 5 industries benefiting from the adoption of chatbots, travel accounts for 16%.
Data Insights
Airline chatbots collect valuable data on customers' preferences, behaviors, and concerns when they interact with them. This information helps companies make informed decisions. These decisions improve their services and create targeted marketing strategies. Additionally, they enhance customer experiences. By using feedback and identifying emerging trends, companies can adjust their offerings to match the changing demands of their passengers.
Airline Chatbot Use Cases
In our blog, we have discussed the use of bots across various industries, and now it's time to delve into the airline sector. We've outlined 9 airline chatbot use cases that show how chatbots enhance a more inclusive and engaging travel journey.
Automate Flight Search & Bookings
How does a journey typically begin? We usually start by planning a trip to a certain country. Then we search for flights on Google, selecting the option that best suits our preferences. Airline chatbots automate the flight search and booking processes. Customers can ask the bot to find available flights, compare prices, and complete the booking process.
Flight Updates
Whether you're arriving at the airport on time or not, all travelers want to stay updated on flight information. An airline chatbot can notify passengers about departure and arrival times, gate changes, delays, and other important flight-related details.
Baggage Tracking and Claims
Passengers address lost baggage as one of the most common issues with customer support. Airport chatbots can enhance baggage tracking systems, providing a convenient method for passengers to track their baggage. Passengers can also start claims in case of lost or delayed luggage. Customers can inquire about their bag's status and receive support with the claims process.
As reported by The Guardian, out of the 26 million mishandled bags in 2022:
80% experienced delays
13% of bags suffered damage
7% went missing
Remote Check-ins
Statista's research, shows the trend of airports including self-service options from 2015 to 2021, along with a forecast for 2024. In the 2021 study, the concept of self-service bag drop gained significant attention, with approximately 52% of airports offering this opportunity. By 2024, experts expect this percentage to increase to 75%.
Chatbots reduce the need for staff, printing expenses, and waiting queues. Checking in via a virtual assistant is more comfortable compared to using the airline's website. This approach is both more convenient and time-efficient.
Claims and Refunds
Passengers often navigate through various options when filing claims. They also request refunds for various travel-related matters. These matters are usually complicated. Chatbot for the airline industry can assist with filling out claim forms. This is useful for situations like flight cancellations, schedule changes, or service disruptions.
Navigating Airports
Many air travelers plan their journeys with connecting flights. However, changing planes at a transfer airport can be challenging. This challenge is especially true when navigating through some of the world's busiest airports. One such example is Hartsfield-Jackson Atlanta International. It can be difficult while trying to find your gate.
Airport chatbots can enhance the flying experience by navigating these spaces. These bots offer travelers details about airport layouts, terminal directions, and available amenities. Passengers can receive guidance on reaching their gates, lounges, and other facilities.
Special Assistance Requests
Nowadays, airlines have taken steps to enhance inclusivity by offering specialized assistance and services. Certain passengers need individualized attention during the flight journey: boarding, disembarking, and ground handling. The passengers needing such attention include individuals using wheelchairs, those with visual or hearing impairments. Also, individuals who are pregnant and those with specific medical requirements.
With the help of the bot, airline customers can request help, such as wheelchair services and medical support, as well as booking specific seats. This simplifies the processes that persons need to follow to use such services.
Flight Payments or Reimbursements
Imagine you've booked a flight and need to make a payment for extra services like baggage fees. Instead of navigating through many pages on the website, you can engage with chatbot for airlines. The bot guides you through the payment process, making it swift. Let's say your flight gets canceled due to unforeseen circumstances. Instead of grappling with phone calls and forms, you can use the same chatbot to request a reimbursement.
Targeted Personalized Offers
Whenever you're planning a vacation, consider using an airline chatbot. Based on your past travel history and preferences, it presents you with a tailored offer for your dream destination. It includes discounted flights, exclusive hotel rates, and even suggestions for activities you might enjoy. This personalized approach ensures that you receive offers that resonate with your interests.
Real Airline Chatbot Examples
Ethiopian Airlines Chatbot, Lucy
Another example of a chatbot in the airline industry is Lucy Ethiopian Airlines, accessible on Telegram and messenger platforms. Passengers can book flights, make payments for services, complete check-ins, and add other flight-related amenities online. A notable chatbot feature is its user-friendly interface that addresses queries and provides guidance for booking domestic and international services. Lucy is available in both Amharic and English languages, and it incorporates the Ethiopian calendar for Amharic-speakers.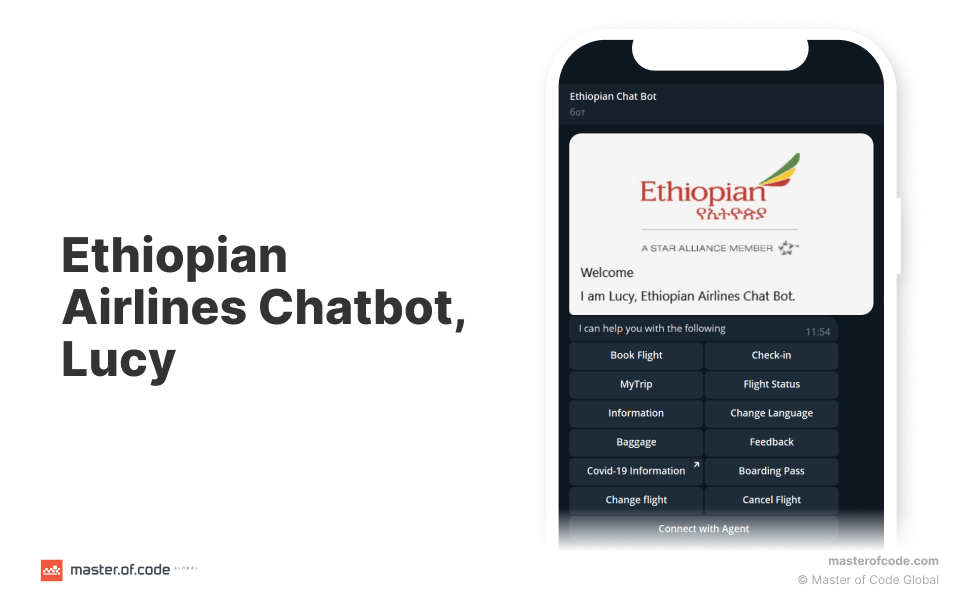 This is an example of an AI-powered chatbot. At Master of Code, we have an experienced team of strategists, CX designers, and chatbot developers, who build AI solutions. We have helped many companies to transform their ideas into reality through our chatbots.
Wizz Virtual Assistant, Amelia
Named after the American aviation pioneer Amelia Earhart, Wizz Air's new chatbot offers 24/7 information about bookings, flight statuses, and other services. Travelers can receive advice and guidelines to address their specific inquiries. Wizz Air have created the Amelia airline chatbot to offer answers to common questions related to COVID-19, special assistance, baggage, payment methods, check-in procedures, voluntary cancellations, traveling with infants, and WIZZ services.
I am delighted to introduce Amelia, our virtual assistant who is a real game-changer in Wizz Air's customer experience solutions. Automating and digitalising our processes is key in delivering ever higher customer satisfaction.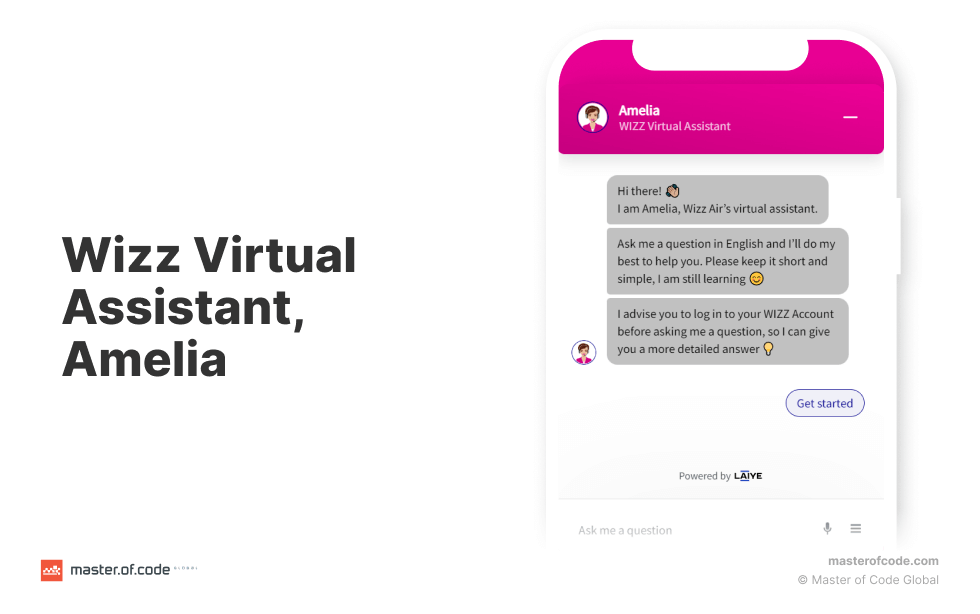 Turkish Airlines, Travel Assistant Boti
Most frequent flyers are familiar with Turkish Airlines. The travel chatbot Boti, available on messenger platforms like WhatsApp, makes finding the right flights and special offers much easier. Boti offers a range of features including availability searches, promotions, check-in assistance with mobile boarding passes, flight status updates, airport maps, and FAQ responses. This airline chatbot can address inquiries about tariffs and cargo status on the dedicated Turkish Cargo WhatsApp number.
Master of Code is proud to have designed and built the Luxury Escapes Travel Messenger Chatbot. It changes how users search for deals based on their preferences and book trips around the world. In three months since its launch, the travel chatbot generated over $300,000 in sales revenue.
Sum Up
As we've explored the diverse benefits, use cases, and examples, it's clear that the sky's the limit for the potential of airline chatbots. With their ability to simplify processes, personalize experiences, and bridge the gap between passengers and airlines, we can say that the journey ahead for air travel is more streamlined, and engaging, all thanks to the power of AI-driven chatbot technology.
With their ability to simplify processes, AI-driven chatbot technology can personalize experiences and bridge the gap between passengers and airlines. This makes the journey ahead for air travel more streamlined and engaging. All thanks to the power of AI-driven chatbot technology!
Master of Code collaborates with world's global companies to create and develop Conversational AI services.
Request a Demo
If you're thinking about making your own airline chatbot, discover how Master of Code can help enhance your customers' travel experience and boost sales growth.