Using the bot to identify and mark fake or secret information: UA Antispam Bot
Ukrainian President Volodymyr Zelenskiy has signed a law forbidding the recording of all Ukrainian military, sites of shelling (including street names, transport stops, shops, factories) as well as any other civilian and military facilities. Still, a large number of social media groups and channels disregard this information.
To prevent this and help online moderators, the Master of Code team designed and developed an AI anti-spam bot to identify any prohibited messages or comments that spread military information under Social Media channels to prevent it`s dissemination. UA Anti Spam bot can be easily installed by the moderator of an online group. All reported messages are marked as spam and are hidden from the audience until moderation.
Over just an 8 week period, the UA Antispam bot has been downloaded to more than 700 active chats and been used by upwards of 39500 active users.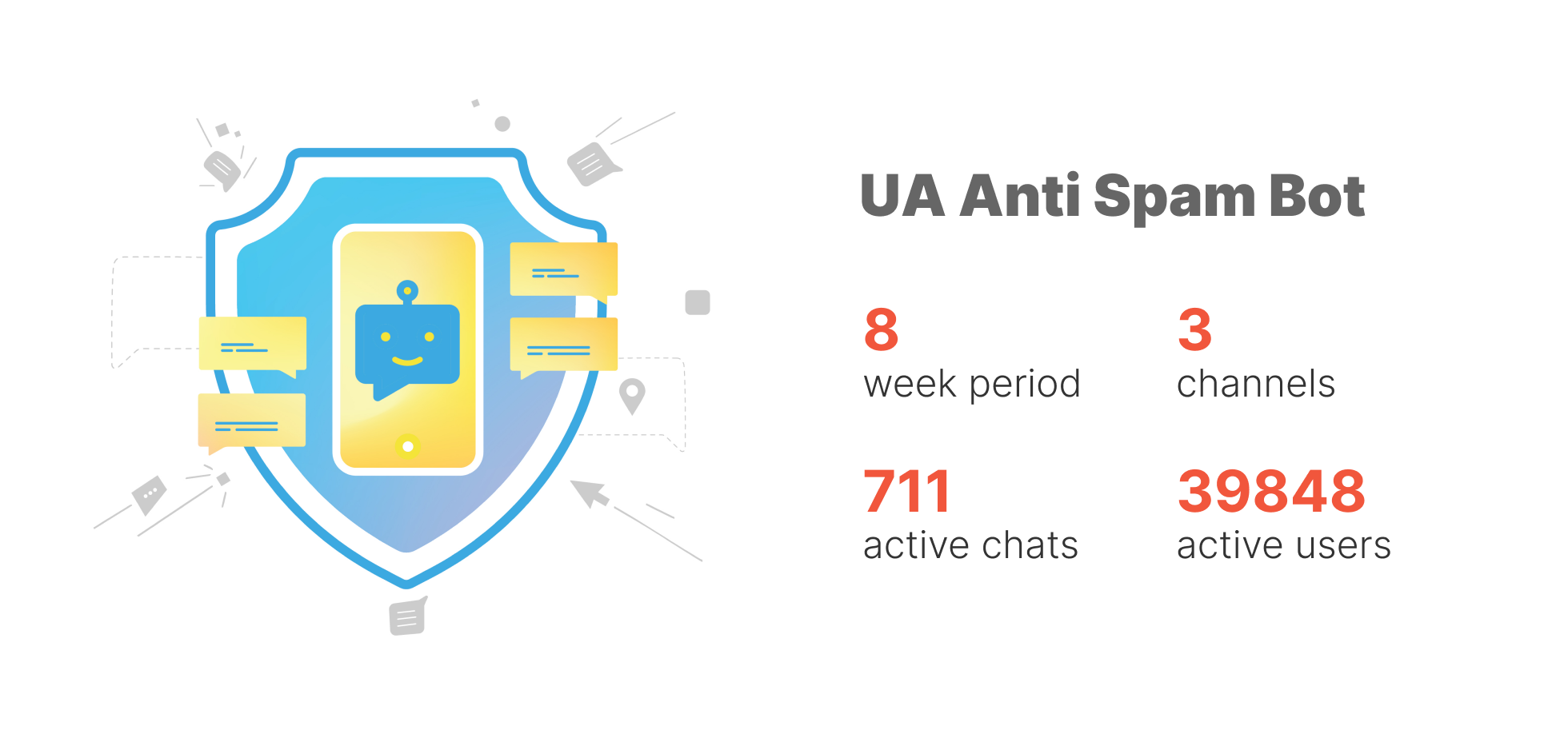 Business Use Case: AI anti spam bot for Social Media
According to Statista research, in the fourth quarter of 2021, Facebook took action upon 1.2 billion pieces of spam content, increasing from 777 million pieces of spam in the previous year's quarter. To make the process of removing spam messages more centralized, production of similar AI antispam bots are helping moderators check and approve disputed messages.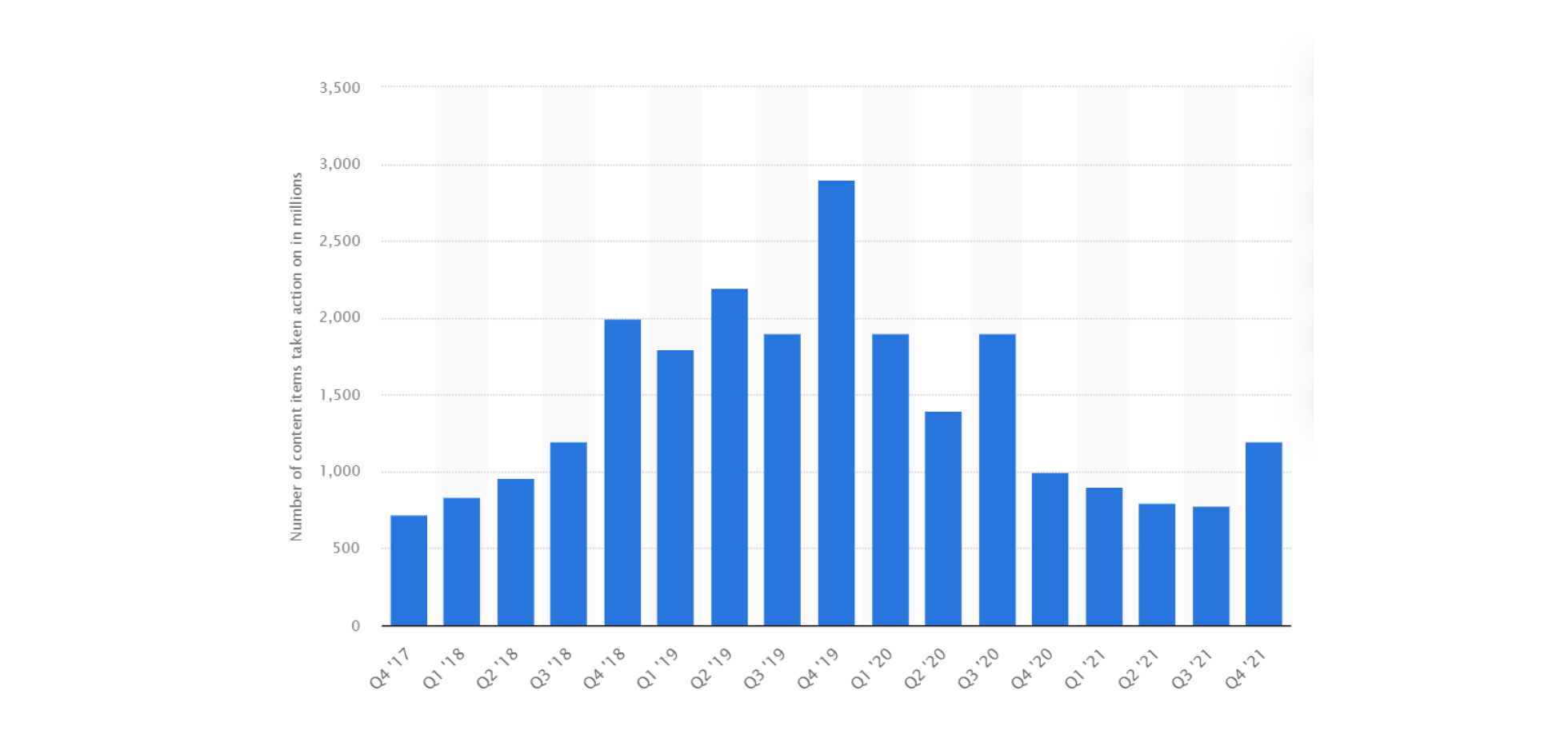 Using expertise in Conversational AI, anti-spam tools can be created to clean comments under corporate Social Media and allow SMM departments to concentrate their attention on the more high-level tasks. Furthermore, removing spam just in time minimizes the risk of receiving a ban report from the Social Media platform.
UPD: Ministry of Digital Transformation of Ukraine recommended our UA Antispam Bot for channel administrators as a reliable source within the informational war.
Finding new job opportunities for refugees: Employer AI Chatbot
According to the United Nations, more than 7.1 million are estimated to have been internally displaced by Russia's war in Ukraine. Having fled their homes but remaining in the country, there's a demand of displaced families looking for both temporary and full time work. To help Ukrainians, we have launched an Employer AI chatbot, as a centerpiece to easily post a job opportunity for the company and find it for refugees in their current location.
2 channels were launched at the end of the development process, one is an AI chatbot for employers to post vacancies, and the second is a channel for refugees to find a relevant work position by listing themselves. Thanks to a combination of social media and AI-powered employment automation, more than 30% of vacancies were successfully closed. Based on the high rate of closing vacancies, our AI employer chatbot has expanded to more cities.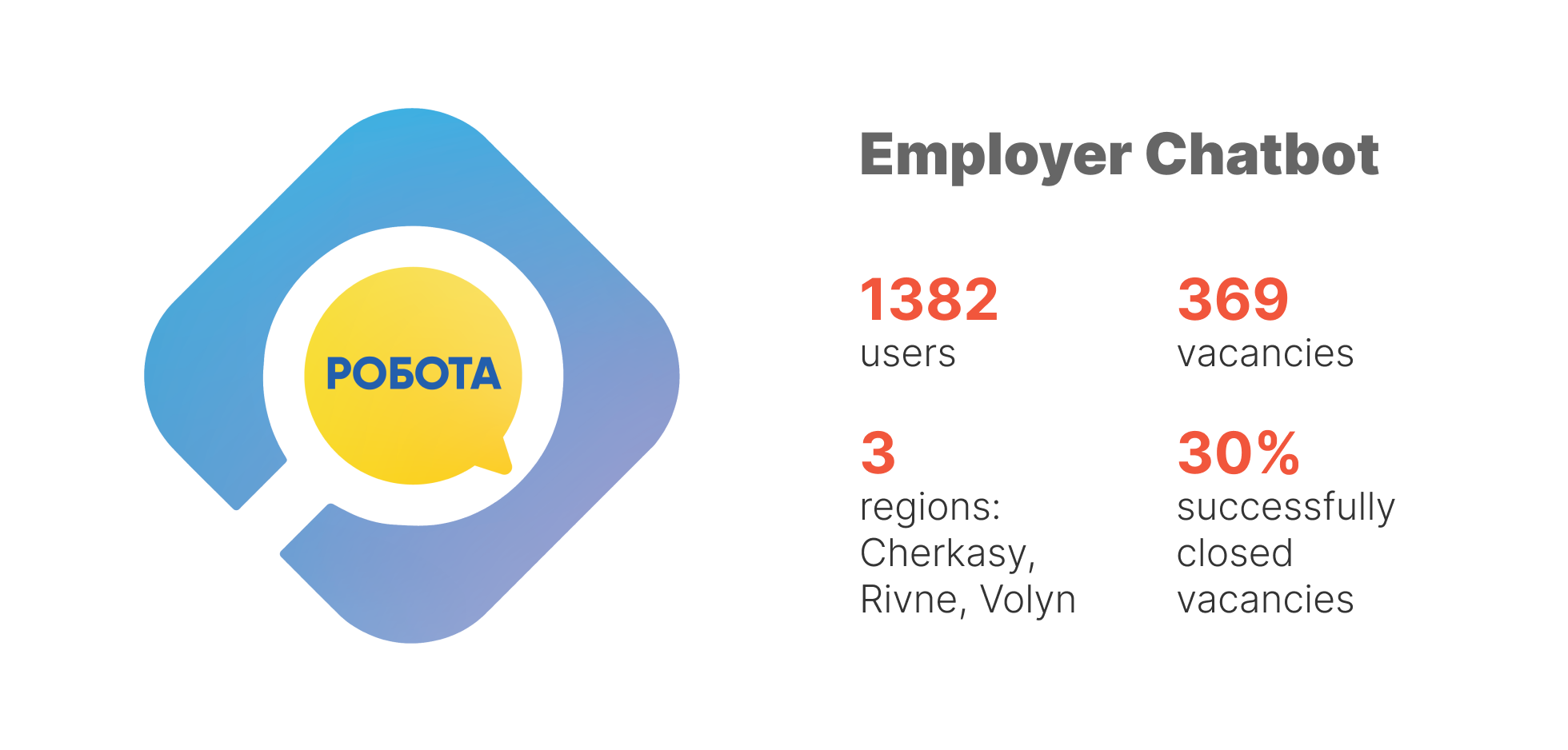 Business Use Case: employment process automation via Conversational AI chatbot
There are multiple use cases for employment and HR that can be automated by Conversational AI chatbots. One of the biggest challenges that enterprises have always struggled with is getting enough relevant replies on vacancies and closing them on time. Alongside that, Talent Source Specialists spend a substantial amount of time finding each candidate, reviewing CV's, and communicating with potential hires.
With automation via modern Conversational AI solutions, companies can be more confident in job applicant relevance and reduce the chances of human error during CV checking. Even more, hiring workflow automation and HR process automation can positively impact the hiring process and increase employer loyalty to the brand in general.
Multi language resource library via Conversational AI Chatbot: Aid for Ukraine
During wartime, 4.9 million people have fled Ukraine, and all of them need to find accommodation, medical help, and a job to cover all their basic needs. Many businesses are now working on solutions in their field of expertise to Stand with Ukraine. One of the businesses is LivePerson, who launched a Conversational AI solution for refugees to solve the search for needs listed. AI chatbot, called "Aid for Ukraine", became a centerpiece to easily access all the necessary resources for both refugees and volunteers who want to help. To ease their communication, three languages are available via AI chatbot: English, Ukrainian, and Polish.
Since Master of Code is a certified delivery partner of LivePerson, we collaborated to finalize the solution in both development and content optimization including the solving of language barriers.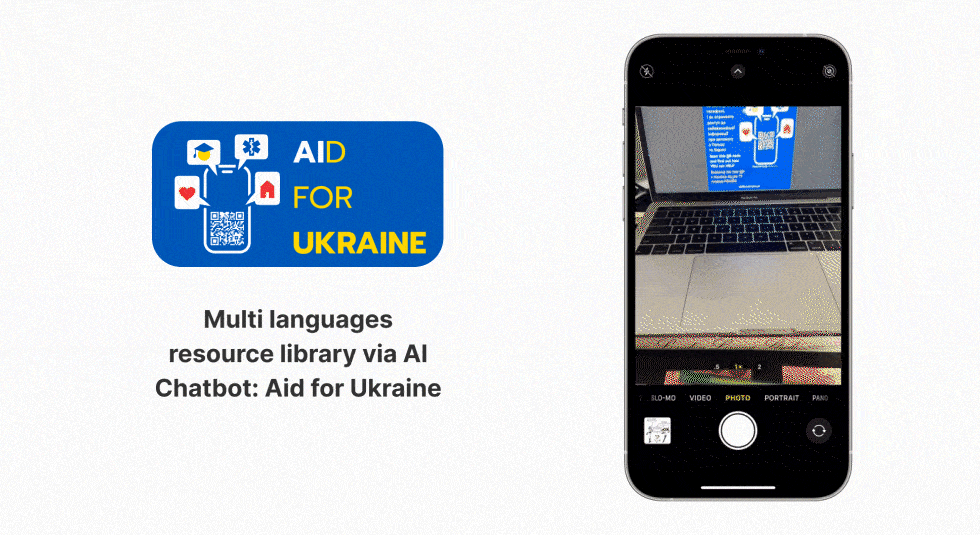 Business Use Case: FAQ page automatization via AI Chatbot
The traditional approach to FAQ page design doesn't fit the expectation level of the customer's experience. Instead of searching for the right answer to your question through the webpage, AI-powered FAQ chatbot will lead you directly to the correct response, by specifying your request within clarification questions. In case of unpredictable questions, the chatbot can connect the user to live agent support, this approach covers call center automation use cases with the help of Conversational AI solution.
Guide to Business Process Automation. Did you know that 60% of companies have at least 30% of their activities automated?
IT hackathon from Master of Code
Master of Code has launched a hackathon to encourage unique ideas and develop AI solutions for solving of problems which appeared with the war. During the event, 5 teams with Master of Code`s mentors brainstormed new ideas and started the development process. Here's what teams have developed so far:
Logistics AI Chatbots for volunteers

As volunteering has expanded, the transportation problem has dramatically increased. Most drivers have available space in their car, but since they are not aware of other items needed to be transfered, the car can be left half empty and not in full use. AI chatbots for drivers can prevent such situations. Each driver, who is ready to become a volunteer, should register under the transportation chatbot with information about himself and car details. In the administrators panel, volunteers can check this information, choose the driver, and pack items. In this case, AI chatbot is a platform for communication between drivers and volunteers, which automates processes, optimizes transportation space and organization.

Transportation AI Chatbot

This AI Chatbot is a platform to connect Ukrainians with drivers that can help transport their own items. After authorization, the user can choose his intent and connect with the driver in need.

Business Use Case: Logistics and Transportation Chatbots

Automation of user requests and their immediate response provides a better customer experience and reduces support ticket maintenance. Logistics and transportation AI chatbot can be responsible for placing an order, real-time delivery status and tracking, and 24/7 user support within one platform. With that in mind, an AI chatbot can be a replacement for a mobile application with the same functionality.

Volunteer`s Call Center Automation AI chatbot

Local volunteers stand at the center of the humanitarian response – they are doing their best to find housing, transportation, provide medical care, food and clothes for refugees. Track and response on each people`s request is a must, but volunteer`s call centers are overloaded with people`s requests. In order to structure all of them and automate manual tasks, AI chatbots collect all queries from people, structure them and provide a constructed report to volunteers of who, where, and what is needed.

Business Use Case: Call Center Automation AI chatbot

Similarly with volunteer`s case, every call center has requests that are repetitive and therefore can be easily automated. The call center chatbot can be easily integrated in a call center workflow to save time and efforts of live agents. All of the users' requests will be structured and specified during the conversation within a chatbot. The result of this automation is a 24/7 call center availability with the live agents, who can respond on unique and high-level requests.


Mobile application to search for missing relatives "AFamily"

Over 900 Ukrainian communities were without power at the beginning of the war, which caused problems communicating with relatives. To find information about them, people post relatives' photos on social media with the latest location or request information from volunteers. With the help of "AFamily" mobile application, notices with information about relatives who the family has lost contact with can all be pooled into a dedicated platform for reconnecting with family. The user uploads photos and detailed information for their case (name, latest location, age, all is posted into the database). Anyone who knows any details about the person from the database can login and update the person's status.

Booking AI chatbot for queue optimization

Each refugee is needed to register in his new location to get help from the government and volunteer organizations. To not waste time in the long queue, the team developed an AI chatbot for pre-entry.

Business Use Case: AI chatbot for booking

One of the Use Case of Conversational AI chatbot is booking the appropriate timeslot, based on the information from the database. Brands can use it to automate an appointment with specialists. For instance, doctors, demo sessions for the sales department, booking a free apartment at a hotel or reservation at a restaurant table. The booking chatbot will request all needed information from the user, send the notification to the service or specialist and also receive the payment if needed.

Take the first step in leveling up your Conversational AI experience!