Automation has consistently been one of the fastest-growing fields in the past decade and also one of the most influential trends. It has been continuously expanding into increasingly complex areas of business operations such as finance and compliance. In the past few years, automation has also become a part of customer relations and management with the help of a technology called Conversational AI – the latter proving its importance during the pandemic.
In 2023, with companies being short-staffed globally, automation helped bring productivity and operations closer to 2022 levels but it wasn't just process automation on its own, AI technology played a key role as well, both internally and externally. With that in mind, let's take a closer look at conversational AI's impact last year and its influence going forward.
What is Conversational AI?
In order to fully understand Conversational AI, there are three broad concepts that we must know as well: artificial intelligence, automation, and computer speech. Speech is arguably the easiest concept to grasp – it's teaching computers how we speak. Computers only speak in zeros and ones, we don't. Developers and scientists have been trying to bridge this gap by making computer speech more natural with the most progress being made recently with automation and artificial intelligence becoming a part of conversational tech.
Each of these technologies add more capabilities to conversational tech. For instance, AI enables the computer to process exponentially more data faster and significantly refine its speech. Furthermore, with machine learning, computers can "evolve" and learn by making mistakes, although it's too complex to explain in this article.
Likewise, automation allows conversational tech to be integrated into complex workflows and be very useful in various areas including customer service, internal messaging systems, business intelligence (BI), analytics, etc.

In essence, it's a technology that gives computers the ability to not only comprehend natural speech but also derive commands and take appropriate action without any direct input from the user.
Conversational AI Against Global Challenges
One of the most dominant themes of this global health crisis has been limiting human contact. In an ideal world, this would mean that businesses would pivot to operating by putting employees in contact with consumers. However, in the real world, this wasn't possible due to the heavy reliance on the human workforce.
However, some businesses used this challenge to put AI technology to its biggest test – replacing human capital, albeit temporarily. From mobile AI assistants that allowed customers to check store inventory without visiting the store to health chatbots that enabled users to self-diagnose and take proactive health measures, a lot of chatbots were deployed last year to continue serving customers without exposing anyone to risk.
At the same time, the extended lockdowns and travel restrictions meant consumers spent over 50% more time on messaging services such as Facebook Messenger and WhatsApp. This also became an opportunity to put conversational AI through its paces. Businesses built applications for messaging platforms and social media platforms to bring important services closer to their fingertips. From placing grocery orders on Facebook Messenger to browsing shopping catalogs on Instagram.
Subscribe to get notified about new articles and news from Master of Code Global
Subscribe
Conversational AI use cases during COVID-19
As you may imagine, the ability to not only parse documents and messages but to also take autonomous action has tremendous value to any business – it's taking automation to a whole new level. On top of this, because the technology is rather open-ended and the implementation dependent on the business itself, possibilities are virtually limitless. That said, the use of conversational tech is, for now, most concentrated in a few key business areas including customer service and engagement, business intelligence, and sales.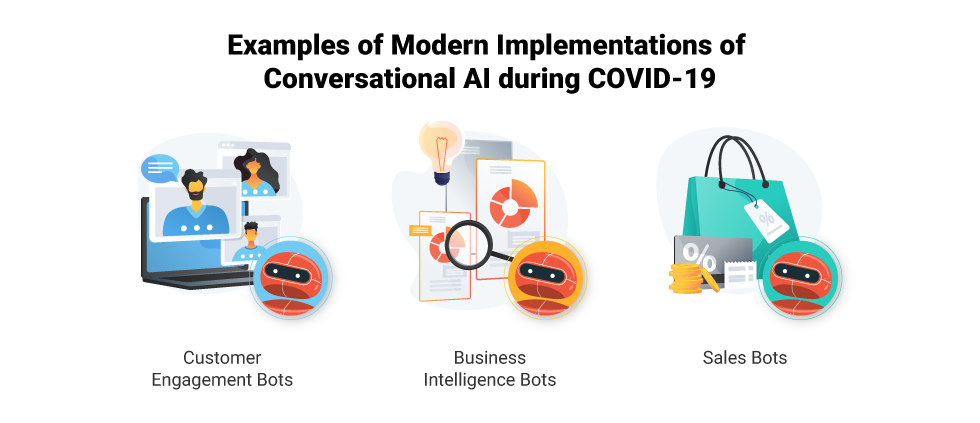 We'll take a look closer look at examples of conversational AI in these areas but before, let's answer the important question of how AI technology is actually implemented. Since this technology is most useful when users are able to "talk" to it directly, one of the most popular implementations of conversational AI is a chatbot. A chatbot is an umbrella term covering different types of bots but the ones we're interested in are usually referred to as AI chatbots. Chatbots aren't new and have existed for well over a decade but with new technologies like natural-language-processing (NLP), developers are able to infuse artificial intelligence to make chatbots far more capable. At the same time, almost all major social media and messaging platforms have chatbot support.
Let's now take a closer look at some of the most popular examples of conversational AI implementations:
Customer Engagement Bots
Today, you can find more than a handful of companies selling the same product/service at the same price. With so little product differentiation, customers have begun basing their buying decision on customer service. In fact, according to Microsoft, customer service expectations for more than half (54%) of consumers have increased globally.
Customer service/engagement bots are thus built with one purpose – to open up a two-way communication channel that offers consumers a unique and valuable shopping experience. Customer service bots are most commonly known for providing business/product-related information in a question-answer format but there have been some very creative implementations of customer bots as well.
Take, Nike's Stylebot for example. It's an AI chatbot that helps customers find, personalize, and even create their own shoe designs. Although customers could buy shoes using the bot as well, its main purpose was to engage with the customers and it did that very well – achieving a click-through-rate (CTR) 12.5 times more than Nike's average CTR and also 4 times the conversions.
Business Intelligence Bots
Business intelligence is a field bringing together analytics, big data, and data visualization to help decision-makers gain visibility inside and outside their company. Most companies deploy dozens of BI tools ranging from relatively simple (GSuite) to custom-built platforms. However, most of these BI tools lack integration which means deriving insights from the data in different tools is still time-consuming and manual.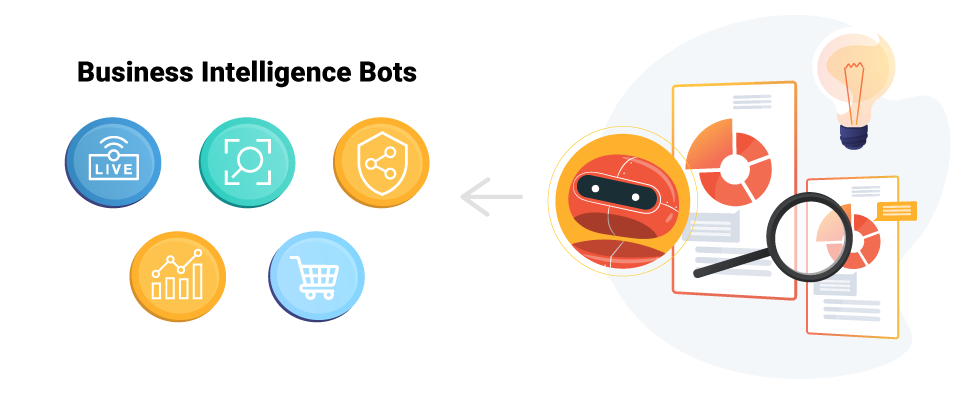 BI bots use conversational tech and artificial intelligence to trigger complex automated workflows and interpret commands from normal speech and text. For instance, with just a simple text-based message, BI bots can autonomously:
track and send live updates about lockdowns, COVID-19 cases, supply chain disruptions, etc.
scan large data sets and find specific documents
share documents securely
visualize raw data into tables and charts
gain crucial insights into customer behavior and buying trends
Conversational AI for Sales
AI chatbots for sales is one of the most valuable implementations of conversational AI as it has a direct impact on a company's bottom line. The purpose of sales bots is to make online shopping more convenient and engaging for the customer. Since an increasing number of customers spent more time on messaging and social media platforms, companies deployed chatbots to bring products where their customers now were.
One of the most popular examples of a feature-rich sales chatbot is SnapTravel. In addition to deploying AI chatbots to all major messaging platforms including Facebook Messenger, WhatsApp, and SMS, the travel company has also developed RCS chatbots, allowing consumers to check hotel reservations and flight status, book tickets, and much more – through the default SMS apps.
Conversational AI Beyond the Pandemic
Implementing any new technology is a long-term investment which begs the question: will conversational AI still be a viable alternative once things go back to "normal". Consumer behavior trends in 2021 indicate that conversational tech will not only survive after the pandemic but also thrive. Take a look at the following global trends:
New Generational Behaviorisms

Millennials but especially Generation Z are growing up with smartphones – they're absolutely used to the convenience of having the world at their fingertips and it's going to be essential to cater to these habits.

Furthermore, these demographics actually prefer talking to AI chatbots rather than human sales representatives.

Conversational AI and COVID-19

Productivity and Efficiency

There are hundreds of ways automation improves productivity and efficiency but conversational AI takes this one step further – enabling automation in places where it normally wouldn't be possible. For instance, L'Oréal used an AI chatbot to free up 200 hours (a whole working month) while shortlisting 80 interns from a talent pool of 12,000.

Cost Savings

Apart from the indirect cost savings associated with time savings, conversational AI can reduce costs directly by automating a number of tasks in business intelligence (BI), marketing, CRM, and more, thereby reducing dependence on permanent staff. Additionally, conversational AI is more secure, less error-prone, and generally more reliable at handling routine tasks.

Check out your potential cost savings by implementing a chatbot solution for customer support

Rise of Online Shopping

Online shopping has been on a steady rise for the past decade and will continue to grow at a fast pace. Furthermore, the pandemic forced a lot of new demographics to shop online for the first time, most of whom will continue shopping online even after the pandemic is over.

Consumer Engagement

According to KPMG, personalization is the biggest factor in customer loyalty, and we predict that personalization will be one of the most important business trends of this decade as companies adopt more and more technologies that allow them to communicate on a one-to-one basis economically. Conversational AI is one such technology. Furthermore, maintaining a two-way is paramount to increasing brand loyalty and in turn, sales. This isn't possible with traditional business messaging.
Benefits of Conversational AI Technology
The changing consumer preferences and needs are enough to prove that AI technology is here to stay but it doesn't just end there. Conversational AI also ties in extremely well with various dominant trends of this decade, making it a key tool in the modern marketing arsenal. It's a scalable, reliable, and evolving technology that opens up new possibilities to aid in internal decision-making, increase brand loyalty, reduce costs, and most importantly, offer a personalized shopping experience that helps you stand out from the crowd.
Conversational AI has numerous benefits for businesses in 2022 but the most important benefit is conversational AI's role in differentiating your product or service from the rest. It helps businesses cater to the need for instant gratification by providing solving a wide variety of customer queries instantly. It also enables the business to improve brand loyalty through a more personalized communication channel without any significant increase in CRM costs.
To get started with Conversational AI, consider contacting the Master of Code. If you'd like to learn more about chatbots and how they can be tailored to your exact business model, schedule a free discovery session today with one of our experts today.
Interested in a Conversational AI solution?
Let us help you connect your brand with customers where they communicate today. Chat or voice.