If there is one thing that every business owner agrees on it's that the business environment is constantly changing and innovation is the name of the game (especially recently). But one technology has stood the test of time for nearly three decades now and it's still going strong – SMS.
Since it's the 27th anniversary of SMS it's only fitting that we take a look back on how SMS marketing has propelled business messaging forward and how it can be integrated into the overall strategy of your business in 2020. We'll also be talking about an SMS technology called Google RCS and see what it means for business messaging.
SMS Marketing Isn't Dead. It's Actually The Most Effective
It always has been. And by some margin.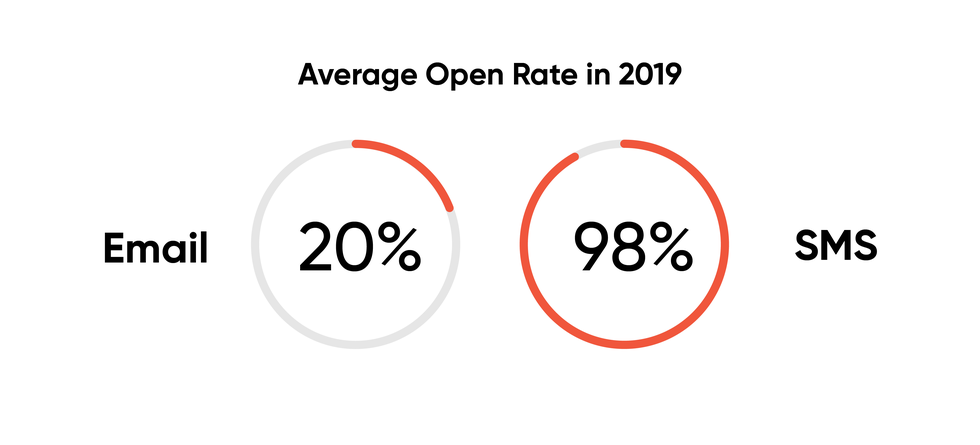 First of all, email and Over-The-Top (OTT) messaging apps are far more crowded with corporate messages and advertisements. Despite being the newer technology here, both email and OTT have made it much easier for enterprises to set up communication channels, leading 83% of B2B companies to use e-newsletters as part of their content marketing program.
Second, SMS is more urgent. According to GSMA, consumers open and reply to SMS in under 90 seconds, compared to the 90 minutes it takes them to reply to an email (that is if they even remember to reply).
First, even the best email copy will not fetch open rates of more than 30% because of consumer behavior.
On top of this, businesses are 209% more likely to get a response through SMS than they are through email, Facebook, or phone.
There's another big reason why SMS messages are much more effective at getting the message across than emails – SMS is reliable. Spam filters have advanced which means promotional emails are more likely to get caught in spam filters. Compare this to the 100% received rate of SMS messages. Think about it – how many times have you opened the Promotions folder in your Gmail? Probably never.
Why Did Facebook, Email, and Social Media Become So Popular?
Online has its advantages. It records more performance metrics, and marketing campaigns can be as versatile and content-rich as you want (SMS limits you to text-only communications). With businesses investing heavily in their innovation departments, strong new revenue streams and marketing channels were easily created using email marketing and social media.
It's not a bad thing – ignoring social media platforms and email is equivalent to leaving money on the table. But here's the most important thing: even when businesses started investing heavily into online business messaging, SMS never lost its value. In fact, online communications have dipped in effectiveness (and thus prevalence) since the initial hype – yet SMS messages have held their value and are still used by thousands of businesses in the US alone.
SMS marketing is still as effective as it was five years ago and the growth will continue as 23% more people will opt-in to receive SMS messages from companies by 2020.
Getting started with RCS messaging
Integrating SMS Into Your Business Messaging Strategy
SMS marketing is not too different from email marketing or running campaigns on social media. Fundamental principles of business messaging are common in all channels. That said, here's a brief guide on integrating SMS into your business messaging strategy:
Step 1: Build a Database

You need an audience to send SMS messages to – just like a mailing list. Thankfully, there are a number of ways to create an active SMS opt-in list

Ask users to opt-in to mobile notifications and alerts during sign up or checkout.
Start a contest/giveaway and make entries via SMS possible.
Leverage your existing newsletter to notify readers that they can now receive text alerts.

Editor's note: It's important to always give users an option to unsubscribe from SMS alerts to stay compliant with various international data privacy laws.

Step 2: Campaigns Are Built on Goals

Before an SMS marketing campaign is created, goals and objectives need to be identified. This could be driving traffic to a new product page, encouraging users to give feedback, increasing average order value, and so on.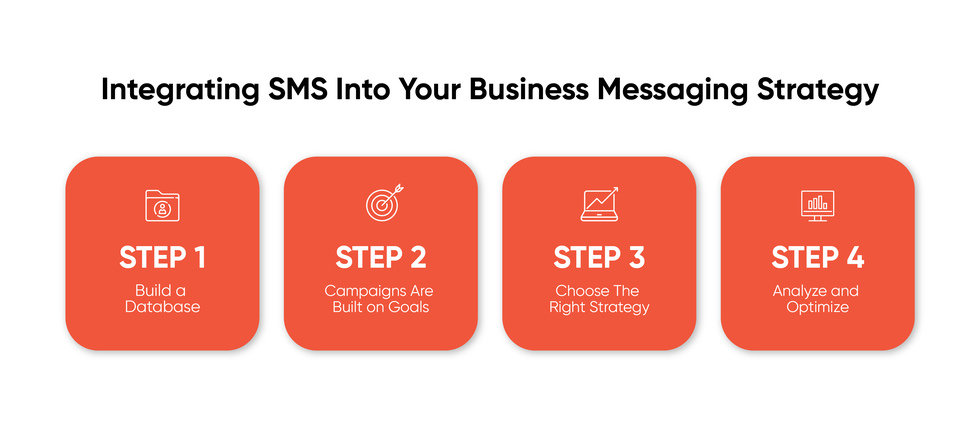 Step 3: Choose The Right Strategy

Here are some of the common SMS marketing strategies:

Promotional SMS
Coupon codes
Text-to-win
Sale notifications
Loyalty programs
Alerts

Choosing the correct strategy is crucial in achieving set goals and objectives.

Step 4: Analyze and Optimize

Getting feedback and measuring the success of your SMS marketing campaign is quite simple. The SMS gateway you use will most likely show open rates and click-through rates. Moreover, you can insert specialized landing page links and coupon codes to measure the success of your SMS marketing campaigns.
In essence, fundamentals of running an email campaign apply to SMS marketing campaigns as well – businesses just have to be more frugal with the word count while still getting their message across. Fewer analytics metrics and more A/B testing are some of the limitations you'll have to take into consideration when using SMS instead of email.
Or at least, they were the limitations.
Integrating SMS Into Your Business Messaging Strategy Using RCS
RCS or Rich Communication Services is a long-overdue upgrade to SMS that enables consumers to receive high-res images, play loyalty program games, converse with AI-Powered chatbots, QR codes, and so much more. The idea behind RCS first came up in 2007 but in 2016, a universally accepted communications protocol was developed called the Universal Profile. The same year, Google started pushing out RCS into its Android Messaging app, in partnership with Microsoft and some of the biggest telecom operators in the world including AT&T, Sprint, T-Mobile, and more – making this technology available to 87% of all mobile users globally.
With such a wide reach and incredible potential companies like Subway, Target, BMW, and more are already investing in RCS solutions.
RCS is adding a whole new dimension of value to business messaging. Here are 3 ways in which you can integrate RCS messaging into your business messaging strategy:
Create Detailed and Powerful Campaigns

The biggest complaint businesses have with SMS is the lack of detail and creativity a single SMS can convey – not anymore.

With RCS messaging, businesses can send high-resolution images, QR codes, messages, and even entire menus!

Enable Two-Way Communication with RCS Chatbots

Another limitation to traditional SMS was that a lot of SMS gateways do not allow consumers to send replies. This meant that for most SMS campaigns, communication is only one-way and engagement is low.

However, with RCS, businesses not only enable two-way communication but it also becomes extremely cost-effective, real-time, and intelligent with RCS chatbots.


Customer Relations Management

In 2020, there is a product and service for nearly everything. Competing on price is often just a race to the bottom. That's why businesses are setting themselves apart with better customer service; something that RCS can also help with.

The scope of business messaging isn't limited to marketing and promotions, it extends to providing helpful answers to customer queries. Using RCS, businesses can constantly be in touch with their customers and provide product recommendations, inventory alerts, cart and delivery details, and more – instantly through RCS chatbots.
Wrapping up: Enjoy The Best of Both Email and SMS
The problem with email? Low open-rate and a perceived stigma to every business message. The problem with SMS? Lack of versatility which makes it limiting. But RCS provides a revolutionary middle-ground in mobile business messaging with its extremely broad range of use cases, accessibility, and ease of usage.
Got questions about how RCS fits into your particular business model?
Get in touch with the experts at Masters of Code to learn more about business messaging strategy and RCS today!