This is part 2 of a series about how call centers can evolve with the help of Conversational AI solutions. Part 1 looked at the theory about choosing the right technology for call center automation and the opportunity to grow with Conversational AI solutions for business. Here we take an even closer look at a specific scenario of Conversational AI in finance and general use cases of voice agents for both end customers and live agents.
Customer Experience with Voice Agents
Voice assistants are growing in popularity these days. The ability for a solution to understand voice, interpret the intent and meaning, and provide value to users is growing at an incredible rate. When working with the voice channel, there are many challenges that can be encountered, where a voice agent can create a huge benefit
Challenges with Voice
Determine why a customer is calling (their intent).
Customer authentication and verification.
Troubleshooting.
Inconsistent customer service.
First contact resolution.
Agent engagement and productivity.
Accurate log analysis and data collection.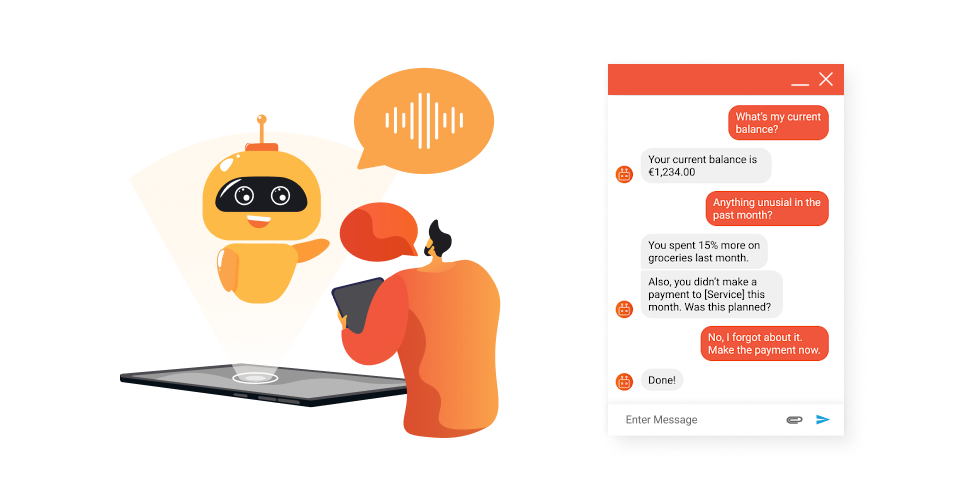 An automated AI voice assistants can help to mitigate some of the challenges listed above.
Authentication of the user can be a challenge depending on how you integrate voice into the solution. If you're using an IVR, asking security questions is part of the normal process flow for user authentication. But for an embeddable voice solution within an application installed on your mobile device, where the user has already authenticated, you should be able to make certain presumptions of authentication. Any data already presented in the app should be available through the voice agent without additional authentication. In the case of enhancing security, it's a matter to identify how to integrate a voice technology into existing workflows.
Inconsistent customer service is also a problem. People react differently to the personality, mood, language, accents, word selections, and slang of live agents. A voice agent can mitigate many of those elements by providing the same answer each time, ensuring every customer receives the same information for the same question.
Use Cases of Customer Experience with Voice Agents
Intent capture & intelligent call routing.
Conversation transcription.
Handle thousands of calls simultaneously, making them a solution for peak times or off-hours support.
Handle transactions during the call routing stage.
Authenticating customers through natural conversation.
Personalized service based on customer history.
Uses of Digital Voice Technology
AI-driven voice technology allows companies to improve customer and employee experience alike
Check your Inbox! The Guide was sent to your email
One key use case of voice systems is conversation transcription. The first value of it is the ability to properly capture all customer activities into a transcript for review and analysis, which can be used to quantify new intents and actions. A second value allows the bot to "listen" to how a live conversation is going on between a user and an agent, allowing the bot to provide proactive recommendations to the live agent of how to support the customer.
An AI bot doesn't have to be customer-facing; it can be a right hand for the live agents to create efficiency and allow them to be more effective.
An additional benefit of a Conversational AI solution is that of volume management. Scaling an automated service for a short period is much more viable than scaling up a live agent call center, especially in short bursts. Upgrading an automation service can be done in a matter of minutes or hours, allowing for quick support when needed. The ability to provide support and consistent experience in off-hours or on holidays has huge value.
Embracing omnichannel opportunities and automation provides a huge potential for enterprises. Transactions through call routing are also very important since you need to understand who is the right live agent for a particular user engagement. You don't want to transfer someone to a live agent and then find out that was the wrong department; that's a poor customer experience. So using an automation tool to identify where the user needs to be transferred, to whom they need to talk, manage an expectation of wait time, and availability is going to be key to a successful engagement.
Check out your potential cost savings by implementing a chatbot solution for customer supportCalculate ROI
How do you measure the success of implementing a Conversational AI solution?
Bringing quantifiable numbers to the table is important, and an analytical approach can provide this data, including:
How many conversations were initiated?
How many conversations were able to be responded to within the bot?
How many had escalations to a live agent?
What was the reduction in wait times for live agents as a result of the inclusion of a bot?
What intents were not able to be identified by the bot?
These are some metrics that can be measured to create success criteria. But the key metric for Conversational AI bot development relevance is user satisfaction and a method to measure that success should be part of the equation.
Customer Experience Insights 2023
Complete Guide to Conversational AI in CX
Check your Inbox! The Guide was sent to your email
AI Chatbot to a human agent handoff Case Study for Financial institution
Let's take a look at an experience Master of Code has provided, where we were able to create a live agent handoff system. Through the use of questions and the bot's understanding of the user's intent, we were able to transfer the user to the right department to get the needed information.
Use Cases: billing and account management FAQs and specific live agent handoff dependant on 12 topics. The AI chatbot for bank and financial service was built by Master of Code on a partner platform. The client serves financial institutions, financial planners, and broker-dealers.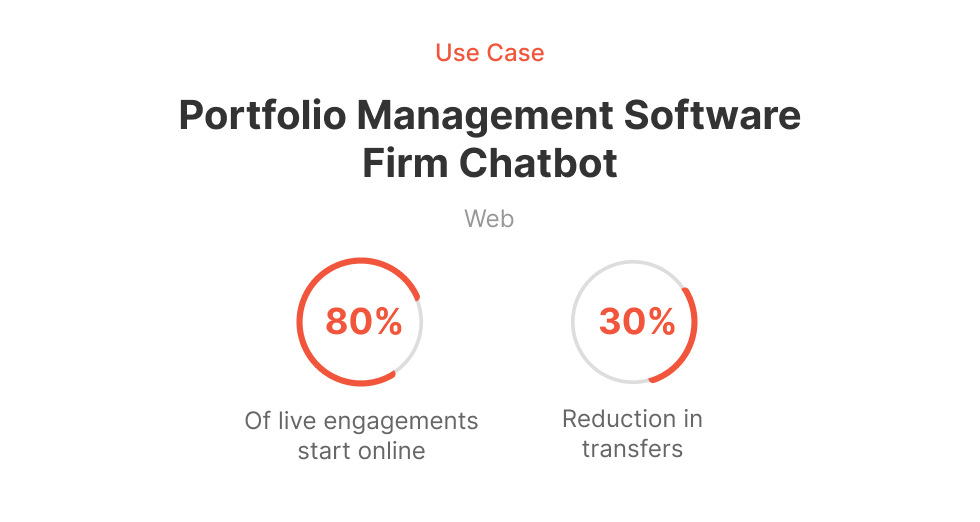 As you can see, there was a 30% reduction in transfers. This is both with the Conversational AI in finance solution being able to answer some of the questions, but also with the ability to find the right agent. 30% reduction in transfers means that 30% of those calls were handled by the Conversational AI and therefore the wait times in queue for live agents were significantly lessened. It meant that the live agents did not have to rush through a conversation with the user to get to the next call in the queue, which made it a more effective experience.
Want to Reduce Customer Support Costs?
We analyze your customer pain points and address them with automation.