The COVID-19 pandemic is the first major global health crisis we've had in over 100 years and saying businesses were unprepared would be an understatement. Almost every single industry has faced major losses and lost months and even years' of growth – but not all. While industries like tourism and aviation were hit particularly hard, some have thrived due to lockdowns and quarantine measures – eCommerce is one such industry and that is why Conversational AI in eCommerce is one of the trend.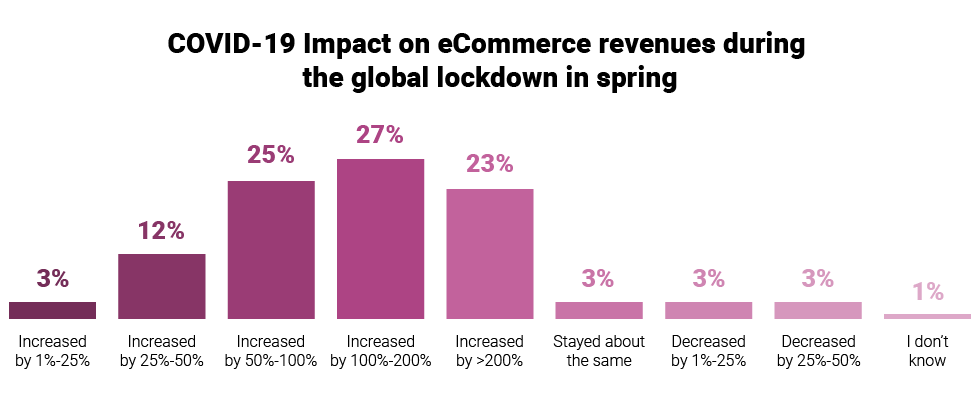 A major shift in consumer habits and shopping trends in favor of eCommerce was already in progress for years but 2020 was the equivalent of a fast-forward button for eCommerce growth. According to a recent report published by Adobe, eCommerce sales increased by 77% in 2020 and reached sales levels that were expected between 2024-26.
The New Normal: Top 8 eCommerce Trends in 2022
eCommerce Trend #1: Rapid eCommerce growth will deaccelerate but not by much
One of the main reasons eCommerce growth was accelerated to such an extent was the mandatory lockdowns and quarantines placed all over the world. With brick-and-mortar stores all shuttered, consumers had no choice but to order online – and they did, in quite large numbers. But recovery measures have already begun in 2022 and soon brick-and-mortar stores will start servicing customers again, deaccelerating the rapid growth but not significantly.
Key Takeaway: The convenience of online shopping isn't going to change and an increasing number of people will continue shopping online, albeit not at the same levels as 2020. This is an important trend for eCommerce businesses for two reasons. First, to avoid overestimating the demand and be left with unsold goods, especially during the holiday seasons. Second, to avoid underestimating the demand and have no stock. Additionally, predictive analysis and demand visibility will play a big role in ensuring that we do not have supply problems like businesses did in 2020. Speaking of which…
eCommerce Trend #2: Investment into supply chain visibility
2020 was full of uncertainty and nowhere was it more apparent than in the supply chain industry. The supply chain industry has been going through a period of relatively stable growth (post-2011), and as a result, most supply chain companies did not invest in the required technologies, predicting demand using methods like the time series model (which look back to predict demand). Unfortunately, in uncertain periods like this, traditional prediction methods (such as time series models) are not accurate.

Key Takeaway: A shift towards newer technologies such as predictive analysis and big data analytics is expected to improve visibility. For eCommerce businesses, this means that they too would have to start working towards modernizing inventory and order management systems to improve integration with supply chain partners and in order to cope with market shocks and uncertainty.
Additionally, eCommerce businesses are also highly likely to begin diversifying their supply chain options to avoid supply chain bottlenecks and also mitigate overall volatility in the industry.
eCommerce Trend #3: Mobile shopping will continue to rise
The mobile platform has been responsible for the majority of online shopping since 2017 and its market share is expected to expand to an even higher 79%. Additionally, online shopping trends on mobile applications and mobile web browsers are slightly different. For instance, conversion rates on applications outperform that of mobile web browsers by 157% – which is a huge gain. This means that if you don't already have a mobile application for your services, get one. More than 8 in 10 shoppers prefer using a mobile app over a mobile website. However, 25% of consumers still use mobile web for online shopping so it needs attention as well.
Secondly, businesses need to ensure that their mobile user experience is fast, clean, and reliable. A slow mobile application is a guaranteed way to lose sales. And finally, smartphone applications are a great way of maintaining a constant and direct line of communication with your customers. Furthermore, messaging platforms including Facebook Messenger and even SMS are now a viable sales platform as both support business messaging and sales features that allow customers to browse through products and services and even place orders directly from their messaging app of choice.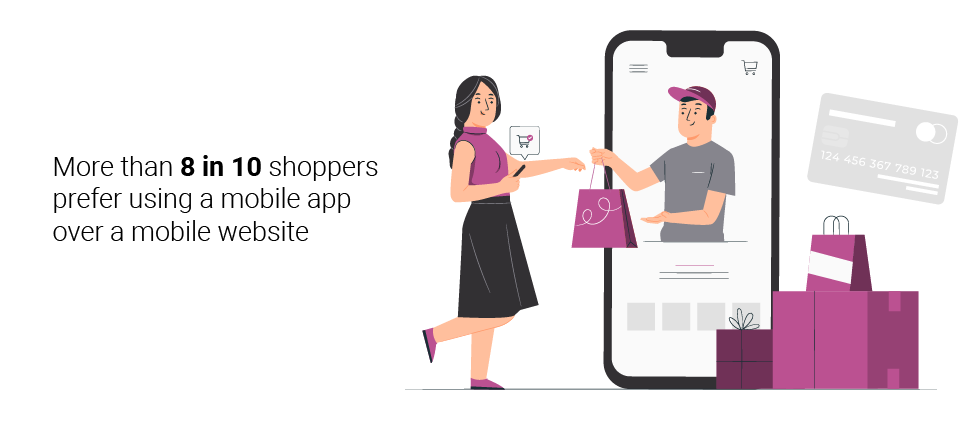 Other online shopping trends on the mobile platform include advertisement, loyalty programs, and even customer service using tools such as Conversational eCommerce chatbot.
eCommerce Trend #4: The rise of remote working
The global health crisis forced businesses to adopt new practices and evolve their business models in many ways, including shifting from office work to remote work. However, there are numerous benefits of remote working ranging from cost savings to increased morale, which means that this practice is one of the few that will almost certainly outlive the pandemic. This will lead to a new category of demand from consumers that are now working from home – and a new opportunity for eCommerce businesses.
This is going to create numerous new needs that need to be fulfilled, from quality of life (QoL) remote working products to home improvement products. Additionally, this will also change the timings during which consumers are most active on social media, which is important for your social media campaigns. Furthermore, you may notice an increase in demand for home delivery and even pick-up services, depending on your industry. eCommerce businesses in the food and grocery industries, in particular, will experience this as consumers may not be able to pick up groceries/takeout as often as they used to due to remote working schedules.
Check the examples of top innovative eCommerce chatbots
Check your Inbox! The Guide was sent to your email
eCommerce Trend #5: Catering to new demographics
The increase in eCommerce sales wasn't driven by frequent online shoppers alone but also by an increase in adoption rates by demographics that traditionally preferred offline shopping. One of the key demographics is Generation X and Boomers (40 and older). Like everyone else, these groups shifted to eCommerce because of quarantines and lockdowns but even after the pandemic passes, a large percentage of this demographic plans on continuing shopping online. In fact, 1/3rd of the consumers aged 65 and over plan on increasing their online spending. This means that eCommerce businesses also need to take into consideration this group.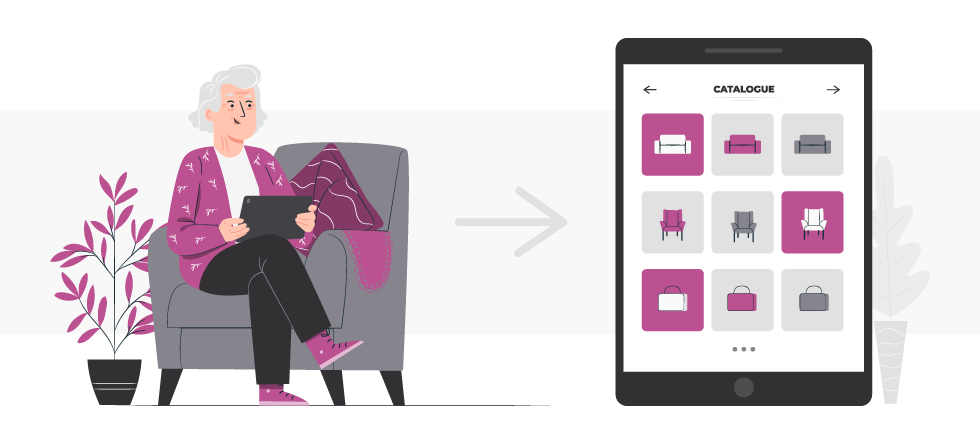 Following are some of the areas of eCommerce operations that may need attention:
App layout: A far too complicated app layout might be off-putting to the older shoppers. However, workarounds such as a navigation bar, search option, or shopping assistant can be implemented instead of a complete redesign.
Accessibility options: Depending on where you live, accessibility options might already be mandatory but even if they're not, features such as text-to-speech or speech-to-text can be beneficial for not just senior citizens but to everyone.
Advertisement: Effective advertisement is a great way of connecting to a new demographic and this case isn't an exception.
They'll be numerous other things that may require changes such as copywriting (taglines, descriptions, overall messages), graphics, and (preferably 24/7) customer support.
eCommerce Trend #6: Change in purchasing power
In just a single year, almost everyone's lives have changed significantly, and not all of it has been for the better. As a result, the purchasing power of the vast majority of consumers has reduced. Even in countries with limited job loss, people will limit their expenditure due to economic uncertainty. Does this mean that eCommerce businesses must lower their selling prices? Not exactly.
Instead of slashing prices (and potentially devaluing brand image), businesses need to rethink their customer proposition and ensure that the new message is aligned with the current market trends and preferences. For instance, most of us are now more health-conscious and as a result, it's a smart business move to emphasize the lifestyle and health benefits of your products/services.
One industry that has been and will continue to be an exception to this trend is the luxury goods industry.
eCommerce Trend #7: Personalization at scale
Personalization is always appreciated, in fact, more than 50% of online shoppers rate a personalized shopping experience as important. But when serving hundreds of thousands of customers, making even small changes becomes difficult. But that's changing as new technologies personalization at scale not only possible but also financially feasible.

One of the most popular technology in this sphere is conversational AI which brings cutting-edge AI and big data analytics to traditional customer service. The premise is simple: almost every business today is collecting terabytes on terabytes of data on their customers but only some businesses are leveraging that information for loyalty programs and business messaging. the majority of the businesses are unable to fully utilize their data. This is where Artificial Intelligence in ecommerce comes in. By training computers, data scientists enable a piece of software to:
engage consumers in personalized conversations
streamline the customer support process with chatbots for e-commerce, offering efficient assistance 24/7.
answer complex questions in a surprisingly detailed manner
enroll new customers into loyalty programs and manage existing customers
send personalized reminders and recommendations based on their previous shopping habits
Check out your potential cost savings by implementing a chatbot solution for customer supportCalculate ROI
The capabilities of this technology allow companies to innovate and find new ways to engage with millions of customers on a one-to-one basis autonomously.
Scale Your Customer Support with a Personalized approach in Conversational AI
Check your Inbox! The Guide was sent to your email
eCommerce Trend #8: Category-based demand
In addition to a change in consumer spending, there is an ongoing shift in consumer tastes and preferences. The pandemic has brought about various buying habits and a recent survey by Nielsen identified a number of consumer behaviorisms but the following five trends are especially interesting:
Buying health and wellness products
Buying preventive health products such as masks and sanitizers
Stockpiling on pantry items
Buying in bulk
Fewer shopping trips

Category-Based Demand: Buying Trends
These five trends will translate to an increased demand for certain groups/categories of products including health products, grocery products with long shelf-life, and preventive safety gear. Additionally, it also means that eCommerce businesses should focus on aligning business goals with these new consumer behavior trends, for instance, by increasing average cart value, providing faster delivery, and better customer service.
Our eCommerce trends predictions for 2021
The COVID-19 pandemic has been ongoing for a year now but things are finally starting to change, albeit slowly. Various global health organizations have approved multiple vaccines and the initial rollout has already begun. This marks the first stage of pandemic recovery and also the first step into "the new normal". That said, we are unlikely to see any overnight changes but rather shifts in consumer trends and preferences drawn out over the entire year. Our predictions for eCommerce trends in 2021 take this into consideration and revolve around the few dominant themes for this year, including remote working, customer service, autonomous working, and consumer behaviorisms.
If you'd like to know more about how you can improve customer service on your eCommerce website or mobile application for the "new normal", feel free to reach out to one of our conversational tech experts.
Boost Your Business
Increase avg. weekly conversion in 7.67x with chatbot launch for your eCommerce solution.