These days, more and more people are spending time on mobile apps. In fact, in comparison to time spent on the web, consumers spend 87% of their time on mobile apps. It's clear that mobile apps are gaining tremendous traction in all spheres of life and becoming an indispensable part of the digital ecosystem.
We know it can be difficult to keep up with the ever-changing trends and cutting-edge technologies that happen within the mobile app space. But you need not worry about any of that because that's why we're here for you.
We pride ourselves in being your AI and mobile app development partner. Our focus on AI-powered conversational solutions has allowed us to partner with the world's leading companies as we've designed and developed conversational experiences.
Our team recently received new reviews on Clutch and The Manifest, B2B platforms that rank top companies and firms. Since joining Clutch, we've received 18 reviews and a 4.9-star rating. Our clients' feedback has allowed us to be among the 2020 Top Artificial Intelligence Companies on the Clutch.co platform.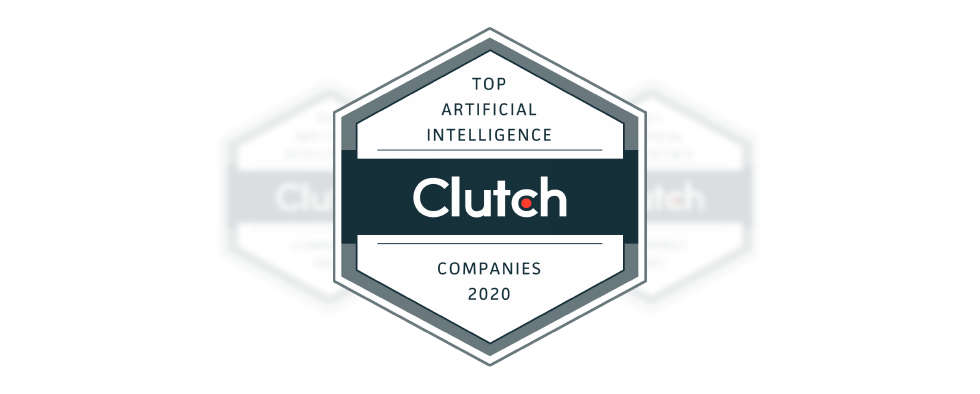 One of our clients is a global travel company. They wanted to increase their conversion rate and find new users through the introduction of a chatbot. Our team members built a Facebook chatbot and integrated it with our partner's LiveChat service.
As a result of the efforts, our client's conversion rate increased by three times and their user response rate became 89%!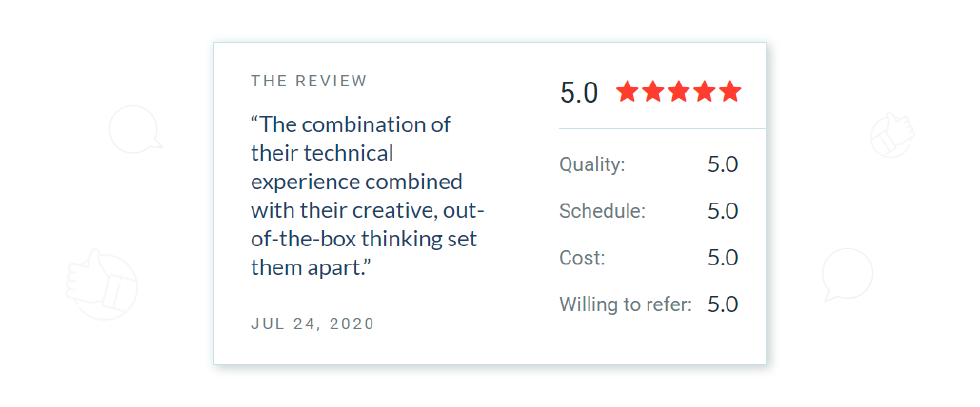 The combination of their technical experience combined with their creative, out-of-the-box thinking set them apart. While those two qualities are common, most companies have one or the other; having both is pretty unique.
Another happy client of ours is a digital media agency that needed to build a Facebook messenger bot. We outlined a strategy and executed a path to developing and launching their chatbot onto their platform.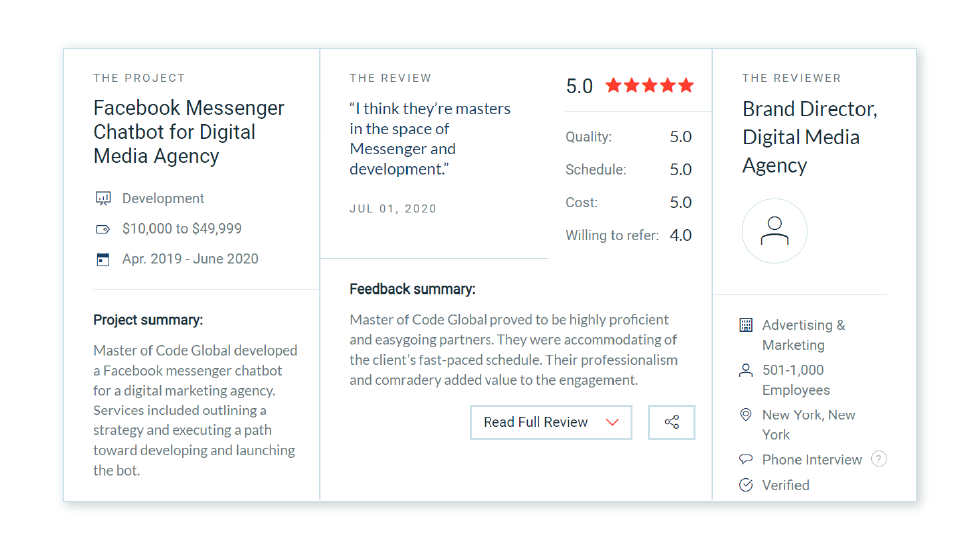 I think they're masters in the space of Messenger and development. They're very proficient. . . The comradery and professionalism set them apart. It was very easygoing.
These reviews are just two examples of our successful projects, and we can't fully express how grateful we are for our clients who have left us reviews!
Every single day, we help organizations transform their customer experience to create a driving competitive edge. It's our mission to help our clients win every customer interaction and easily achieve their business goals.
If you'd like to start your next project with our passionate team members, reach out to us anytime.
Interested in a Conversational AI solution?
Let us help you connect your brand with customers where they communicate today. Chat or voice.