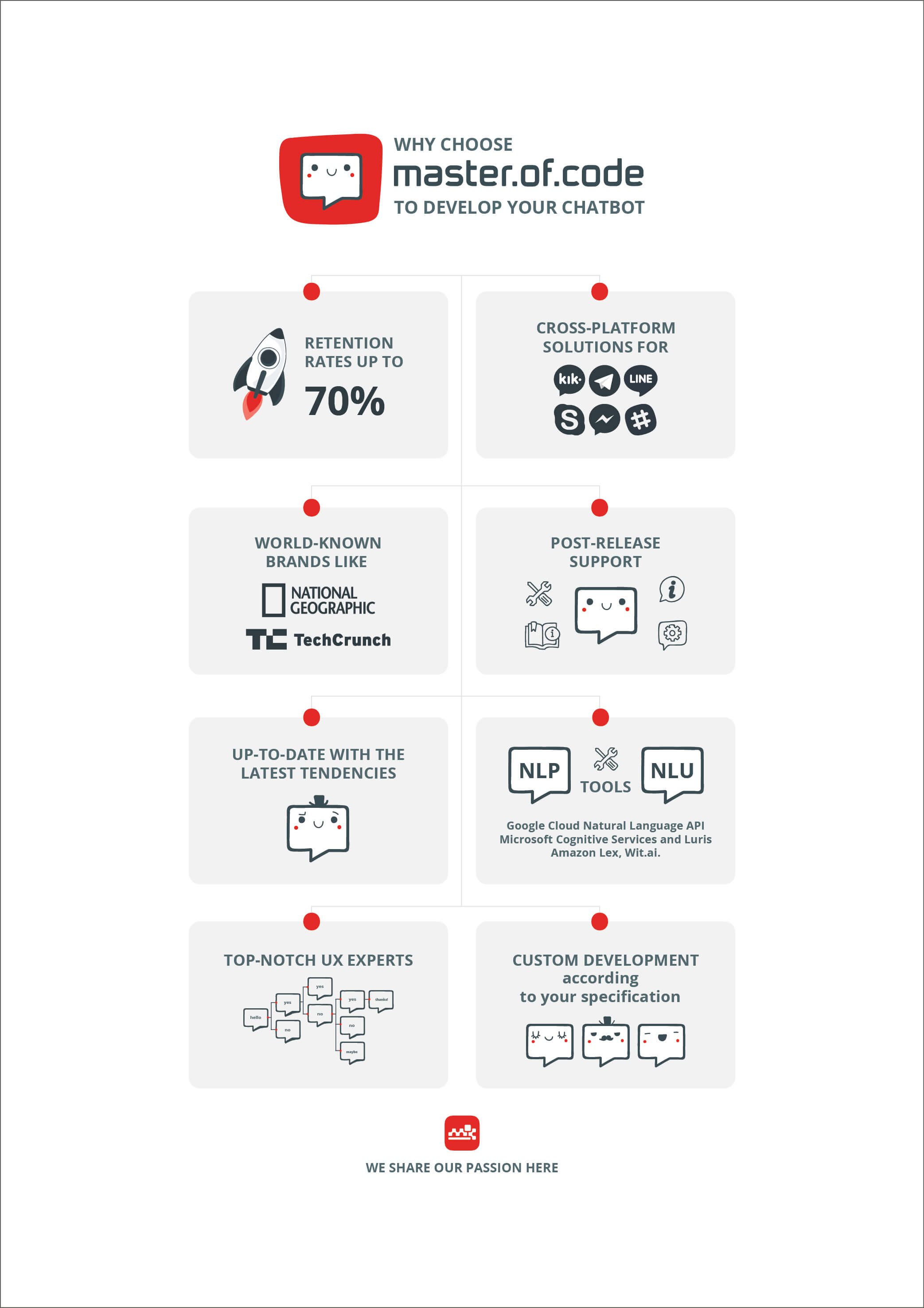 The MoC team is keen on developing qualitative and

user-friendly chatbot

solutions that ensure retention rates of up to 70

percent with

active users' re-engagement techniques offered.

Having developed chatbots for a dozen global companies and

brands like

TechCrunch, Sacramento Kings, Complex, Denver Broncos and National Geographic, MOC professionals have gained

valuable experience

in developing competitive and scalable chatbot projects.

Our company is happy to offer cross-platform solutions based on

the most

popular and demanded social messengers: Facebook Messenger, Telegram, Skype,

KiK

,

Line

and Slack.

Along with product quality, MoC provides effective chatbot

support packages

based on the client's personal needs and

requirements with

Lite,

Pro

and Expert plans as well as hourly support

services on-demand

.

It is important for our team to stay up-to-date with the

latest tendencies

of a chatbot world, so we not only follow the

most popular

chatbot

media,

but think and try to innovate on our own. Check out the MoC blog, where we share our professional insights:

https://masterofcode.com/blog

.

We are aware of the importance of NLP and NLU in a quality chatbot and

make sure every chatbot we build is intelligent

and self-learning

. We are working with the industry-pioneering tools

in this

area, including Google Cloud Natural Language API, Microsoft Cognitive Services and

LUIS

, Amazon Lex, Wit.ai, and others.

The MoC team understands that a well-weighed project budget is

vital and

values time and the client's resources. That is why we

make sure

our chatbots are executed on time and in a fast and

orderly manner

.

The MoC design core is presented by a team of highly

qualified conversational

UI and UX experts that are crazy about

creating engaging

and quirky graphical interfaces.

The MoC team is always ready for challenges in terms of

custom development

. The client just needs to let us know how his

idea should

look and we will take care of the tech stuff and creatives.

MoC is a company that values our masters' enthusiasm, which is

all about

IT and the belief that being creative and effective in how

we deliver

value is key to our success. We share our passion here.
Got a project idea?
Master of Code designs, builds, and launches exceptional mobile, web, and conversational experiences.